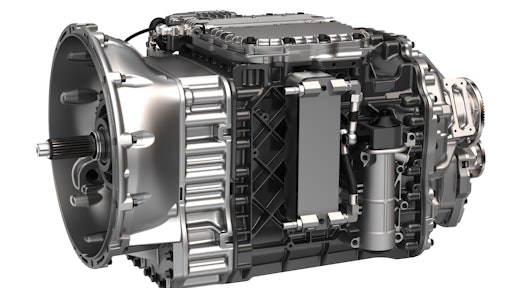 Mack Trucks has announced two new versions of its industry-leading Mack mDRIVE HD automated manual transmission (AMT). As the first truck manufacturer in North America to offer low reduction gear ratios in a proprietary automated manual transmission, Mack's mDRIVE HD 13-speed and mDRIVE HD 14-speed meet the needs of an even wider range of customer applications with the power and performance that only a fully integrated powertrain can offer. Mack made the announcement at The Work Truck Show in Indianapolis, IN.
Available in direct or overdrive configurations, the new Mack mDRIVE HD 13- speed offers a low reduction gear ratio designed for easier starting on steep grades or when the truck is under heavy load. The Mack mDRIVE HD 14-speed, available only in an overdrive configuration, adds a second ultra-low-speed reduction gear designed for curb pouring applications or low-speed, heavy-haul maneuvering. Both transmissions offer up to four reverse gear ratios.
"We launched the original mDRIVE HD in response to customers looking for an AMT capable of withstanding tough vocational applications," says John Walsh, Mack Vice President of Marketing. "Now, with the mDRIVE HD 13- and 14-speeds, we're taking the next step and combining low-speed capabilities with the performance and productivity benefits of our ground-breaking AMT."
The new Mack mDRIVE HD models share their architecture with the standard mDRIVE HD, including reinforced internal components and the same gear ratios for the 12 forward speeds. The addition of the low reduction and multispeed reverse gears is made possible by a short extension added to the front of the transmission case. Despite the additional capabilities, the new mDRIVE HD models are less than 5 in. longer and only 90 lbs. heavier than the standard mDRIVE HD, maintaining a weight advantage of nearly 150 lbs. compared with automatic transmissions.
For the first time, customers will also now have the option to spec the mDRIVE HD in Mack Pinnacle models, including the new mDRIVE 13- and 14-speed models. The new low reduction gears not only improve performance in off-road, heavy haul and construction applications, they enable as well the use of a faster rear axle ratio to improve on-road fuel economy while maintaining startability.
"The mDRIVE HD is just as at home on the highway as it is on the job site," says Stu Russoli, Mack Highway and Powertrain Products Marketing Manager. "Highway customers with challenging loads will appreciate the extra flexibility provided by the low reduction gear ratios."
In addition to the two new models, all Mack mDRIVE transmissions, including the standard mDRIVE and mDRIVE HD, also received numerous updates for improved performance and durability. The transmissions are controlled by a redesigned gearbox control unit, while a new clutch with a larger torsional damper helps reduce driveline vibration. Component wear monitors were also added to enable predictive maintenance.
Demonstrating confidence in the durability of its AMTs, Mack also extended warranty coverage on all mDRIVE transmissions and clutches used in heavy- or severe-duty applications. Warranty coverage now extends to 36 months with unlimited miles for heavy-duty applications for both the mDRIVE and mDRIVE HD. For severe-duty applications, warranty coverage is extended to 12 months and unlimited miles for the mDRIVE, and 24 months, unlimited miles for the mDRIVE HD.
The mDRIVE updates also included several improvements to power take-off (PTO) controls, including new main cab harnesses for all mDRIVE models, a reinforced range housing to handle higher PTO bending torque and an all-new cab-mounted Body Builder Module. The Body Builder Module is customizable, with user-configured software parameters to control engine speed and block reverse gears when the PTO is engaged. In addition, dual PTOs are now supported.
"PTOs are a critical component for many vocational customers," says Curtis Dorwart, Mack Vocational Products Marketing Manager. "With the added functionality delivered by the new Body Builder Module and other improvements, we're giving customers the tools they need to be successful in nearly any application."
Available exclusively with Mack's MP Series engines, the Mack mDRIVE HD 13- and 14-speed AMTs will be available for order in August on Mack Pinnacle, Granite and Titan by Mack models.