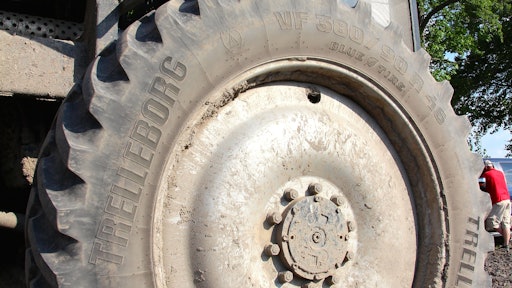 Trelleborg will provide visitors of Commodity Classic, to be held in New Orleans, LA, from March 3-5, 2016, with the opportunity to see the first Trelleborg agricultural tires made in the USA.
Andrea Masella, Country Manager, Agricultural and Forestry Tires at Trelleborg Wheel Systems, says, "Following the Grand Opening event of our US Facility in Spartanburg, SC, we are thrilled to display our new 'made in the USA' tires at Commodity Classic this year.
"From now on Trelleborg customers and end users will benefit from the proximity of the new state-of-the-art manufacturing plant in USA."
On the Trelleborg stand, the TM150 tires for the new generation of self-propelled sprayers in BlueTire Technology will be showcased fitted on a real machine. The TM150 tire for sprayers carries up to 40% more load at the same tire pressure or allows inflation of the tire with 40% less pressure, while carrying the same load.
In addition, Trelleborg will display its extensive portfolio of high performing agricultural tires. Tires to be displayed include the IF 900/60R42 TM1000 High Power, designed with Trelleborg BlueTire technology, which ensures greater productivity thanks to its extra-wide tread and low compacting of the ground, as well as the IF 800/65R32 CFO TM3000, the range of Trelleborg radial tires for increasing the productive capacity of harvesting machines.
Trelleborg stand (stand 1821 on the main hall) will also feature a designated area providing farming professionals with access to its range of advanced, user-friendly digital tools and apps as well as informative videos about Trelleborg.