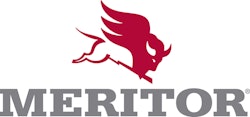 Meritor Inc.'s Troy-based employees organized a weeklong initiative to collect thousands of bottles of drinking water for Flint residents. The water was delivered to Flint on several Meritor semi-trucks on February 26.
Meritor's "Flint Water Haul" campaign generated more than 4,000 cases, each containing 24 16.9-oz. bottles of water. To make full use of Meritor trucks traveling to Flint and the capacity for water they can haul, two neighboring Troy businesses, Bailey's Sports Grille and Friedman Integrated Real Estate Solutions, contributed to the Flint Water Haul.
"Throughout the year, Meritor employees give their time and make donations that have real impact on people's lives," says Krista Sohm, Vice President, Marketing & Communications. "When we saw the magnitude of the water crisis in our neighboring Michigan city, Meritor employees stepped up by donating water that's safe for people to drink."
The 850 employees at Meritor corporate headquarters in Troy, MI, were divided into four teams, each competing to donate the most water. The winning team received prizes donated by the company and area businesses, including Bailey's Sports Grille, Emagine Theatres and Nino Salvaggio International Marketplace.
Meritor encourages charitable giving and volunteerism among its global employees. Employees at the company's corporate headquarters raised $143,862 in 2015 through weekly jeans days. That money was then given to 32 nonprofit organizations selected by employees.