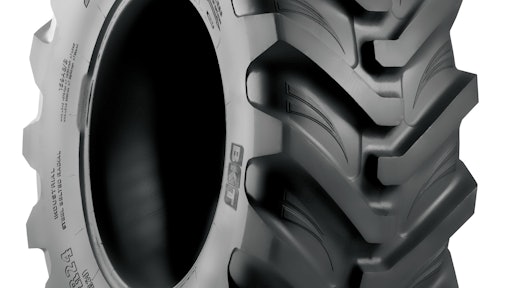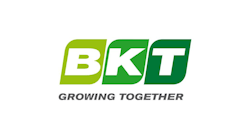 At EIMA 2016, BKT will exhibit along with its Italian distributor for agricultural and agro-industrial tires, Univergomma. The company reveals as preview all top-of-the-range products on display: Agrimax Force, Agrimax Sirio, Agrimax Spargo, Agrimax RT 600, Ridemax FL 693 M, Multimax MP 527, Multimax MP 522, and not least Con Star. In addition, a new size is having its first appearance at the stand.
"EIMA is a special opportunity for us to display the highlights of the BKT tire lineups - a tangible evidence of our extensive and manifold product range," Lucia Salmaso, MD of BKT Europe, states. "At this year's edition of the Bologna trade show, visitors can experience a vast selection from our product portfolio for the agricultural and agro-industrial sectors at first hand. As usual, we are ready to support our users in any field and application by providing the largest possible selection of both lineups and sizes." As a matter of fact, BKT's R&D Department is at the heart of the company's business, being instrumental in designing and implementing always more specific, innovative and groundbreaking solutions.
Tailored for tractors
With an eye to this philosophy, BKT showcases its high-end product: Agrimax Force, size IF 800/70 R 42, featuring special IF technology, which was further developed by BKT. Specifically designed for high-power tractors (over 250 hp), this tire combines major load capacity and lower inflation pressure, compared to a standard tire of the same size. As a result, the soil compaction phenomenon, the major enemy of any healthy soil, is significantly reduced. And, if that were not enough, the tire offers considerable time savings, since it enables travel at a maximum speed of 65 km/h without changing the inflation pressure when moving from road to field usage, and vice versa. Agrimax Force combines the response to a multitude of needs in a single product.
For high-performance tractors, BKT presents Agrimax Sirio, which has been specifically designed for towing heavy loads. The cutting-edge tire distinguishes itself by a class E speed index, enabling tractors to travel at a speed of up to 70 km/h, even if taking in tow heavy loads. The large contact area provided by the tread along with reduced rolling resistance make Agrimax Sirio a truly environmentally friendly tire. This turns into best fuel economy and clear benefits, as far as operating costs and the environment are concerned. Visitors can view the tire at EIMA in the 710/70 R 38 size.
Specially designed for sprayers
Particularly conceived for sprayers in row crop applications, also Agrimax Spargo is displayed in size VF 380/90 R 46 at the trade show. Thanks to its particular tread pattern and the special lug geometry, tractors can easily pass through the rows without damaging crops, preserving the integrity of the harvest and reducing soil compaction. The VF technology, further developed by BKT, perfects the tire that enables to carry heavier loads at the same inflation pressure compared to a standard tire of the same size.
Ideal for harvesters and spreaders
At the joint stand of BKT and Univergomma, also Agrimax RT 600 shows off in size 800/65 R 32. The ideal tire for grassland, lawns as well as loose and soft soil. In addition to high load capacity, this tire offers extraordinary stability and excellent traction at the same time, making it a perfect solution. Further advantages are extraordinary soil protection and outstanding flotation features.
Distinctly for trailers
As part of the Flotation lineup, Ridemax FL 693 M, which is displayed at the event in size 560/60 R 22.5, has been especially designed for all types of agricultural trailers. The tire is particularly suitable for trailers, tank trucks and spreaders and daily road travel. Developed for 75% on-the-road use, this tire offers excellent driving comfort as well as outstanding self-cleaning properties. Fuel savings, reduced rolling resistance, and a speed index class D/E make Ridemax FL 693 M the perfect partner when it is about saving time and increasing productivity in combined on-and-off-the-road usage.
For farming and industrial applications
Providing outstanding performance in both the industrial and the agricultural sector, Multimax MP 527 is on display in the brand-new size 440/80 R 24. It is a very versatile radial tire specifically designed for telehandlers. Thanks to its aggressive tread design and the robust sidewall, excellent traction and extraordinary stability in the lift mode are its strengths. Among the many advantages of this versatile tire, the special compound providing extraordinary strength and resistance is to be mentioned. As a result, the tire is able to withstand impacts, and to well avoid cuts and chips.
It goes without saying that Multimax MP 522, the BKT radial tire for agro-industrial applications, is on display as well in size 460/70 R 24. Designed with a reinforced bead and a steel-belted casing, it is the ideal tire whenever superior grip is required. Moreover, the tire ensures excellent puncture resistance resulting into an extended service-life, and extraordinary load capacity. Another plus offered by this multi-purpose tire is great stability in all excavating and loading operations.
Last but not least, Con Star will be showcased in size 400/70 – 20. This tire is particularly suitable for vehicles employed for agro-industrial handling operations. Top vertical and lateral stability are its key features - essential qualities for lifting operations. Thanks to the large lugs, the contact area to the underlying ground surface is increased and heavier loads can be carried. Likewise noteworthy is the considerably extended product life-cycle, since the tire is made of a special compound reducing the risks of cuts and impacts that are typical for these applications.
As an off-highway tire manufacturer ranking among the big global players, BKT will not miss this year's edition of EIMA 2016, the International Agricultural and Gardening Exhibition, taking place at Bologna from November 9-13, in order to present some of its cutting-edge products from an extraordinarily extensive tire range. BKT will be in Hall 16, Stand A5.