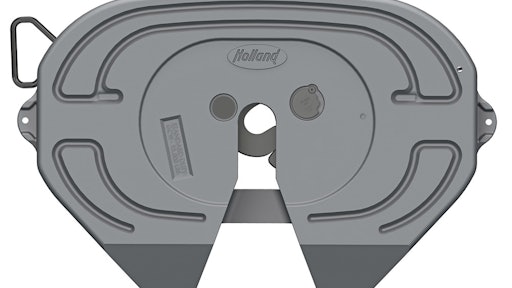 SAF-HOLLAND, a leading global manufacturer of trailer suspension and axle systems, truck suspensions, fifth wheels, landing gear, and coupling products, announces that the HOLLAND FW17 Series Fifth Wheel has earned standard positioning on Navistar's International RH Series regional haul tractor.
"We are honored once again that Navistar selected the HOLLAND FW17 as its standard fifth wheel on International RH Series tractor," says Jeff Talaga, Vice President of Sales & Strategic Development, Americas. "This new standard position represents the importance of our continued partnership with Navistar."
As the lightest weight cast-steel fifth wheel, the FW17 Series has a 50,000-lb. maximum vertical load and a 150,000-lb. maximum drawbar pull capacity. Designed as an economical solution for weight conscious on-highway fleets, the thin-walled cast steel top plate of the HOLLAND FW17 provides the optimum combination of durability and low weight. Its locking system design features a greater kingpin contact area over competitive models, resulting in longer kingpin and lock life.
The FW17 release mechanism includes a patented lever arm design to minimize the pull effort required in addition to protecting the handle from damage during a missed couple. A user-friendly lock adjustment system makes the lock adjustment process simple and readily accessible. All FW17 models come standard with No Lube articulation pocket liners.
An optional air release feature allows in-cab air release of the fifth wheel locking mechanism. The FW17 is backed by the SAF-HOLLAND industry leading 5-Year/500,000 Mile Performance Guarantee, guaranteeing maximum operation performance.
Companies in this article