Power management company Eaton is showcasing its portfolio of advanced and standard valvetrain solutions at the 67th IAA Commercial Vehicle Show. Several valve lift solutions will be highlighted, including cylinder deactivation (CDA), decompression engine brake and variable valve lift for exhaust gas thermal management and/or brake thermal efficiency improvements. The technologies provide customers with a range of benefits, including better fuel economy, improved braking power, and increased exhaust temperature for catalyst heating.
"We have been pioneering innovations in Variable Valve Actuation technology for over a quarter of a century, with over two million vehicles on the road," says Karl Sievertsen, Vice President and General Manager, Engine Air Management, Eaton Vehicle Group. "We are building on our experience to offer next generation systems with innovative actuation and controls, creating greater efficiency and flexibility. The end game is further optimization of fuel economy and reduction of harmful emissions."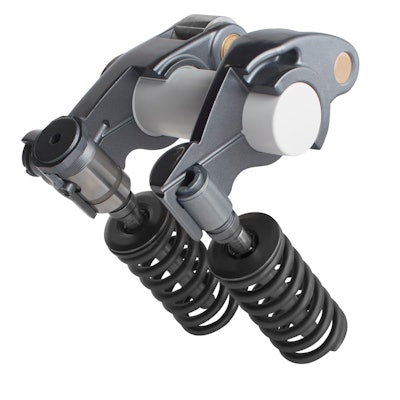 Eaton's valvetrain expertise is showcased with its decompression engine brake for heavy-duty applications. Improved braking power at lower engine speeds enables engine down-speeding for improved fuel economy.
Also shown is the ability to incorporate other variable valvetrain functions, including "Miller" cycle combustion that promotes improved brake thermal efficiency in diesel engines.
Additional variable valvetrain functions include CDA and early exhaust valve opening (EEVO), which helps heat the exhaust for improved catalyst efficiency and improved emissions.
Eaton's Hydraulic Lash Adjusters (HLA) technology also is on display. By automatically adjusting the lash in the valvetrain, precise valve seating and optimized engine air flow and fuel management can be realized.
Eaton HLAs are designed for heavy- and medium-duty engines, and can be used with both diesel and natural gas applications. Additional HLA benefits include noise reduction, consistent combustion, reduced service cost, improved engine packaging, improved valvetrain dynamics and variable valve lift.