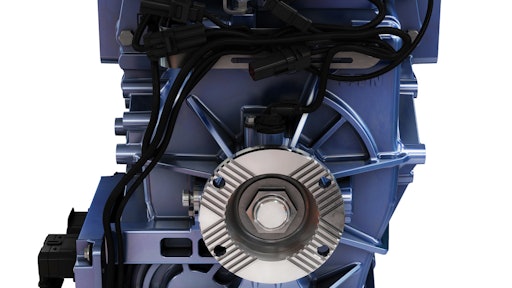 Power management company Eaton has developed a 4-speed transmission for commercial electric vehicles to meet growing demand in bus and delivery segments in Europe and other markets. The 4-speed transmission solves the primary issue related to single-speed (direct-drive) drives: contradictory requirements for high efficiency at top speeds and increased torque at launch and low speeds.
Eaton, which already is under contract to supply the new transmission to a major bus manufacturer, will be displaying the technology at the 67th IAA Commercial Vehicles Show.
The new 4-speed automated manual transmission (AMT) is a lightweight, efficient countershaft gearbox with torque capacity up to 1,200 Nm (885 lbs.-ft.) and electric gearshift actuation that enables OEMs to use smaller, more efficient motors. The fine-pitch helical gears ensure a smooth, low-noise operation, and the AMT shifting strategy is designed for maximum efficiency, which extends range and battery life. Road tests have shown a 20­-30% efficiency improvement under normal driving conditions compared with a direct drive transmission, and a 10-15%t improvement compared with a current 2-speed solution.
"Eaton has been in the hybrid transmission business for 15 years, and we have more than two billion miles of reliable, efficient operation of hybrid transmission-equipped trucks and buses on the road," says Scott Adams, Senior Vice President, eMobility, Eaton. "Our 4-speed transmission provides uncompromised launch ability on grades and always keeps the electric motor operating in its most efficient region."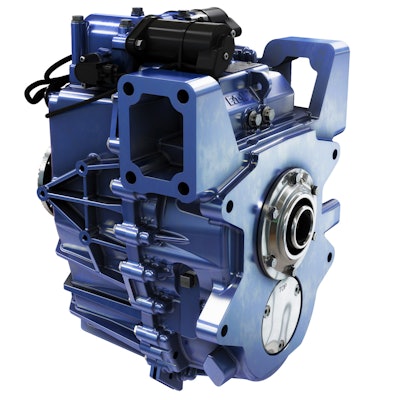 The system will allow customers in the city bus and medium-duty (MD) EV commercial markets to achieve increased performance in areas of range, grade performance, acceleration and efficiency. Beyond that, the transmission is effective in all MD city applications where low-noise operations and zero emissions are important, such as garbage collection (refuse), utility trucks, medium-duty dump trucks and emergency vehicles.
Compact Design
The 4-speed EV automated transmission is based on traditional, robust and efficient lay shaft architecture typical of AMTs, but is designed specifically for EV applications. Unlike traditional commercial vehicle transmissions, Eaton's 4-speed EV gearbox does not have a clutch, and shifts are synchronized using the traction motor. It also operates at higher speeds than its traditional counterparts, and gears are optimized for typical electric motor performance and power curves for maximum efficiency.
The compact and lightweight transmission enables a significant reduction in rated motor torque for the same application, enabling a steep reduction in motor costs and overall powertrain cost and weight.
Performance
Eaton's 4-speed EV transmission is designed with a deep-ratio first gear for launches under difficult conditions that would stress the driveline, while the second gear is used for smooth launches under normal road or load conditions. The new design allows for a smooth launch on grades up to 30%, compared with the approximately 10% grade limit of direct drives. On grades of 5-7%, the transmission can maintain speeds of 80 km/h (50 mph), and at grades around 3%, the vehicles can drive steadily at 95 km/h (60 mph).
The 4-speed EV transmission also provides higher output speed capability and torque range than a direct-drive system. This enables the usage of a smaller, lighter and less expensive electric motor for large vehicles.
The latest gear technology is ideally suited for 7- to 18-ton applications and provides 5,000 rpm input speeds and up to 9:1 overall ratio coverage. The transmission improves acceleration by keeping the vehicle in lower gears, which provides maximum motor power while maintaining efficient operation.
eMobility
The 4-speed EV transmission is a part of Eaton's eMobility portfolio of electrified vehicle components. eMobility was formed by combining products, expertise and global manufacturing capabilities from Eaton's Electrical and Vehicle businesses and focuses on three primary areas for both automotive and commercial vehicle customers: intelligent power electronics, power systems, and advanced power distribution and circuit protection.