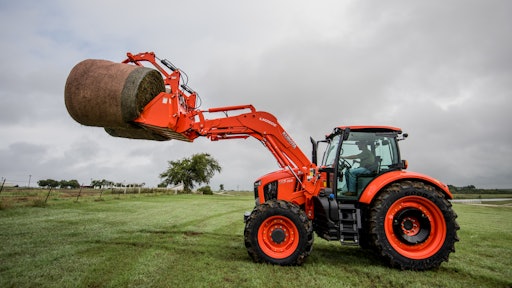 Kubota Tractor Corp.
Kubota Tractor Corp. recently partnered with Goodyear Farm Tires to offer the Titan Goodyear OPTITRAC R-1W tire with Low Sidewall Technology (LSW) on the Kubota M7 Series tractors.
The company decided to add the LSW tires to its offering after receiving feedback from customers requesting a tire that could meet the requirements of both front-end loader and row crop applications. It wasn't until after the tractor was out in the market and being used by farmers that Kubota realized it need to evaluate the machine's impact on the ground.
"We noticed we didn't have the tires that really met the loads the tractor and [front-end] loader were taking at the time," says Kent Brown, Kubota Senior Product Manager, Ag Utility Tractors. "So we talked to Goodyear and Titan who [told us about their] LSW tires."
LSW tires have a lower aspect ratio, smaller sidewall and larger rim diameter—without increasing the outside diameter of the tire. All of these features help minimize soil compaction, as well as recoil and bouncing.
Read more on the benefits LSW tires can provide regarding reduced soil compaction.
Working together to meet industry needs
Brown says the market requires a heavy-duty loader capable of carry loads at higher speeds. If the tractor is carrying two 5x6 round bales, it needs to be able to do so while traveling at a decent speed. "A lot of tires with standard load capacities can handle what we've got," says Brown. "But it's usually at 5 or 6 mph (8-9.7 kph), and no one is very productive at [that speed]."
The tire also needs to be able to handle larger loads, some of which can weigh as much as 5-6,000 lbs. (2,268-2,721.6 kg). As the M7 is being used in row crop applications, as well, its tires must also have the ability to operate at lower inflation pressures to reduce ground compaction.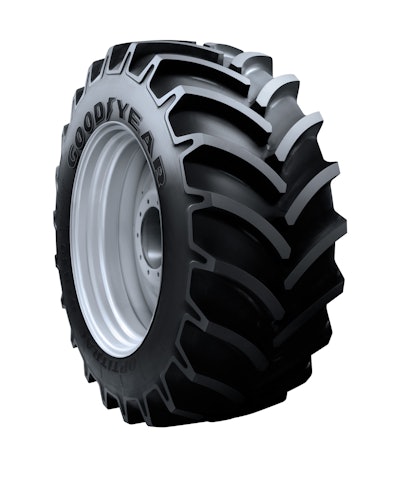 Titan suggested use of its LSW tires as they meet all of these requirements. Its wider footprint, for example, helps to spread out the weight being carried by the tire so as to minimize field damage.
Brown says when he found out about that feature, as well as the LSW tire's higher load carrying capacity and improved ride comfort, he figured why not see if it was possible to employ the tire on Kubota's M7.
Scott Sloan, Ag Product Manage at Titan, says the partnership with Kubota benefited both companies. Titan was looking to transition its OPTITRAC range to also include R-1W sizes, which are not common on tractors the size of Kubota's M7.
Titan's largest Goodyear OPTITRAC LSW tire was debuted at the Farm Progress Show in 2016. Its section width measures 1,400 mm (55.1 in.); the tire is designed for high-horsepower 4WD tractors. Tractors are continuing to increase in size to help meet the demand to quickly feed the world's growing population. With the LSW tires, these larger machines can more easily work in the fields without causing crop or soil damage.
Though Kubota's M7 is smaller in size than these high-horsepower tractors, it also requires high load carrying capacity and reduced soil compaction which the LSW provides.
Sloan says the construction and design of the tire for the Kubota M7 is the same as it would be on a larger LSW tire. One of the biggest aspects of concern when developing the tire was ensuring correct matching of the front and rears to the machine to guarantee proper machine performance.
"As far as development goes, every time we bring in a new size of tire and new mold, we make them LSW dedicated," says Sloan. "It just worked out that [Kubota] did the testing on the loader and found out that the deflection of the tire is a lot less and handles that heavier load on the front with a lot better stability than a standard tire with a taller sidewall."
Brown says there's a lot that goes into a project like this, such as determining the correct wheel size, which is why partnering with a tire manufacturer like Titan is so beneficial.
"It's been a great relationship for years [between Kubota and Titan] and shows the flexibility of Titan to meet the needs of one of its customers," concludes Brown.
Companies in this article