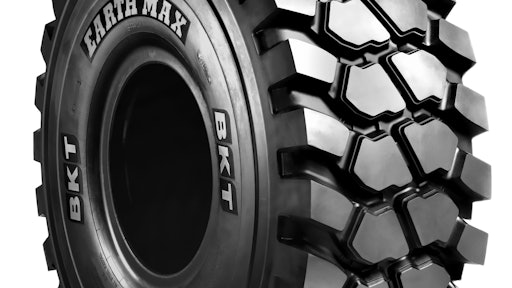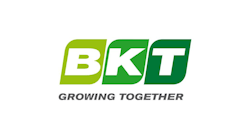 From March 7-11, 2017, BKT will be on the international stage at CONEXPO-CON/AGG 2017, Las Vegas, NV, to display the top-of-the-range tires of its Earthmax tire lineup for construction, mining and earthmoving vehicles.
Visitors of the forthcoming CONEXPO-CON/AGG 2017 will have the opportunity to take a close look at some outstanding members of the great Earthmax product family, which has been growing more and more to meet even the most demanding user requirements. These BKT tires are designed for the purpose of favoring best load distribution on the ground when fitted on dumpers, wheeled loaders, dozers, or graders.
All Earthmax patterns have a common feature: the all-steel structure conferring major resistance to the casing and hence against impacts such as punctures and penetration of foreign matters. These features are of essential importance when facing obstacles on the ground, which might expose the tire to the serious risks of puncture or casing deterioration. The Earthmax lineup satisfies user needs on difficult terrains such as those belonging to large construction sites, quarries, pits and mines.
Yet, the most spectacular tire in the Earthmax range, is Earthmax SR 45 Plus. One cannot be but amazed at the sight of Earthmax SR 45 Plus, BKT's new giant tire. A real eye-catcher with its stunning diameter dimensions of 106.4 in., or 2.70 m (size 27.00 R 49). Specifically engineered for rigid dumper, this giant radial tire is ideal for long-haul operations. Additionally, the strong all-steel casing structure ensures excellent stability and makes it particularly resistant to any kind of impacts such as cuts, tears and abrasions, whatever the operating conditions are.
Earthmax tires at CONEXPO
Earthmax SR 22 is a tire designed for loaders and graders operating on snow-covered terrains that will be displayed in size 20.5 R 25. The large footprint area provides excellent performance during snow-clearing operations. In addition, the combined action of the compound, the aggressive tread design and its grooves provides outstanding traction and road grip on snowy grounds.
Earthmax SR 30, engineered for articulated dumpers and wheel loaders, will be showcased in size 20.5 R 25. Its special compound, resulting from a particular production process, enables the tire to resist to cuts and abrasions as well as to quickly dissipate the heat developed during operations.
For articulated dump trucks also Earthmax SR 41 will be on display in size 20.5 R 25. This special tire shows a deep tread with reinforced connecting elements, which provide better lug stiffness resulting in increased stability. The special lug design also ensures excellent traction – an essential feature for articulated dump trucks operating on the toughest terrains under severe conditions. Moreover, Earthmax SR 41 benefits from the ultimate BKT compounds, which stand for best product performance and durability.
To complete the lineup on display, Earthmax SR 49 is showcased in size 33/65 R 33. It has been specially designed for loaders and dozers operating in severe mining operations requiring exceptional traction. Thanks to the L-4 deep tread, this tire offers an extended product life-cycle and provides a longer tread wear in addition to excellent resistance to rock cuts, and punctures. Earthmax SR 49 is characterized by a special cut-resistant compound enhancing the tire's cut resistance on extremely tough terrains.