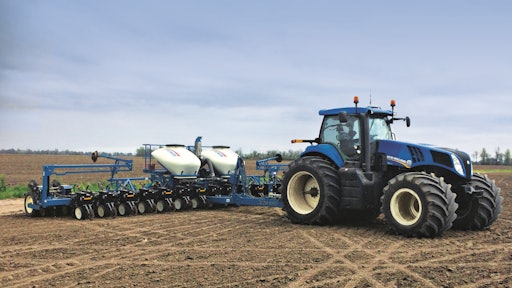 Titan International announces New Holland Agriculture is now offering the Goodyear LSW1000/40R32 fronts and LSW1100/45R46 rears setup. New Holland's decision continues an industry trend of growers reconsidering narrow duals. These super single tires with Low Sidewall Technology (LSW) will be available direct from the factory and equipped on MFWD tractors in the New Holland T8 lines.
A recent study conducted by Mark Stallings, farmer and owner of the Delta New Holland dealership, helped persuade the OEM to start offering the Goodyear LSW Super Single lines. On two test plots in Missouri, seed corn was planted in alternating rows with two identical New Holland T8.300 255 horsepower tractors. Agronomists, Jake Mikels and Brandon Dirnberger from Wheat Tech Agronomy, provided agronomic oversight for the test. The first tractor was fitted with standard 380/80R38 duals on the front and 480/80R50 dual rears. The second tractor was fitted with Goodyear super single LSW1000/40R32 fronts and Goodyear super single LSW1100/45R46 rears. Results showed the plot with Goodyear super singles had less soil compaction and yielded an average of five bushels more per acre compared with the standard duals. That is a $16 per acre advantage, which would equate to $24,000 in annual additional yield profit over 1,500 acres.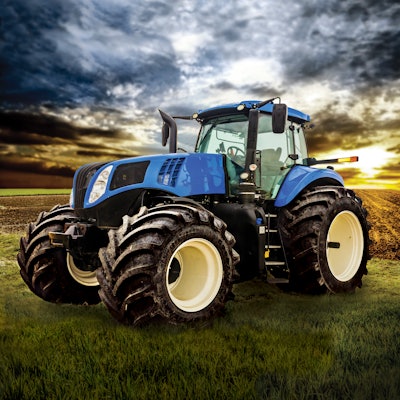 Research shows up to 80% of tractors come factory-equipped with narrow duals, but only one-third of growers[1] actually need to run between the rows post-emergence. The Super Single setup that New Holland has adopted for their T8 lines allows for running at significantly lower inflation pressures, reducing soil compaction compared with standard duals and increasing yield. The setup also increases contact area by nearly 20%, which lowers ground-bearing pressure compared with standard factory setups running dual 420/85R34 fronts and dual 480/80R50 rears. In addition to decreasing soil compaction, power hop and road lope, the reduced overall width of the setup makes for easier roading and sharper turning compared to factory duals.
"New Holland has long been at the forefront of innovation in the agriculture industry, and they're showing that again by recognizing the benefit of offering an alternative to narrow duals that provides much better performance," says Scott Sloan, Agricultural Product Manager for Titan and Goodyear Farm Tires. "By offering this particular Goodyear super single LSW tire setup at the OEM level, New Holland is taking the necessary steps to get their customers what they need."
In addition to this latest Super Single setup for MFWD tractors, Titan offers an extensive lineup of LSW flotation options for sprayers, combines and 4WD tractors. Most recently, Titan released the new LSW1400/30R46, the widest flotation option currently available for 4WD tractors.
[1] In a February 2017 survey, deployed via AgWeb, 150 out of 450 respondents said they often have a need to run between the rows post-emergence. 
Companies in this article