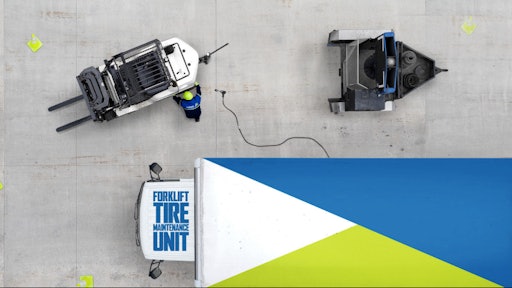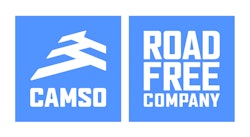 Camso, through its Solideal On-Site Service operation in EMEA, brings to the U.K. market a pneumatic Tire Puncture Protection Program to eliminate flat tires while providing maximum uptime to its customers.
"Efficiency and cost control are the focus of today's fleet management teams. Equipment downtime due to flats on any type of air-filled tyre is unplanned and costly," says Steve Ridley, Sales and Operations Director UK for the service operation of Camso. "This cost comes from having to purchase replacement tyres and through the loss of productivity when trucks are not running," he continues.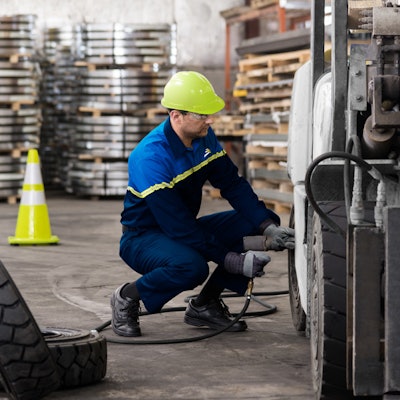 Solideal On-Site Service offers solutions that prevent downtime and reduce operating costs with its new Puncture Protection Program. Designed for the harshest working environments where vehicles are used in construction, recycling, steel mills, ground support, rental applications and agriculture, the two tire-fill solutions offered by the service operation replace air in any pneumatic tire with a highly shock-absorbing polymer to offer the most reliable and effective tire flat-proofing solution while improving performance and increasing safety. The solutions are:
Solideal Nature

: an economic and environmentally responsible choice with recycled oil-based tire fill that keeps millions of pounds of used fill out of landfills each year.

Solideal Pure:

a premium filling solution which uses pure liquid virgin fill to maximize traction, comfort and tread life, resulting in increased value.
Solideal On-Site service is ISO9001 NQA where experienced technicians work to a high standard of safety providing tailor-made, convenient, forklift tyre solutions at the best price per hour. Over and above tyre fill, SOS offers application-specific reviews and product recommendations, wheel exchange and in-depth fleet analysis.
With a national service coverage across the U.K., Solideal On-Site Service has the most comprehensive footprint in the industry both regionally and nationally, bringing on-site service solutions to its customers like no other in the industry. Solideal On-Site Service specialisation creates improved levels of performance leading to greater value for dealers and customers alike.