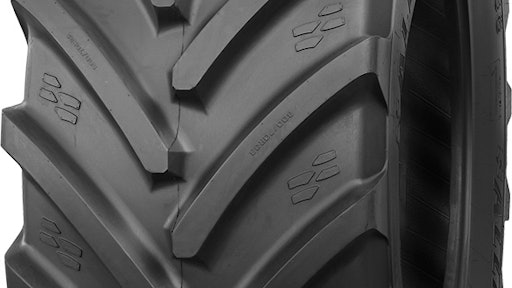 The new Alliance Agriflex+ 372 VF CFO tire from Alliance Tire Group (ATG) is rated to carry 186% of the load of a comparably sized standard radial tire when operating at harvest speeds of under 10 mph. The new tire is a VF800/65R32 CFO, which replaces the 30.5R32 tires commonly found on many grain carts and Class V, VI and VII harvesters. It is rated for loads as high as 26,370 lbs. when used in cyclic conditions, such as harvest.
James Crouch, National Product Manager-Agriculture for Alliance Tire Americas, explains that the extra-rugged construction that qualifies for the rare Cyclic Field Operations (CFO) rating allows the tire to be used in conditions where load increases and decreases dramatically—for instance, as a combine hopper or grain cart fills up, then unloads.
"There's an immense amount of technology and manufacturing skill that goes into constructing a sidewall of a CFO tire, and we doubled down on that by also making it a very high flexion, or VF, tire," Crouch says. "The VF capabilities add 40% more load to the tire compared to a standard radial at the same inflation pressure. Then the CFO rating indicates that the tire can handle another 33% on top of that. Together, that's a 186% increase over standard radial capacity. It's a mighty tire.
"This new tire is a huge component of our Alliance Whole Farm Concept, which is our commitment to making sure there is a low-pressure solution for every machine on the farm so farmers can improve their performance and reduce soil compaction," Crouch adds. "Our Alliance Whole Farm Concept extends from a massive tire like this Alliance Agriflex+ 372 VF800/65R32 CFO to tractor tires, tires on air seeders and sprayers, and even smaller tires like the ones on tillage equipment and other implements. 
"Ultimately, we want to help ensure that a farmer doesn't just use low-pressure technology on the biggest machinery, because smaller equipment can also create a lot of compaction," he notes. "It's another way that good tire choices can help contribute significantly to the profitability and long-term productivity of the farm."