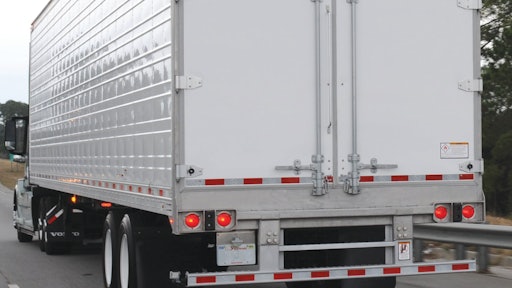 Lighting is a critical element to the design of any on- or off-highway vehicle as it ensures the safety of not only the operator but also other vehicles on the road. Currently only vehicles designed for use on roads in the United States are required to have lighting. All on-highway vehicles—including heavy-duty vehicles (measuring 80 inches or more) such as Class 8 trucks—are required by the National Highway Traffic Safety Administration (NHTSA) to follow FMVSS-108, which specifies the function, performance and placement of safety lighting on vehicles.
While there are no federal regulations at the moment specifying the use and placement of lighting on off-highway vehicles, many industries have their own set of standards with which manufacturers can voluntarily comply. Most agricultural equipment, for example, follows the American Society of Agricultural and Biological Engineers' (ASABE, association information, 10239641) S279, Lighting and Marking for Agricultural Equipment on Highways.
"There is a growing trend for off-highway vehicles to be equipped so they comply in many cases with on-highway lighting," adds Brad VanRiper, Senior Vice President of Research and Development and Chief Technology Officer at Truck-Lite (company information, 10056213), Falconer, NY. "And the reason is that sooner or later they're going to be moving from one place to the next. OEMs in general are trying to install equipment that makes them conspicuous and available to operate on the roads."
On-highway lighting
FMVSS-108
Federal Motor Vehicle Safety Standard 108 (FMVSS-108) is a federal regulation which dictates the types of lights on-highway vehicles must include as well as the placement of the lights. For example, identification (ID) clusters—a series of three lights placed equidistant from one another—are required at the top center of trailers. FMVSS-108 also places regulation compliance in the hands of the OEMs. "The manufacturer of the lighting product and the original equipment manufacturer are responsible for self-certifying that the devices comply with the regulation and they're installed according to the regulation," VanRiper explains.
With the self-certification approach, however, many OEMs have taken liberties with determining placement of some of the required lights. According to Chuck Polley, Global Compliance Manager at Grote Industries LLC (company information, 10056356), Madison, IN, there is an exception within the regulation which allows clearance and ID lamps to be placed lower on the trailer if there is not enough room to place the lights at the top as required by FMVSS-108. "For a number of years quite a few manufacturers started mounting their ID and clearance lamps low," says Polley. OEMs were claiming the lights took up too much space on the trailer and were getting in the way of the cargo doors. Eventually the Canadian and U.S. governments cracked down on this practice, telling OEMs they are not allowed to arbitrarily decide not to put enough space for mounting safety lamps.
Placement of the lights at the top of the trailer is crucial to ensuring safety. "When you're behind a large enough vehicle, you can't see those lower lamps," explains Tom Draper, Manager of Marketing at Grote. He says the idea is to provide information behind the truck not just to the vehicle directly behind it, but also to vehicles farther behind the truck.
The MicroNova Dot product family from Grote (product information, 11079670) is one lighting solution that has recently come out to help manufacturers ensure regulation compliance without sacrificing space. The lamps are small enough to fit into a three-quarter inch hole, and because they are LED, Draper says they are still able to provide the necessary amount of light to be seen by other drivers on the road.
Auxiliary lighting
Besides the lights required by FMVSS-108, the regulation also states that additional lighting can be placed onto a vehicle beyond what's required. Auxiliary lighting devices can be added to a vehicle as long as they do not impair the effectiveness of any of the required lights and they do not add confusion to the required devices.
An increasing number of refuse vehicles, for example, now include more lights at the back of the vehicle—such as strobe lights—because owners have had a positive response to use of more lights. "They're putting lights in the corners," says Polley, "which is really providing a large amount of conspicuity to the back of [the] vehicle."
Many lighting manufacturers have also been developing dual-intensity lighting products to help further enhance lighting beyond the regulations, particularly for the clearance and identification lamps at the top of the vehicle. Dual-intensity lights are able to provide a secondary lighting function beyond simple illumination. When the brakes or turn signal are applied the light increases in intensity—similar in brightness to a traditional brake or signal light—to signify to other drivers the vehicle is braking or turning.
By enabling the lights at the top of the vehicle to illuminate in a manner similar to those at the bottom, all drivers behind the larger vehicle, not just the ones directly behind it, will be able to see what is happening and act accordingly. "You get a real benefit in a traffic situation to alert the trailing drivers," says VanRiper. "It's a better signal because many times the regular stop function lights [and] turn function lights are blocked by the trailing vehicles."
VanRiper says the ability to add auxiliary lighting allows OEMs and fleets to find ways to enhance vehicle visibility through the use of various lighting technologies.
This is in stark contrast to the Economic Commission for Europe (ECE) regulations which do not allow additional lighting to be added to a vehicle. "You cannot add any supplemental, auxiliary [exterior lighting] devices without a change in the law," he says.
Off-highway lighting
ASABE

S279

As part of the Department of Transportation (DOT) 2012 highway bill, Moving Ahead for Progress in the 21st Century Act (MAP-21), lawmakers are developing the Agricultural Machinery Illumination Safety Act (AMISA). Based on ASABE S279, the act will create a nationwide lighting regulation in the U.S. for agricultural equipment as denoted in ASABE S390, Definitions and Classifications of Agricultural Field Equipment. "Standard S279 identifies provisions for lights, retro-reflective materials and more," explains Scott Cedarquist, Director of Standards and Technical Activities at ASABE. "As several states currently require new equipment to meet the S279 standard, all major manufacturers already meet the requirements and would not incur additional costs."

Use of headlights, taillights and brake lights on vehicles traveling above certain speeds are all stipulated within the standard. "What the standard lays out is where on the machine these need to go from a height and width standpoint, and what retro-reflective colors are on the front (amber) and towards the back (red)," says David Murray, Director of Product Safety and Standards at AGCO Corp. (company information, 10727147), Duluth, GA.

Also specified in the standard is the use of conspicuity tape and the triangular-shaped, orange and red slow moving vehicle (SMV) sign. For vehicles traveling above 25 mph there is also a requirement for a speed indicator sign (SIS). "It's a European-looking circle sign with a number in it that tells you the top speed capability of that tractor or implement," says Murray.

"It is also worth noting that the proposed rule is quite proactive," says Cedarquist. The DOT has built into the regulation the requirement that it must periodically check for updates to ASABE S279 and implement any changes that have occurred. "Thus as technological advances are incorporated into the standard, [they] will ultimately be reflected in the USDOT requirements," he explains.

Periodically updating the regulation also ensures one state isn't following an older version of ASABE S279 while another state has adopted the newest version. It guarantees agricultural equipment in all 50 states will have to adopt the newest version because federal regulations override any state or provincial laws.
Keeping it consistent
The desire to implement a nationwide regulation was brought forward by agricultural equipment manufacturers through the work performed in an ad hoc committee within the Association of Equipment Manufacturers (AEM). "It's really important for AEM members to have one set of standards to work against," says Mike Pankonin, Senior Director of Technical and Safety Services at AEM.
Having the same lighting requirements in all 50 states enables OEMs to put the same lights and markings on all of their equipment, no matter where it will be used. "It all comes down to consistency," says Murray. "That gets everybody on the same playing field and reduces the variation, and increases safety too."
With all of the cross-state and cross-country traveling that Americans do, having consistent lights and markings on agricultural equipment in all 50 states ensures safety of the driving public. Drivers will be able to recognize what the various lights and markings mean, and have them mean the same thing in each state. "When you see a particular machine and a light flashes in a certain way, I think it's nice to have consistency to recognize 'oh, that means he's going to turn left,'" says Pankonin.
In addition to the ASABE standard, the International Organization for Standardization (ISO) has a lighting standard for heavy-duty equipment, particularly earth moving equipment. ISO 12509 is a voluntary consensus standard which specifies the minimum requirements for the inclusion of signaling and marking lights, as well as reflex-reflector devices. Currently undergoing a re-draft, the standard provides a frame of reference not only for OEMs of earth moving machinery but also other heavy-duty equipment OEMs.
Pankonin notes there is some interest within the heavy equipment industry to have consistency between industry regulations so that there are similar types of lights and markings used on all heavy equipment. "There are certainly benefits on behalf of the members to have a level of similarity between the ag equipment as well as the earth moving machines," he says. "When somebody sees a big machine going down the road they don't care if it's a tractor or an end loader." The driving public only needs to be able to recognize what the lights on the equipment mean so they can react accordingly.
According to ASABE's Cedarquist, AMISA is in the rulemaking phase and is anticipated to be ready for public comment at the end of this year. Whether implementation of this regulation will lead to the introduction of other lighting requirements for heavy-duty off-highway equipment is still anyone's guess. But as long as equipment and lighting manufacturers, as well as associations like AEM and ASABE, continue to work together to create new lighting products and standards the roadways will be a little safer.
Companies in this article