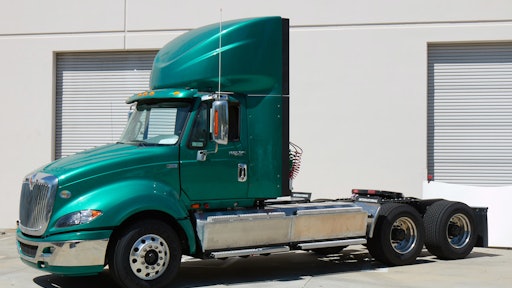 Full vehicle electrification continues to be an area of development for many manufacturers as a means of reducing emissions and creating more efficient vehicles. While the number of electric passenger vehicles on the roadways has increased within recent years, they are not quite as prevalent yet in the heavy-duty realm, particularly for commercial trucks. Transportation Power Inc. (TransPower), however, is working to change this.
Since 2010, TransPower has been focusing on integrating battery-electric technology into heavy-duty vehicles including Class 8 trucks, port cargo-handling vehicles and school buses, as well as off-highway machinery such as construction and mining equipment. "At TransPower, we have developed energy storage and electric drive technology to enable better-than-diesel performance for on-dock, near-dock, short-haul and distribution center goods movement," says Joshua Goldman, Vice President of Business Development at TransPower.
The company's battery-electric drive system, known as ElecTruck, is composed of 3 volt lithium iron phosphate (LiFePO4) battery cells; this cell chemistry was chosen for its ability to provide the safety, high energy density, durability and cycle life necessary for powering heavy-duty vehicles at a low cost. Batteries are packaged in a TransPower designed module pack and combined with an advanced battery management system to create the overall energy storage system used to power the vehicle. The system powers an inverter charger unit which in turn powers one or two electric motors on the vehicle used to drive a standard automated manual transmission. The size and amount of batteries, as well as the packaging of the system itself can be customized to specific application requirements.
One of the biggest challenges TransPower faced during the development of its system was battery management. Initially, the company purchased off-the-shelf battery management systems; however, Goldman says these systems did not quite meet TransPower's performance, reliability or durability needs. "We ended up inventing our own purpose-built [system]," he says. Developing its own battery management system enabled TransPower to ensure its system is safer, more reliable, accurate and efficient.
In addition to the main propulsion system, TransPower also packages electric accessories with an inverter drive which powers an electric motor that drives a hydraulic pump for power steering and fifth wheel or other hydraulic loads. The inverter drive provides power to another electric motor, as well, used to power the vehicle's air compressor and/or air conditioning compressors. In addition, it powers a DC/DC converter which takes 400 volts from the batteries to produce 14 volts for charging the vehicle's low voltage system.
On-highway vehicles equipped with the ElecTruck system have over 80,000 pounds gross combined vehicle weight (GCVW) powertrain capacity, while off-highway tractors can be 120,000 to 200,000 pounds GCVW.
Why go electric?
By enabling vehicles to operate solely on battery-electric technology, the ElecTruck system eliminates emissions output. This is becoming an increasingly more important aspect for fleets as they try to reduce their carbon footprint and demonstrate a more environmentally-friendly image.
A recent independent study by the University of California, Riverside's (UCR) College of Engineering – Center for Environmental Research & Technology (CE-CERT) found the ElecTruck drive system can provide significant emissions reductions compared to a hybrid-electric truck (read more, 12075016). CE-CERT's testing of a Navistar International Pro-Star Class 8 truck equipped with the ElecTruck system estimates the vehicle will reduce greenhouse gas (GHG) emissions in typical drayage truck drive cycles by 67 to 68%, even when accounting for the GHG produced by the power plants that will generate electricity for the recharging of the vehicle.
The study found the system can provide significant cost savings for fleets, as well. CE-CERT concluded the on-road truck it tested had an energy cost of 23 cents per mile compared to $1.49 per mile for a typical diesel truck. An Elec-Truck-powered yard tractor tested by CE-CERT had an estimated energy cost of 31 cents per mile whereas a diesel version cost $1.12 per mile and a hybrid cost 99 cents per mile.
The lower energy cost of the ElecTruck system is due in part to the battery technology utilized by TransPower. Goldman explains that the batteries have no memory effect, and can therefore be drained as little or as much as users want. "That's actually been one of the surprises of our trucks. We didn't know how well [they] would charge quickly and how little energy [charging] would take," he says. "Our initial estimations were that it would take more energy per mile per hour than what we've been seeing in the field because of a lot of development in the powertrain software and efficiency in how we power the vehicle, as well as the efficiency [of the] accessories."
For the fastest charge times, ElecTruck-powered vehicles can be plugged into a marine grade 208 volt AC electric vehicle charging station. According to Goldman, this system enables the batteries to be recharged within two to three hours, depending on the size of the battery. "The run time for the off-highway yard tractors is typically 8 to 16 hours, and on the drayage trucks about 80 miles give or take 20 depending on driver loads and habits," he explains. "And we're working on next generation batteries that could give up to 120 miles give or take 30 depending on driver loads and habits."
While the high voltage of the charging station allows fast charging times, Goldman says it can require significant investment for fleets, especially depending on where they want to place the chargers and what electrical service is already available at the site. He says lower current, more affordable systems can be installed instead since the batteries have no minimum current, but they will have longer charging times.
Additional benefits include the system's ability to provide more torque, enabling the vehicle to move faster, and the lack of noise created by the vehicle itself. Because the ElecTruck-powered vehicles are extremely quiet, TransPower added a bright green light to the operator cab to ensure drivers know the vehicle is running.
Goldman notes that even though there are many benefits to the ElecTruck system, fleet adoption has been a challenge as anything that is different sometimes takes an adoption curve. Operating the vehicle also requires some education because it has a slightly heavier and longer wheelbase compared to typical day-cab trucks in order to make room for the batteries. "Maneuverability is an issue that we're addressing with better battery packaging, more energy density," he says.
Making electricity go further
The ElecTruck system, when used as the sole propulsion system for a vehicle, is designed specifically for short-haul applications in which the vehicle is driving within one or two dozen miles of its base. Battery weight continues to be a challenge in regards to pure battery technology being used in long-haul applications. "It'll be many, many years before we're anywhere near the weight of a diesel truck," says Goldman.
Currently on-road vehicles equipped with TransPower's system weigh up to 5,000 pounds more than a diesel truck. Goldman says the company is working on newer designs which will help bring added weight down to 3,000 pounds, but it will still be some time before achieving the same weight as a 16,000-pound diesel truck. For off-highway tractors, the system adds about 2,000 extra pounds of weight; however, these vehicles do not have the same weight restrictions, such as Department of Transportation (DOT) bridge laws requiring vehicles stay under a combined weight of 80,000 pounds, so the additional weight is not as much of an issue.
TransPower is working on a number of range extending projects which pairs battery technology with other power methods, such as an engine, to drive vehicles used in longer haul applications. The idea is similar to that of electric cars—the vehicle will run on battery power for say, 40 miles, then a couple of hundred via a range extender. "There are a couple of flavors we're currently working on," says Goldman. "The most conventional has been [using] a CNG (compressed natural gas) engine to turn a generator." The company is also working on the potential use of hydrogen fuel cell extenders, as well as on Siemens' eHighway project in which trucks are connected to overhead catenary wires that feed electricity into the vehicle (read more, 12000544). "That allows the truck to potentially reduce battery weight and cost, and take advantage of future infrastructure," says Goldman.
In addition to trucks, TransPower's system can be incorporated into various other types of vehicles and equipment. The company recently converted a reach stacker to electric power, and has received funding to continue developing this application. Current projects include integration of the ElecTruck system into a refuse truck, as well as retrofitting a school bus with the technology. Both of these projects will also include vehicle-to-grid capabilities. "It allows the truck to not only draw from the grid when it's charging but also feed the grid or at least the local building when needed to help lessen the energy demands from that customer," explains Goldman. The vehicle's on-board energy and charging systems are what enable electricity to be fed back into the grid, making it possible for fleets to save thousands of dollars in energy costs. TransPower is hoping to incorporate this feature into all of its vehicle applications.
Goldman says that TransPower is always looking to partner with OEMs. "Our system is designed to fit within a standard 11 to 13 liter, or even 6 liter, vehicle compartment, and we have a long-term intent of being key suppliers of the electric drive and energy storage technology to OEMs."