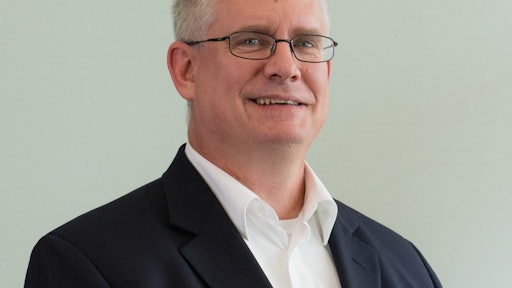 responses courtesy of Joseph Bolewitz, CTO, Industrial & Commercial Transportation (ICT), TE Connectivity 
The Internet of Things & Connectivity
How do you see the Internet of Things (IoT) shaping the direction of the heavy-duty vehicle markets?
The IoT approach is similar, regardless of industries. It's really about how you gather data from everywhere in a workspace, analyze that data, and then convert it into useful information that drives productivity (i.e., reduced downtime, increased efficiencies, predictive maintenance, etc.) The data acquired is different from industry to industry. This drives optimization of the architecture design in selecting and making the best use of sensors that acquire the data of interest for a particular industry.
How is your company integrating IoT solutions into your workspace, or what is your perceived plan for implementation and the benefits you foresee with its implementation?
In our Industrial and Commercial Transportation (ICT) business, we're providing connectivity and sensor technology for harsh environments, enabling benefits from IoT. With all this real-time data distilled into useful information, our products can provide significant insights to the owner/operator to improve efficiencies and minimize downtime.
How has this concept influenced how you approach technology development and new ideas?  
We are always innovating from a system level perspective, above the connectivity and sensor component level. It's about how we can devise the most elegant solutions that combine sensor and interconnection technology into the most cost effective, robust, and integrated solutions for our customers worldwide.
The Future of Diesel
There are several opinions on the future of the diesel engine market. With large metropolitan cities like Paris and Madrid announcing diesel bans by 2040, it seems there is a presupposed end to diesel reliance. Where do you see diesel playing a role in heavy-duty applications in the long-run?  
There will be continued emphasis on improving the environmental friendliness of diesel engines. Exhaust after-treatment and other NOx countermeasures can be effective in reducing greenhouse gases. There is the potential to employ diesel engine technology in hybrid vehicles to optimize range, torque, durability and emissions. There has been much innovation in gasoline engine technology to reduce CO2 and NOx over the past thirty years. In fact, it is now to the point that today's gasoline engine emits fewer hydrocarbons while running than engines from the early 1970's with the engine off. Similar techniques can be effective with diesel engine technology.
As for the market, we will stay close to our customers and support them as the industry determines the best path for heavy duty applications.
Any expectation for significant shifts in diesel engine technology or expectations in the near-term?
Expectations will be for a continued evolution in diesel engine technology to improve fuel efficiency and lower emissions.
Automation Advancements & Smart Systems
What technology is the most significant contributor to the progress of vehicle automation?  
The growing global trends of both connected and self-driving vehicles are driving automation, which requires technologies that enable data connectivity both inside and outside the vehicle. Increased automation brings additional complexity to vehicle systems. The ever-faster IC processing speeds, for example, are what continue to enable integration of complex systems. The ability to process terabits of information from such a wide range of sensors (cameras, lidar, radar, and location) and then integrate with the various control systems in the vehicle, has accelerated the progress of vehicle automation.
How does your company contribute to autonomous systems development and success?  
TE knows that no matter which technology path our customers choose to innovate for connected and autonomous vehicles, they need a technology supplier to help them meet evolving requirements. We recognize the importance of next-generation vehicle architectures.
TE drives the innovations that help enable technologies that can change mobility behavior. We understand the key trends driving demand such as safety, productivity and sustainability. Our existing solutions are designed according to the requirements of upcoming vehicles that are increasingly more complex and have a higher degree of automation.
As vehicles become more automated, they need a certain level of connectivity. We help OEMs overcome engineering challenges to deliver reliable and faster data, navigate new architectures to handle extra features and power demands, or turn a concept into the connected vehicle of the future. Our products are smaller and lighter, and offer high reliability and performance in increasingly harsh environments.
TE also has made significant investments in sensor technologies which are critical for data capturing and connectivity. And, more recently, we have added other key technologies with our acquisition of Hirschmann Car Communication, a leading provider of antenna technologies and broadcast tuners for automotive and commercial vehicle applications. This acquisition is integral for providing end-to-end data connectivity solutions. Our broad range of high speed interconnection solutions, designed and manufactured for harsh environments, enable the transfer of big data to/from sensors, cameras and control systems.
Hybrids & Electrification
What technological limitations currently exist that are impeding the ability to harness the full potential of hybrid power systems?  
One key technological limitation is battery technology. Although tremendously improved over the last 5 years, this technology still has a way to go in order to meet the same price point provided by vehicles using traditional fossil fuel systems. Various OEMs have demonstrated the ability for battery technology to meet range expectations.
But there are a number of other potential roadblocks outside of technical limitations that may impede the advancement or acceptance of alternative power:
Volatility. Consumer interest in alternate systems fluctuates. The major OEMs need to see a profitable route ahead in order to ensure the timely development of the technologies now on the roadmap.
Infrastructure needs. Growth in the number of recharging stations would lead consumers to feel they will be able to readily fuel alternative power plants.
Fluctuating oil prices. Consumers historically have been less interested in buying energy-saving vehicles when the price of oil is low.
Alternative power plant buy-in. Consumers need to believe new powertrains are safer, more efficient, more precise and more drivable than the powertrains of the past.
Economics. Hybrid power systems must make solid fiscal sense for both consumers and automakers before full advances will take hold.
Is the future fully electric, or will there always be a need for engine/hydraulic supplementary power?
The future surely will have a time when vehicles become fully electric. We are seeing legislation supporting this trend long term. It is a natural progression towards a simpler, more elegant solution. Propulsion will continue the trend away from carbon-based technologies like diesel and gasoline fueled IC engines and move more toward hybridization and electrification. Certain OEMs will continue research on hydrogen-based systems.   
Managing the Data Trend
How is your company utilizing data in new and valuable ways?
TE is in the midst of a digital transformation, impacting engineering, operations and customer facing tools. Our digital engineering data is used in downstream operations to support our digital factories. Time consuming manual inspection is being replaced by digital techniques that can measure product characteristics, such as dimensions, tolerances and planarity, and compare to a digital engineering model to determine product compliance. Deviations are compiled and fed back to the Quality organization to assess, contain and correct if appropriate. The design engineer can use the digital information to improve current or future designs based on real-time data. Digital performance data can feed TE's Supply Chain and Logistics teams for proactive planning to ensure compliance to customer demand. Finally, our Sales organization can have access to real-time data regarding build and order status, helping to ensure the customer is well informed.
What value is this providing to your company and customers?
This valuable data helps ensure we design products "first time right" to meet our manufacturability and quality goals for our customers. It's providing better products for our customers and improving the efficiencies of our engineers and manufacturing facilities.
Where do you see data leading the industry? What is its potential?
The potential is almost endless as people find more ways for innovative data gathering, analysis, and summation to gain useful information for better decisions. Our products are enablers for big data analysis whether it is factory automation connectivity products or high speed data connectors integral to IoT trends.   
Several manufacturers are now investing in data analyst and programmer experts to shape the direction of their company and its use of data. What is your company's end goal with data?
Our end goal with data is to provide a better experience for our customers; not only to make it easier to design and build the products faster, but to help them easily find the right products from our broad portfolio.   
Challenges & Opportunities
What new challenges have arisen that effect the way you design or manufacture your product? How you do business? How you go to market? How you differentiate yourself from the competition?
Speed to market is a very important aspect of our product development cycle. Customers expect the same high quality TE products with a shorter development time line. This drives increasing use of simulation tools to ensure the product will meet specifications before any tooling is created. A higher fidelity simulation can save development time by reducing the number of changes as the tooling is readied for production. Moving from "build-test-fix" to "analyze, design and verify" is key to reducing time, cost and waste. 
Has the rate of technological advancement (for example, the rapid emergence of data products) had any impact on business decisions, development, or product performance and client expectations?
The promise of 3D printing has the industry excited about the future of design and manufacturing. Much progress has been made with material durability and print fidelity to keep the industry sitting on the edge of their seats. More progress is required to realize printed material meeting transportation environmental requirements. Also, fabrication speed will need to improve to meet production volume.   
What is your company's opportunity to impact the marketplace with a unique product, capability or offering?
No matter which technology path OEMs choose to innovate, TE can work with them to address their needs. As a leading connectivity and sensors company in the world, TE helps transform business concepts into smart, leading, and innovative solutions. All of our competencies and capabilities are designed to perform in a harsh environment.
The Global Landscape
Has the recent nationalism focus for several key countries including the U.S. altered the way you evaluate international opportunities, work with global partners, or any part of your business currently? Do you see an impact in the future?
As a global company, we operate in more than 150 countries and over our more than 75 years we have seen governments change and politicians come and go. We've been successful by staying close to our customers and making sure we're helping them be successful and that's what we plan to keep on doing.