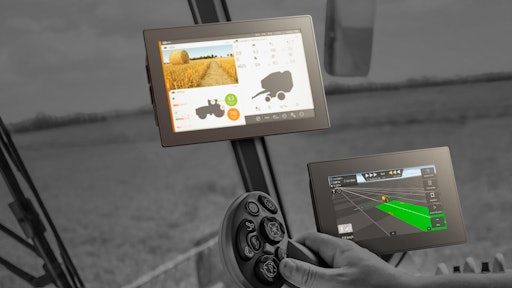 CrossControl
At Agritechnica 2023 in Hannover, Germany, CrossControl will highlight its portfolio of display computing solutions. The i.MX 8-based Vision line of display computers, with display sizes 3.5 inches to 12 inches, offers class-leading graphics performance and unparalleled software platform support for realizing a wide range of HMI, Vision system and Process control solutions. The line has been expanded with the new CCpilot V510 and V710 which come with 5-inch and 7-inch high-brightness displays, tactile softkeys and optional multi-touch PCAP touch screens. The Vision line range can be effectively deployed as a modular display platform for OEMs and System Suppliers that offer equipment and systems of varying size and complexity.
The company will also showcase its versatile terminal platform for ISOBUS and precision systems. Based on this display computer platform, company Reichhardt are launching SmartCommand Terminal, a range of full-fledged ISOBUS terminals in 7-inch, 10-inch and 12-inch sizes. The SmartCommand terminal offering features UT, TC, Section Control, Variable Rate Control and optional steering solution. A unique feature with these terminals is the option to combine the ISOBUS terminal functions with additional, non-ISOBUS functionality, like vision system, embedded manuals, instrumentation and more.
This multifunctional terminal approach is made possible through the newly released Window management support in the CrossControl software platform, enabling multiple applications, developed with different toolchains, to be deployed on the same terminal. Other software platform news include a module for License management, enabling OEMs to efficiently manage licensing of applications and feature sets, and a module for fast system booting, making the HMI of a machine accessible within a few seconds for fast mobilization.
CrossControl continually invests in its core technology platform which is the basis for both standard and custom display and computing products. A recent addition to the platform is a GMSL-based monitor interface, enabling HMI systems with one central ECU/computing unit and multiple monitors. A prototype of such a system will be showcased at Agritechnica, Stand j38 in Hall 15. Besides HMI functionality, these central computing products will be geared to manage also video processing and machine process control.