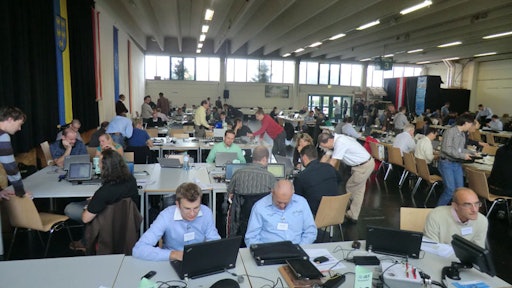 The Fall "Plugfest" of the Agricultural Industry Electronics Foundation (AEF) was one of the most extensive of its kind. More than 150 participants from more than 12 countries tested 64 Universal Terminals and task-managers respectively, which added up to almost 1,000 different ISOBUS terminal/implement combinations.
The fact that this event is being so well received is, according to the AEF, a clear sign for how many new ISOBUS products are currently entering the market.
Also in Wieselburg it was possible for the first time to test components using the brand new AEF certification software and to upload the data to the AEF-ISOBUS-Database. Independent institutes will carry out the certification in the future.
Plugfests take place every spring and fall, alternately in the USA and Europe. They provide the industry with the opportunity to test their own ISOBUS product developments in combination with those from other manufacturers.
Company representatives from the USA, Germany, Canada, Australia, Japan, Finland, Denmark, Italy, Netherlands, Belgium, France, Austria and many other countries came to Wieselburg.
Host of this fall's plugfest was the Lehr- und Forschungszentrum Francisco Josephinum (BLT-FJ) in Wieselburg, Austria.