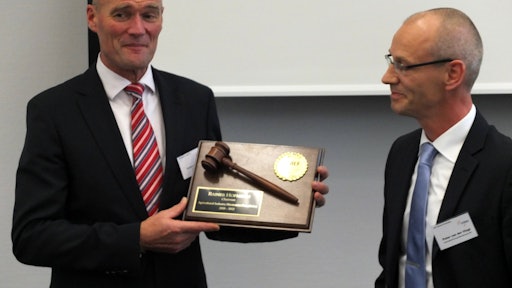 Four years after the Agricultural Industry Electronics Foundation (AEF) was founded, Rainer Hofmann has stepped down from his position as chairman of the AEF as required by the AEF statutes. As his successor, the general assembly of members in Frankfurt elected Peter van der Vlugt, who was previously vice chairman of the organization. Marcello Mongiardo was elected the new vice chairman.
During his tenure, Hofmann, Head of Electronics/Electrics Development at AGCO, was a decisive driver of the work of the AEF. He succeeded in bringing manufacturers in the area of agricultural electronics from across the world to the "round table" of the AEF and in making ISOBUS compatibility across manufacturers one of the central issues. Hofmann comments, "With around 150 members from many countries across the world, the AEF has become powerful enough to continuously further develop the standardization of electronics, and ISOBUS in particular, but fields of activity, such as electrical drives and camera systems, have also become our tasks."
The new chairman, Peter van der Vlugt, Head of Research and Development at Kverneland Group Mechatronics, is facing these new challenges together with vice chairman Marcello Mongiardo, Director of the System Architecture Component Product Line - Tractors at CNH Italia. Their most important tasks include the global marketing of the results that have been achieved so far by the AEF project groups. Van der Vlugt comments, "With the communication concept that is based on functionalities, the AEF ISOBUS database, the Conformance Test Tool, and the AEF Plugfests, we have created important instruments for the global agricultural technology industry which are considerably improving the implementation of the ISOBUS standard."
However, as further stated in AEF information, the growing demands on the organization have consequences for personnel. Employees of the member companies, who were carrying out their work for the AEF in addition to doing their own job, could no longer cope with the workload. Therefore, in future, professional, permanent members of staff, who report directly to the chairman, would exercise guiding and coordinating functions. The important aim of the new management team would be the completion and integration of the AEF ISOBUS databases (aef-isobus-database.org) and the AEF Conformance Test. The database is currently available to manufacturers and trade associations. It will be released to the general public at Agritechnica 2013.