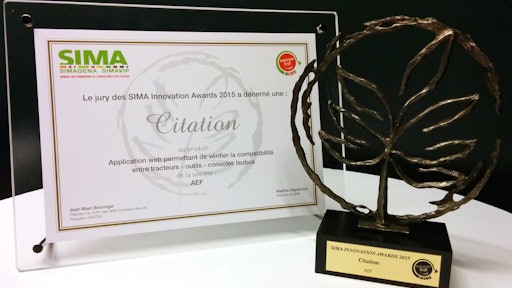 On the occasion of the announcement of the SIMA Innovation Awards, the Agricultural Industry Electronics Foundation (AEF) won a SIMA "Citation" for the development of the AEF ISOBUS Database.

The AEF has developed a test for the compliance of ISOBUS products. The results of these AEF ISOBUS Certifications are stored in the AEF ISOBUS Database.
Starting February 22, 2015 this freely accessible database will let users check the ISOBUS compatibility between the tractors, implements and displays that they plan to use. In just a few clicks, the user connects the equipment and can see whether the selected combination is compatible and what functionalities the components can use together. It is also possible to compare alternatives. If a component is not in the database, it is not AEF certified.
Problem identification by the after-sales service technicians is just as quick – even in the field. If an ISOBUS error cannot be solved at once the service technician can directly contact one or both manufacturers using the ticket function of the database to obtain help. All of the problems encountered and their solutions are documented in the database. It is therefore constantly learning and contributes to improving the service provided to farmers and agricultural contractors. It avoids having to research the cause of a malfunction from scratch every time.
Ultimately, the AEF-ISOBUS Database is a valuable tool for all players in the agricultural field (end users, dealers and manufacturers) when the new worldwide ISOBUS standard is used.
Companies in this article