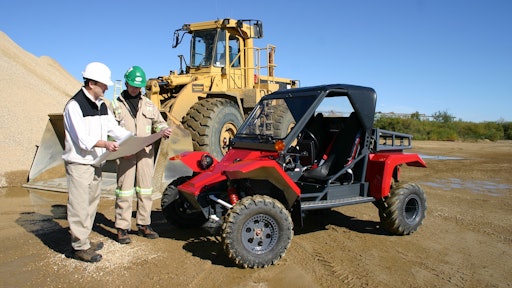 Phoenix-based TOMCAR Holding Company LLC (TOMCAR), which produces high-end all-terrain vehicles for mining, military, commercial and personal use, is celebrating its 25th year ready to overhaul the mining transportation industry at MINExpo 2016, being held September 26-28 in Las Vegas, NV.
In addition to featuring its diesel unit, TOMCAR will introduce its newly-released electrical vehicle, one of the only advanced, high-performance 100% electrical all-terrain vehicles offered worldwide.
"Mining professionals are loving the fact that our electrical vehicle emits no diesel particulate matter, which the Mine Safety and Health Administration (MSHA) has deemed dangerous to workers' health," says Ram Zarchi, CEO of TOMCAR. "Low maintenance costs, no emissions, and less noise make this an easy sell for anyone who wants to take their work environment to the next level of safety and performance."
The TOMCAR diesel vehicle, meanwhile, continues to be an industry favorite, having been heralded "the best mining vehicle we've come across in decades" by Innovative Underground Transport in Australia.
TOMCAR's mining vehicles are the most durable on the market and have been in service, extensively, in underground mining for over 10 years. Over the past decade, mining has become TOMCAR's second largest market sector (after military) and the company has developed a customizable, mining vehicle - incorporating feedback from dozens of operators. TOMCAR has also developed a preventative maintenance program specifically developed for mines which is implemented, by its team, on-site.
Its rugged construction and fully-welded high-grade steel frame make it ideal for operating under the extreme conditions and tough demands of mining industries, while providing operators with unmatched safety designed to last decades with quick on-site repair. The TOMCAR is built to withstand constant abuse with minimal maintenance and equipment downtime, is easily maintained, and can be repaired on site.
"The TOMCAR has not disappointed," says Johannes Sondergaard, K1 Mine Engineer at Potash Mine in Canada. "The TOMCAR has an incredibly low center of gravity. This, in combination with the high ground clearance, independent suspension, and rollover protection has left me feeling safe and comfortable in all of the operating conditions that the mine has to offer. It has no trouble powering four adults through the hills and valleys of the mine. It is a pleasure to find a machine that I actually enjoy driving throughout the mine for a 12-hour shift."