Freudenberg Sealing Technologies
Freudenberg Sealing Technologies has announced plans to focus on creating fuel cells and other technologies for the growing electrification transportation market. The company estimates that the fuel cell will reach a global market share of 40% in mobile applications by 2050.
As manufacturers of heavy-duty vehicles increasingly turn to greener technologies to reduce the carbon footprint of their products, Freudenberg seeks to do the same.
From O-rings to fuel cells
"Climate change and all these [emissions reduction] activities are very present for all of us," says Claus Moehlenkamp, CEO of Freudenberg Sealing Technologies. "We at Freudenberg definitely take the challenge of supporting and underlining the long-term targets of 2050. [Ensuring] less than 2 degrees warming or being emission neutral is a big challenge, but we believe it's doable. And we also have the great opportunity to evolve as business leaders [with] new business models."
The increase in vehicles which are less dependent on fossil fuels will reduce the demand for many of Freudenberg's products, such as valve stem seals and oil pump seals typically used in transmissions and engines.
As such, the company is expanding its focus to the supply of components for e-mobility. Moehlenkamp notes there are plenty of opportunities for the company to provide sealing products in electric vehicle systems such as for rotating shafts or sealing elements in the cooling system of the battery.
In 2018, the company developed special seals specifically for use in fuel cells. The seals are attached directly to the gas diffusion layer and help facilitate thin cell designs. They seal the outer area of the polymer electrolyte membrane (PEM) which eliminates the need for reinforcement to prevent contamination and thus extend the life of the fuel cell. The seals also compensate for dimensional variations that may result from the expansion of adjacent components due to heat or other factors.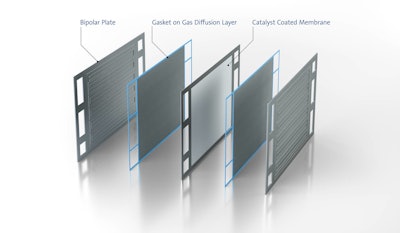 However, he says fewer seals are necessary for electric vehicles as their power systems are less complex than that of a combustion engine. The environment in which the seals will be used is also not as aggressive. Because the need for seals will evolve, Freudenberg decided to invest in battery systems and fuel cells as a means of supplementing business which will likely go away at some point in the future.
To prepare for this transition, the company knew it needed more expertise. In February 2019, Freudenberg became a majority stakeholder in XALT Energy, a developer and manufacturer of lithium-ion technology products for heavy-duty applications.
Read more: XALT XLP Low Profile Lithium-Ion Battery Pack for Commercial Vehicles
"When we entered that business, it did $15 million in 2018 and this year we will achieve $50 million," Moehlenkamp says. "We have a growth ratio of over 300% with XALT. And next year, we believe we will reach $100 million, so it's a tremendous growth opportunity. We're ramping up the supply chain and it was a very good acquisition."
Freudenberg also bought the Munich-based fuel cell system company Elcore and its sister company, Elcomax, in 2018 to help improve its development of fuel cells.
"That completed our vast component expertise in that area, which we have built over the last 20 years," he says. "Now we have the system capability, including reformer technology [to better develop fuel cell technology]."
The company has also invested in its fuel cell capabilities in the U.S. It has testing and simulation capabilities at its facility in Plymouth, MI, which mirror those of its facility in Munich.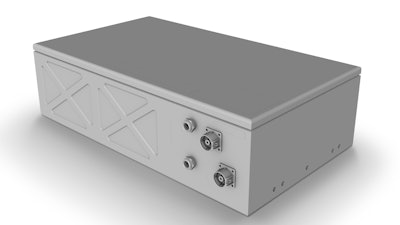 Patented designs and hybridization
Manfred Stefener, Vice President of Fuel Cell Systems for Freudenberg, says the company's expertise with integrated designs for aspects such as heat management will be beneficial to its fuel cell development. He notes bringing into the company Elcor's system building experience with high-efficiency systems will be especially helpful for developing fuel cells for heavy-duty applications.
Stefener says the company has lots of in-house experience now to work on increasing the lifetime of its fuel cells for which the target is 35,000 hours; eventually the company would like to go beyond that to possibly 50,000 hours. Its LTPEM stack has a modular and scalable design, and offers a power range of 30-100 kW.
Freudenberg manufacturers all core components in house, as well, including the membrane electrode assembly (MEA). This helps to ensure reliability and proper system integration. It also enables the company to better provide customized solutions.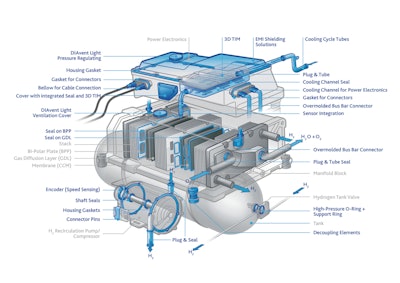 Stefener says there is a reformer technology the company can bring in to use hydrogen as a fuel for its fuel cells, as well as other fuels such as liquified natural gas (LNG) or methanol.
For the electrochemical component of the fuel cells, he says Freudenberg is following an integrated sealing concept called seal on MEA. "The active part of the cell is integrated with the seal and potentially other components which leads to fewer components in the cell and a significant cost advantage," he explains. This helps to ensure a long life for the components.
A chemically and mechanically stable membrane for the fuel cells is created through use of cross-linkers and specific polymer compositions. The company has a patented manufacturing process for this portion of the system, as well.
Stefener says the company believes there is a strong advantage in hybridization of batteries and fuel cells. "Combining batteries and fuel cells in heavy-duty applications so the technologies support one another from our view leads to the best cost structure in terms of investment and total cost of ownership." It also helps save on installation space, which is an important factor in many heavy-duty applications.
Combining the systems enables better performance in terms of redundancy and lowering service costs.
Because Freudenberg develops its batteries and fuel cells in-house, it can freely decide how best to combine the two technologies for a given application.
"Having modules on the fuel cell side and the battery side, we can bring hybrid systems into applications ranging from city buses up to big cruise ships," Stefener says. "Leveraging the economies of scale, from our point of view, leads to a very competitive cost structure."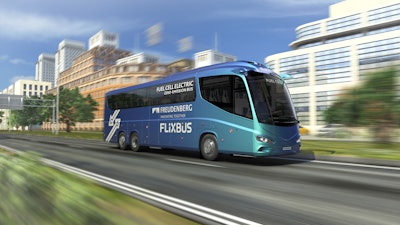 The company is also designing its fuel cell components to be recyclable when they reach their end of life.
"We have 90% material recyclability with our power cells," says Moehlenkamp. "We are also thinking about retrofitting systems in second-life applications of our batteries.
"In the fuel cell stack arena, we are even better off. We have a patented process to put platinum as a catalyst into our fuel cell stacks so we can minimize the usage of platinum," he said. "We can refurbish or retrieve up to 99% of the used platinum when we recycle [the fuel cell] stacks because for the high temperature models we have used our graphite bipolar plates."
Stefener adds the patented production process also offers the potential to make higher surface platinum particles because Freudenberg has complete control over the production process.
Freudenberg already has companies interested in using its battery and fuel cell products. It has secured a commitment from FlixMobility, a European supplier of long-distance buses comparable to Greyhound Bus in the United States. FlixMobility plans to convert 30 buses to fuel cell vehicles by 2022 using Freudenberg products.
The company has also secured a long-term supply agreement and partnership with bus manufacturer New Flyer to develop and produce up to 22 hybrid buses that use batteries and fuel cells.
Read more: Freudenberg Battery Technology to Power Long-Distance, All-Electric Passenger Coach
Moehlenkamp says the company is currently in the midst of validating its prototype fuel cell stacks which include both high and low temperature models. "Starting in 2021 we will deliver the first larger modules into the market" so as to gain more experience with the fuel cells in real-world applications. By 2024 at the latest the company hopes to be mass producing its fuel cells.
Companies in this article