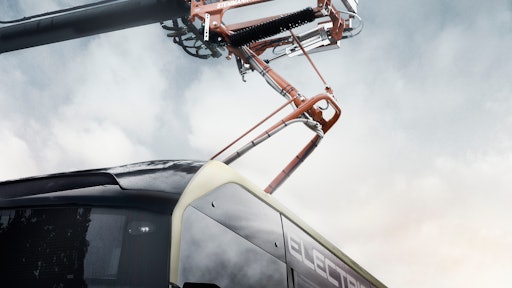 According to IDTechEx's latest report, "Electric Buses 2018-2038," the hybrid and electric bus market is set to grow to a $500 billion market as city populations continue to grow and regulatory demands increase around the world (read more, 20867496). More people worldwide are moving to cities each year. The UN predicts the estimated global population of 9 billion people by 2050 will see approximately 70% of them living in cities. That idea is putting increasing pressure on finding clean transportation solutions. Even now large cities are announcing future bans on internal combustion engines in city centers.
Battery manufacturers invest, grow
In the past year, several financial investments and acquisitions in the battery, fuel cell and ultracapacitor space have demonstrated that the interest in improving existing battery technology is only increasing. Learn more about the differences between batteries and ultracapacitors in Sara Jensen's article, "Increase Efficiency by Distributing the Workload," at www.oemoffhighway.com/10733401.
BMZ Expands in Europe
BMZ Group, a lithium-ion system solution manufacturer, announced it will be expanding its Poland production facility and its 650 employees to a larger building "to respond to the strong growth in the market for lithium-ion battery systems, and…to further expand our production," says Sven Bauer, CEO & Founder of the BMZ Group. BMZ Poland is focusing on developing E-bus batteries for public transportation (learn more, 20866897).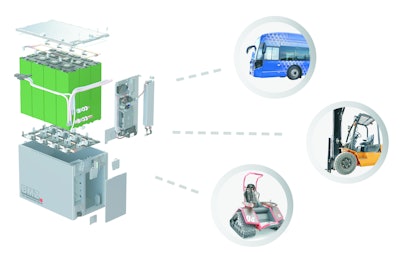 BMZ also recently completed a collaboration with AKKU Mäser GmbH to assemble lithium-ion battery systems and expand manufacturing into Austria and Switzerland. "In the future, BMZ will manufacture prototypes and series products in cooperation with AKKU Mäser," says Bauer.
Maxwell Makes Strategic Moves in China
In February of 2017, Maxwell Technologies Inc., a manufacturer of capacitive energy storage and power deliver solutions, expanded its partnership with CRRC-SRI to localize manufacturing of its ultracapacitor-based modules for use in the China new energy bus market. Under the terms of the agreement, localized production of its ultracapacitor-based modules is expected to begin in China in the second half of 2017, coinciding with the peak buying season for China's new energy bus market. The production of bus modules extends Maxwell's strategic partnership with CRRC-SRI and will enable Maxwell to compete more effectively in the China bus market moving forward (read more, 20850738).
By April, Maxwell had signed an equity investment agreement with China's SDIC Fund Management to allow the company to sufficiently invest in strategic technology development and expand its presence in the Asian market (learn more, 20857735).
One month later, Maxwell announced it had completed its acquisition of Nesscap Energy Inc., a small- and medium-cell ultracapacitor technology producer, which will round out Maxwell's portfolio of products that concentrates more heavily on large cells. The Nesscap business includes research, development and manufacturing of energy storage and power delivery solutions with operations in Korea, Germany, and China. The key benefits of the transaction include expanded and solidified opportunities in the wind, automotive, and industrial markets that are expected to accelerate top-line growth, diversify revenue, accelerate innovation, and reduce product time to market with an expanded portfolio and improved cost competitiveness through manufacturing efficiencies.
Microvast Invests in the U.S.
Microvast had a record year in 2016, delivering more than 7,500 all-electric and hybrid-electric buses for metro transit use worldwide. The company also announced plans to expand operations in the U.S., where it expects to put its first e-buses on the road in 2017. As of the end of 2016, more than 15,000 Microvast battery-powered buses were operating in public transport networks in China, as well as in five countries in Europe (read more, 20851008).
Due to its successful 2016, the company is advancing its activities in the U.S. This includes a primary emphasis on the e-bus sector, while also pursuing opportunities in truck electrification, mining processes, grid-scale energy storage, and other markets. "We're moving forward with a major expansion of our U.S. activities, beginning with establishing a manufacturing facility, hiring more staff, and creating partnerships to support that effort," says Hanko Song, Microvast Vice President of Marketing.
In the U.S., Microvast sees a significant opportunity to electrify public transport like it has in other countries. To that end, the company established a U.S. headquarters near Houston that will expand to include additional engineering, service and production personnel. Nearby in Sugar Land, TX, Microvast will open a new battery pack manufacturing facility, which will be in compliance with the FTA's Buy America program.
The company's subsidiary, Microvast Power Systems (MPS) also recently received a $400 million investment to launch its next generation of higher density products and expand its production facility (learn more, 20858932). "The funding we received will be used for continued research and development, as well as scaling production capacity. We will also implement our Clean City Transit strategy in China, North America, the EU and Asia Pacific area," says Yang Wu, CEO of Microvast Inc.
"The fast-charging approach is becoming an industry trend," says the director of this investment from CITIC Securities. "Microvast is committed to a high level of investment in R&D to maintain its advantage in advanced battery technologies. The company is also accelerating the commercialization of those technologies, which makes us very confident in its potential."
Cleaner cities
Most of the large, heavy-duty vehicle manufacturers have announced an interest or investment in expanding their reach into the electric vehicle market. The ElectriCity project, for example, has brought together companies, researchers, public authorities, and the city of Gothenburg, Sweden, since 2013 to test and develop new solutions for sustainable transport and sustainable urban development.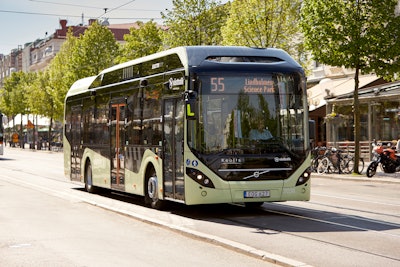 Already with 2 years of successful testing for 10 all-electric or partially electrified buses on route 55 in Gothenburg, Sweden, Volvo and the ElectriCity partners recently announced it would be expanding its electric bus operations (read more, 20864834). According to the original plan, the tests were scheduled to end in 2018, but now the trial is being extended with additional vehicles and the test period will continue to 2020.
When the Volvo Ocean Race comes to Gothenburg in June 2018, two electrically powered articulated buses will showcase the latest developments as they operate between Nordstan and Frihamnen. These two prototype buses will then run on route 16, which will be equipped with charging infrastructure and bus stop facilities for electrified high-capacity traffic.
Within the framework of ElectriCity work will also commence on testing solutions in automation, such as automatic Bus Stop Docking and bus platooning whereby buses run close behind one other in long trains in urban traffic.
The EU's Horizon 2020 ECOCHAMPS (European COmpetitiveness in Commercial Hybrid and AutoMotive PowertrainS) project is a consortium of 26 partners whose aim is to gain a leading position in hybrid powertrain technology, extend its use in the marketplace, and significantly reduce CO2 emissions from road transport to have a positive effect on air quality.
Two of its several vehicle concepts are the DAF XF heavy tractor and the MAN city bus. MAN is constructing a hybrid bus that should be up to 20% more efficient in the driveline. "In the city bus segment in particular, we are seeing huge potential for using eMobility applications. However, the total cost of ownership (TCO) plays an especially significant role for transport operators and carriers," explains Dr. Götz von Esebeck, Head of eMobility at MAN Truck & Bus. The concept vehicle with electric driveline can have different energy sources integrated, for example a diesel generator or a fuel cell. The flexibility will also make it easy to add additional storage capacity to a purely battery-electric vehicle which is charged in the depot (learn more, 20863692).
Montreal, Canada recently acquired three 100% electric buses by Nova Bus as a part of its Montreal City Mobility project. The vehicles were acquired by the Société de transport de Montréal (STM) in accordance with a financial support from the Green Fund of the Government of Quebec. This project is a result of the Quebec Transport Electrification Action Plan 2015-2020 which seeks to get 100,000 rechargeable electric and hybrid vehicles registered in Quebec (read more, 20862944).
Earlier in January, New Flyer completed a successful three-week demonstration of the New Flyer Xcelsior XE40 battery-electric bus for the Metropolitan Atlanta Rapid Transit Authority (MARTA). New Flyer integrates Michigan sourced lithium-ion batteries into a durable energy storage system designed for North American applications. Close to MARTA in nearby Alpharetta, GA, Siemens manufactures high-efficiency electric motors and power systems for the Xcelsior's propulsion and regenerative braking system (read more, 20849643).
New Flyer electric buses have the ability to quick-charge at an equipped bus stop. This capability typically requires only 6 minutes of re-charge for every hour of service operation. New Flyer also builds extended range electric buses with more battery capacity. These buses can operate for longer periods during the day, then recharge over-night using plug-in charging. MARTA is considering both types of charging methods for bus operations.
"Our zero-emissions battery-electric bus demonstration in Atlanta follows MARTA's debut of New Flyer's clean-air compressed natural gas (CNG) articulated buses in May 2016. Whether it's battery-electric or low emissions CNG, each propulsion system with New Flyer's Xcelsior platform offers both tremendous environmental and operational benefits," says Paul Smith, New Flyer Executive Vice President, Sales and Marketing.
Off-road application growth
The bus and public transportation market is just one area where battery development can be a benefit. Although the use of batteries in heavier-duty off-road applications still faces hurdles with higher power applications due to their large size and heavy weight, another report by IDTechEx, "Electric Vehicles for Construction, Agriculture and Mining 2017-2027," forecasts those markets will total approximately $81 billion by 2027. Considering the lower volume of off-road equipment versus on-highway trucks, buses and municipal applications, that is a significant value (read more, 20859895).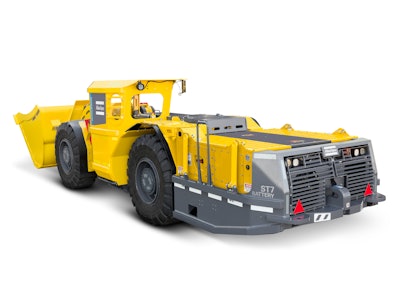 Last year at MINExpo in Las Vegas, several of the major mining OEMs released battery-powered underground mining vehicles. Besides creating a quieter working environment, it also significantly benefits the safety of a confined underground mine site. For a site manager to be able to employ vehicles that emit zero emissions, it can mean a huge cost savings for the ventilation needs of the mine. There is also substantially less heat emitted from a battery-electric vehicle versus a diesel engine-powered mine truck, and less noise. Learn more about the trend toward battery-power for underground mining applications in Sara Jensen's article, "A Matter of Survival," at www.oemoffhighway.com/12246203.
Atlas Copco, for example, released its Scooptram ST7 battery-powered scoop in 2016 (read more, 12216146). "Loaders and trucks consume about 80% of the diesel fuel underground. The loaders are most often used in dead ends of the mine, which are the most difficult to ventilate. To make the greatest impact on work environment and ventilation costs, it was an obvious choice for Atlas Copco to launch a battery driven loader as our first product of this type," says Lars Senf, Vice President Marketing at Atlas Copco Underground Rock Excavation division. It also generates 80% less heat, helping further reduce operational costs for mines. "The diesel machines generate so much heat you have to optimize your air conditioning system which is also very expensive," says Erik Svedlund, Global Product Manager, Electric Vehicles – Underground Material Handling at Atlas Copco.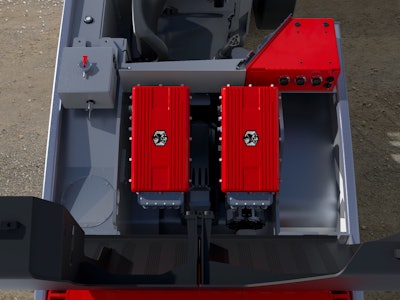 Atlas Copco worked together with Artisan Vehicle Systems—a manufacturer of electric and hybrid powertrain systems—to develop the ST7. Artisan supplied the lithium battery, as well as the electric motors and drives. Two 630V AC electric motors are used within the machine, one for the drive system and one for the hydraulics. Both are variable speed motors designed to run only when necessary and at the speed required for operation, making the system more energy efficient.
Sandvik introduced two battery-powered vehicles at MINExpo. Its battery-powered loader, the Sandvik LH307B, uses a lithium titanate oxide (LTO) battery (learn more, 12270372), and its DD422iE mining jumbo utilizes a molten salt (sodium-nickel chloride) battery technology (learn more, 12266992).
The global battery industry is seeing strong manufacturing support from a wide array of heavy-duty vehicle markets from on-highway transport solutions to underground mining. As battery technology is continuing to improve in capacity, reduce in size and lower in price, the solution is becoming more feasible for low-volume vehicle applications. The coming years are predicted to see a huge growth in the hybrid and electric bus market, and in turn drive an already growing battery market.