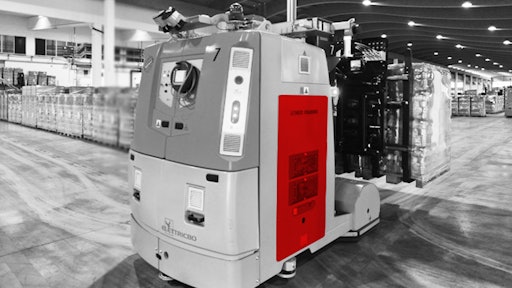 Kaitek Flash Battery is taking part for the first time in the 7th edition of GIS - The Lifting and Heavy Transport Show, an Italian event dedicated to machines and equipment for lifting, industrial and port handling and heavy transport, which will be held in the Piacenza Expo trade fair complex from October 3-5, 2019. All eyes will be on the novelty of this year's GIS, the AGV Expo, an exhibition in Pavilion 3 dedicated entirely to automatic guided vehicles. 
The major trade associations are helping to organize the event, which will be the benchmark for users of cranes, mobile cranes, aerial platforms, telescopic handlers, bridge cranes, machinery for port and industrial handling and for heavy transport companies.
On its stand in Pavilion 1 C24-D25, Flash Battery will be exhibiting innovative lithium batteries for lifting and mechanized logistics, which enhance energy density and boost work cycles. It will introduce the most advanced technological solutions for current handling and storage requirements for AGVs – Automated Guided Vehicles – which it has manufactured together with its leading customers in the food and beverage and tissue sectors.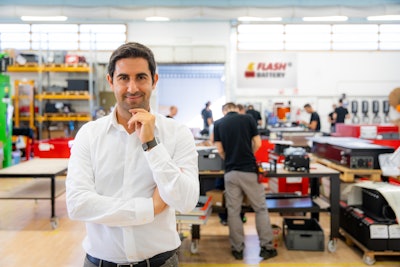 Flash Battery will also contribute to the GIS program of technical seminars: on Thursday, October 3 at 9:00 a.m. in Room H of the expo complex, the CEO and founder, Marco Righi, will be speaking at the conference "Innovazione tecnologica green nel comparto del sollevamento, della movimentazione industriale e portuale e dei trasporti pesanti" (Green technological innovation in the sector of lifting and industrial and port handling and heavy transport) on the topic of the changeover from lead-acid to lithium batteries.
"Lithium batteries are a pivotal innovation in the field of energy for industry, a considerable step change compared to lead-acid batteries," says Righi.
Since business began until now, Kaitek Flash Battery has already worked with over 50 businesses in the sector of lifting and transport and provided them with lithium technology.
To provide advice and support and to develop new contacts, the company has decided to take part in the event in Piacenza.
"Flash Battery lithium batteries" Righi continues, "improve the performance of industrial machines and vehicles to provide even more energy from a more compact size, while effectively maintaining the high level of safety that Flash Battery is known for throughout the world."
They are extremely advantageous when used on AGVs and Laser Guided Vehicles (LGV), especially in a productive system which exploits integrated logistics: they enable industries to boost their system efficiency, as the batteries require no maintenance whatsoever. Secondly, by exploiting their rapid recharge, vehicles can operate 24/7 without having to replace the battery. Lastly, lithium batteries reduce the running costs lead-acid batteries require (weekly maintenance, charging rooms, fume extraction, automatic battery change systems, legislative aspects, etc.). 
In order to sustain the growth of 2018 when the turnover doubled, in the early months of 2020, the company will inaugurate its new industrial site in Sant'Ilario d'Enza (RE), over five times larger than the original plant in Calerno (RE), on a site of over 20,000 sq. m, with 1,500 sq. m of offices and a production area of 3,200 sq. m. EUR 6 million have been invested in the construction of the facility, which will have room for more than 150 members of staff.
"Building the complex will not only enable us to boost our production capacity, it will also lay the foundations for additional investments in R&D, as part of our vision for the technology and industry 4.0 model," states Alan Pastorelli, partner and Technical Director.