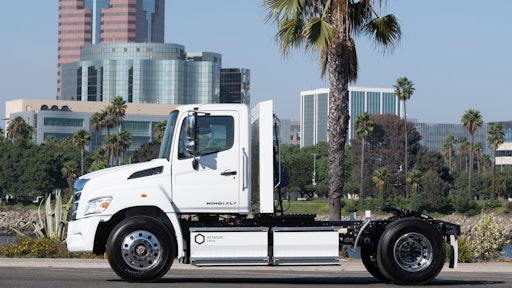 Hexagon Purus
Hexagon Purus, a subsidiary of Hexagon Composites, has been awarded a purchase order by Hino Trucks, a Toyota Group company, for three trucks as part of Hino's development plan for Project Z.
A development partner in Hino's "Project Z" Battery Electric Vehicle (BEV) program, Hexagon Purus will provide battery packs and powertrain integration on multiple Hino platforms with serial production planned in the next few years.
Driving Energy Transformation
"Project Z represents our holistic approach to advancing Hino's environmental leadership position. Technology leaders like our partner, Hexagon Purus, make it possible for us to deliver a sustainable, low cost product line-up that will meet the needs of our customers as our industry moves forward to zero emission vehicles," says Glenn Ellis – Senior VP of Customer Experience. "Our plan is to deliver demonstration vehicles in the first half of 2021, customer demonstrations in 2022, and production prior to 2024."
"Battery (BEV) and Fuel Cell (FCEV) electric trucks are the perfect alternative when you want to eliminate emissions and reduce maintenance cost. The recharging infrastructure is steadily growing and now is the time for fleet owners to plan on making the switch," says Todd Sloan, EVP of Hexagon Purus. "We are honored to be selected by Hino Trucks and we look forward to contributing to the development of their zero emission vehicles."
Hexagon Purus' systems are due to be delivered in the second quarter of 2021.