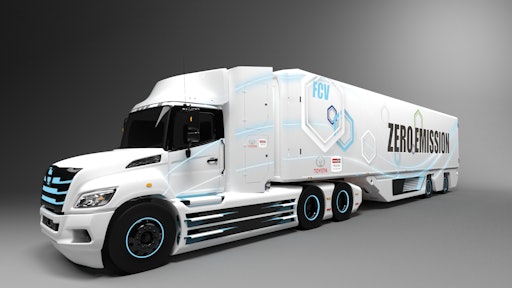 Hino Trucks
Hino Trucks has announced Project Z, the company's development path to zero-emissions vehicles (ZEV), ranging from Class 4 to Class 8.
As part of this development project, the company will partner with various industry leaders to develop both electric and fuel cell powered vehicles. A Class 5 SEA Electric SEA-Drive 120a on a Hino M5 chassis is an example of once such ZEV product being developed as part of Project Z.
"Our holistic approach to working with technology leaders like Toyota, Hexagon Purus and Xos will result in a sustainable, low cost product lineup that will meet the needs of our customers as our industry moves forward to zero-emission vehicles. For customers ready to move in that direction now, the SEA Electric SEA-Drive 120a paired with a Hino M Series chassis is commercially available today," says Glenn Ellis – Senior VP of Customer Experience.
Hino Trucks Project Z will consist of demonstration vehicles in the first half of 2021, customer demonstrations in 2022, and production prior to 2024.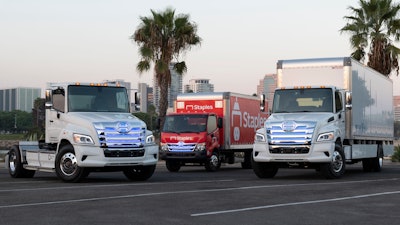 Partnerships expand product offerings
Hino and and Toyota Motor North America (TMNA) have agreed to jointly develop a Class 8 fuel cell electric truck (FCET) for the North American market.
The partnership between Hino and TMNA will leverage the newly developed Hino XL Series chassis with Toyota's proven fuel cell technology to deliver exceptional capability without harmful emissions. This collaboration expands upon the existing effort to develop a 25-ton FCET for the Japanese market which was announced earlier this year.
"A fuel cell powered version of the Hino XL Series is a win-win for both customers and the community. It will be quiet, smooth and powerful while emitting nothing but water," says Tak Yokoo, Senior Executive Engineer, Toyota Research and Development. "Toyota's 20 plus years of fuel cell technology combined with Hino's heavy-duty truck experience will create an innovative and capable product."
"Expanding upon our proud heritage of the Hino powertrain, Toyota Fuel Cell Technology offers our customers a commercially viable, extended range, zero emissions vehicle in the near term," says Glenn Ellis, Hino's Senior Vice President - Customer Experience. "Hino shares a common focus with Toyota when it comes to durability, reliability, and innovation with the customer at the center of design which makes this collaboration a game changer."
READ MORE: Hydrogen Proves its Potential in Heavy-Duty Applications
Hino also announced two partnerships for the development of fully-electric trucks. One of which is with Hexagon Purus to incorporate its full electric drive system on a Hino battery-electric Class 7 tractor. The other partnership will be with Xos Trucks. This will involve a Hino HL Series Class 8 box truck powered by Xos' X-Pack battery and electric drive system. Hino says it will investigate central drive motors and e-axles for both electric vehicle projects.
Xox Trucks' X-Pack is a modular battery pack system built from the cell-level up. Each pack has its own air cooling which helps to save weight and costs while ensuring safety of the system. According to Xos, its vehicles come DC-fast charge capable and are able to charge within 1 hour.
Companies in this article