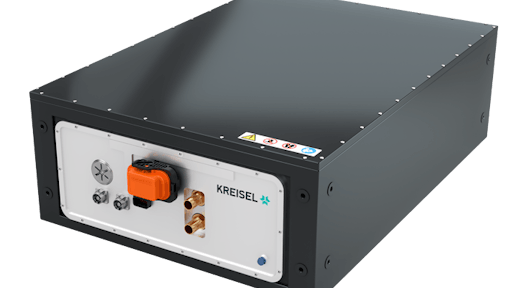 Kriesel

Kreisel
The Kreisel Battery Pack 63 (KBP63) incorporates Kreisel technology benefits into one product. It uses Kreisel's patented immersion cooling technology for efficient thermal management. This ensures that all cells are stressed equally, prolonging battery life while delivering high safety standards. Key benefits include:
Extended life—Kreisel's unique immersion cooling technology

offers a low

temperature spread of less than 1°C (less than 33.8°F) throughout the module

, which increases service life and reliability.

Safety—Safety features are incorporated into module design and lead to high safety in relation to energy density.

Power performance—High power (C-rates) for charging and discharging because of the patented immersion cooling.
Modular Design
The modules in the battery pack are interchangeable, allowing the battery to serve multiple applications with just one platform solution. The same module is applicable for use cases within the automotive and commercial vehicle, off-highway, transportation, and marine markets. It can be connected in parallel as well as in series (400 V or 800 V). This offers high flexibility in combination with different possible installation positions (horizontal or vertical).
Technical Facts
Capacity: 173 Ah

Energy content: 63 kWh (nominal)

Technology li-ion 21700

Nominal voltage: 364 V

Voltage (max.): 409 V

Voltage (min.): 297 V

Continuous charging power: 115 A/42 kW

Continuous discharging power: 330 A/120 kW

Energy density 203.5 Wh/l, 163 Wh/kg

Max. charge: 165 A/60 kW

Operation temperature range: - 40°C to 70°C 

Weight: approx. 380 kg

Dimension (L x W x H): 111 mm x 795 mm x 351 mm
Request More Information
Fill out the form below to request more information about
Kreisel Battery Pack 63