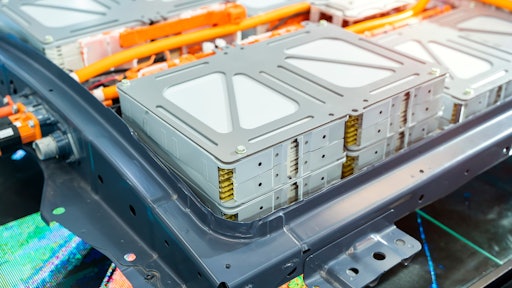 xiaoliangge, Adobe Stock
The electric vehicle (EV) sector is driving demand for lithium-ion (Li-ion) battery technology, with an estimated global demand to reach over 1.6 TWh by 2026, representing a 5-year CAGR of 27.9%, according to Interact Analysis.
In fact, the share of shipments to EV manufacturers will remain stable, standing at 75.9% of the total, but expect growth in demand from the energy storage system (ESS) sector, with shipments forecast to total 312.4 GWh, accounting for 19.2% of all battery shipments, a 5-year CAGR of 40.9%. CE battery shipments are expected to total 81.3 GWh over the 5-year period, with a CAGR of 4.4%.
"The big question about OEMs is: Are they bringing new manufacturing capacity online quickly enough? Currently, battery supply is very tight, and this situation will last until 2023. Supply is so tight that, when vehicle manufacturers make their production plans, they must first reserve battery production capacity in advance. Battery supply issues have led many battery OEMs to lay out incredibly ambitious plans to expand their battery production capacity. According to our battery production capacity tracking database, though, these plans will be slow to roll out in practice. Many battery OEMs are trumpeting production targets such as 50 GWh, but a lot of this is spin. The reality is that many of the most ambitious battery capacity expansion plans have much more modest roll out plans, which are usually in phased sections of more like 10 GWh. For this reason, we believe high-quality production capacity will be lacking for a long time," says Maya Xiao, senior analyst at Interact Analysis.
From Interact Analysis:
Russia and Ukraine have vast untapped lithium reserves, and Russia is currently a big exporter of nickel, palladium, aluminum, platinum, steel and copper. The situation in Ukraine and the resultant sanctions on Russia will lead to shortages in the supply of some industrial raw materials. The Li-ion battery market will be impacted to some extent, but it won't be massive.
In terms of regional demand, APAC will dominate throughout the forecast period. The region gobbled up 75.1% of all battery shipments in 2021 and will almost maintain its share going up to 2026, when it will hit 74.3%. But expect the U.S. Li-ion battery market to enjoy the highest growth rate during the next 5 years, when it will see a CAGR of 29.5%. EMEA will follow, with a 27.9% CAGR, and only then APAC at 27.6%.
Originally published by Food Logistics.