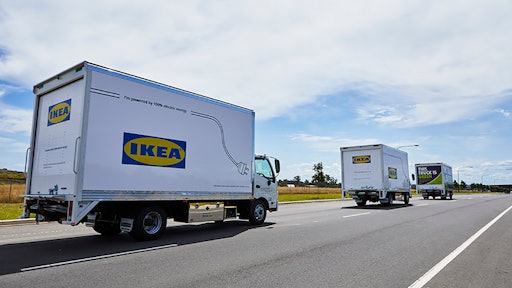 After a 3-year project in conjunction with Australian automotive technology company SEA Electric, fleet service provider All Purpose Transport is set to deploy Queensland's first 100% electric delivery truck for IKEA's planned zero-emissions truck fleet by 2025.
IKEA's bold vision for a 100% electric home delivery fleet by 2025 is seeing fleet delivery services such as APT partner with SEA Electric to build all-electric delivery trucks.
All Purpose Transport General Manager, Paul Kahlert, says, "All Purpose Transport is a progressive transport business that wants to take a leadership role in Queensland towards reducing emissions with the introduction of Electric Vehicles." All Purpose Transport is aiming for 10% of its IKEA delivery fleet to be all-electric by the end of 2020.
The new All Purpose Transport all-electric delivery truck is built on a Hino 917 glider with the SEA-Drive 120a power system.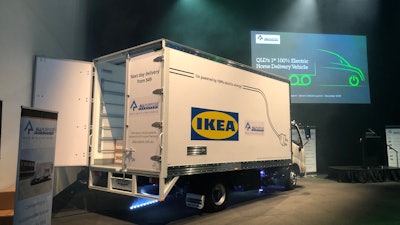 Glen Walker, SEA Electric's Regional Director of Oceania, says, "The 100% electric power system offers a range of up to 300 kms (unladen), zero emissions saving an estimated 36 tonnes of CO2 per annum when compared to a typical diesel equivalent, enhanced driver comfort and safety with little heat and noise, and reduced cost of total ownership."
This is one of several recent vehicle electrification projects of which SEA Electronics has been a part. Earlier this year it announced the use of its SEA-Drive 100 power system with 100 kWh battery to power an electric tipper truck. The company's SEA-Drive 120b power-system with a 136 kWh battery capacity is utilized in a 100% electric bucket truck, also known as a an Elevated Work Platform Truck (EWP) or "cherry picker" truck.
All Purpose Transport operates an owner driver model and has purchased the SEA Hino 917 delivery truck to test the business benefits of running an electric delivery truck and evaluate the positives and negatives. All Purpose Transport plans to offer an electric vehicle leasing scheme for a sustainable business model to its owner drivers.
IKEA is a corporate member of the EV100 group of companies joining the likes of DHL, Heathrow Airport, Hewlett Packard and Swiss Post.
Another IKEA fleet partner, Sydney-based ANC, has had three IKEA SEA Electric delivery trucks on the road for the past 10 months.
Collectively the three ANC electric trucks have travelled 85,000 km, traveling an average of 185 km per day on a single charge, and made over 5,000 deliveries with an average weight of around 2.5 tonnes. It is estimated in 10 months the three ANC electric trucks have saved a total of 90 tonnes of CO2.
Tony Fairweather, SEA Electric founder and CEO, says he was privileged to be invited to the All Purpose Transport launch of the first 100% electric delivery vehicle deployed in Queensland. "The event was well represented by IKEA and many All Purpose Transport clients, as well as being supported by Queensland Government with Minister Mark Bailey (Queensland Minister for Transport and Main Roads) addressing the room."
Fairweather says he was encouraged by the content of Minister Bailey's speech, "with his acknowledgement of this fast transitioning segment and that Australia has been slow to adopt strategies to support it, however implying this would soon change." A further discussion after the Minister's address suggested that electric rubbish trucks should be (and will be) supported in Queensland and was interested in the current status of our activity with Brisbane City Council. "I am confident that this will be the start of many more electric commercial vehicles for Queensland."
SEA Electric is an Australian automotive technology company that locally develops and assembles 100% electric-powered vans, commuter buses, and light/medium-duty rigid truck models using its proprietary SEA-Drive power systems. The company is rapidly growing across the globe recently taking several commercial EV orders in Australia, New Zealand, USA and Thailand.