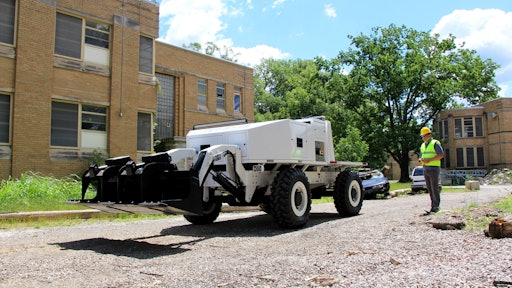 UQM Technologies Inc. announces a follow-on order from Muncie, IN-based DD DANNAR LLC (DANNAR). UQM will ship HD 950T electric propulsion systems from this order to DANNAR in early 2018. DANNAR has introduced its Mobile Power Station (MPS), a heavy-duty EV designed for infrastructure maintenance and disaster response, powered by UQM's heavy-duty e-drive system. Due to increased exposure from the DANNAR unveiling in 2017 and the key suppliers of UQM, Cummins and BMW, DANNAR is solidly positioned to meet its 2018 production demands.
This innovative vehicle will provide clean and quiet energy for single-day or multiple-day work requirements. Its two-way charger and inverter allows for emergency export power from the battery system to support buildings and neighborhoods in time of crisis. It is outfitted with a hydraulic tool and attachment system and optional DANNAR work arms that can be equipped with any CAT or Bobcat attachments. It can be outfitted with multiple seasonal configurations, making it more cost-effective to operate, while providing more work value than traditional diesel equipment such as tractors, skid steers, and wheel loaders.
UQM CEO Joseph Mitchell says, "For general utility use or use in an emergency where power backup is needed, and we see this DANNAR vehicle as best-in-class technology. We are glad to be starting 2018 with a follow-on order from DANNAR for their next stage of production."
"UQM's leading power density and e-drive technology pairs perfectly with our other industry leading partners, and has helped create this extraordinary vehicle," says Gary Dannar, founder and CEO of DANNAR.