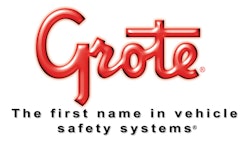 Grote Industries LLC, a manufacturer and marketer of vehicle lighting and safety systems, has announced plans to expand its headquarters, creating up to 33 new jobs by 2017.
The Madison, IN-based company will invest $20.7 million by the end of 2018 to renovate and equip its 370,000 square-foot facility, accommodating new growth associated with its LED vehicle lighting business. In addition to installing new advanced manufacturing workcells in August, the company is also upgrading existing capabilities to support a more lean production environment.
"Grote's success started in southern Indiana with innovative manufacturing techniques and the hard work of a Hoosier," says Victor Smith, Indiana Secretary of Commerce. "Lighting systems in our cars and other places find their origins in Indiana, with growth made possible in a business environment rooted in limiting expenses and maximizing opportunity."
Grote, which currently has 1,288 employees globally, including 424 full-time Indiana associates, has already begun hiring for new positions in Madison.
"As a place to do business and call home for our company, Indiana continues to demonstrate its commitment to the growth, well-being and success of our business," says Dominic Grote, President and Chief Executive Officer of Grote. "So when we made the decision to make this level of investment for our future, we felt there was no better place than Madison. We have a phenomenal workforce and are doing everything we can to ensure our team and our products are innovative and competitive in the global market. Our investment and the support from IEDC will help us achieve both of these objectives."
Located in Indiana since 1960, Grote produces vehicle safety systems for original equipment manufacturers and the vehicle aftermarket, with its lighting equipment sold on semi-tractors and trailers, passenger cars, buses, industrial vehicles, recreational vehicles and agricultural machinery. An international, family-owned company, Grote Industries also operates facilities in Canada, Mexico, Germany and China. With its LED lighting growth, Grote will help speed the vehicle lighting industry's transition from incandescent lamps to new lighting technology.
The Indiana Economic Development Corporation offered Grote Industries LLC up to $100,000 in training grants based on the company's job creation plans. These incentives are performance-based, meaning until Hoosiers are hired, the company is not eligible to claim incentives. The city of Madison supports the project at the request of the Jefferson County Industrial Development Corporation.
"We are thrilled that Grote Industries is making yet another significant investment in its plant and its workers here in Madison," says Madison Mayor Damon Welch. "The state's investment in Grote and their employees will help them succeed in an extremely competitive global marketplace. And their commitment to having a highly skilled workforce benefits the entire community."
Indiana has added 241,800 private sector jobs since July 2009, which ranks among the top 10 states nationally. Led by international manufacturers like Grote, Indiana's private sector has grown at a rate of 10.4% over the same period.