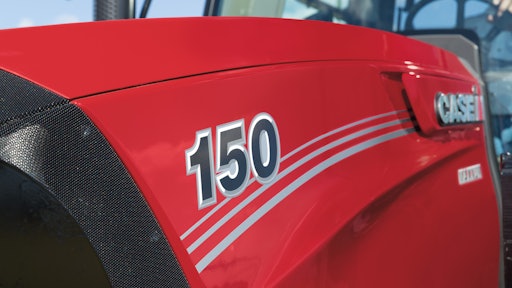 A bold new look exemplifies the enhancements to the new Case IH Maxxum Series tractors and their reputation as versatile workhorses for the field and livestock operations. Fittingly, Case IH introduced the five new models with their new aggressive appearance at the 2015 Cattle Industry Convention in San Antonio.
With its redesigned hood and roof, the new Maxxum line foreshadows an updated, dramatic new styling coming soon to the Case IH high-horsepower families of tractors. But the improvements extend well beyond cosmetics.
"The Maxxum tractor series are exceptional tractors now made even better," says Dave Bogan, Case IH Marketing Manager. "The new line encompasses product features that help livestock operators and specialty farmers achieve financial success and production efficiency."

Performance
The new Maxxum Series features an improved performance cooling package. They are also equipped with the fuel efficient Tier 4 B/Final SCR-only technology that meets current EPA requirements with less complexity and components than other emission systems used in the industry. This allows Case IH engines to run cleaner and cooler, which has doubled the service interval hours.

Better lighting
Some jobs need to be done outside of the daylight hours. These new Maxxum tractors are equipped with eight high-power LED lights and can be ordered with additional LED lights — up to 14 — that provide daylight visibility during nighttime operations. This helps keep projects on schedule with less operator fatigue.
Agility
The new Maxxum tractors feature an improved turning radius on a longer wheel base for greater stability in the field. Operators can easily navigate tight turns in the field and maneuver in tight barns at feeding time. This gives the operator the best of both worlds, Bogan states.
Smooth shifting; smooth ride
The new Maxxum Series also offers Continuously Variable Transmission (CVT) technology with a double-clutch design that allows smooth shifting and maintains continuous power to the ground. Coupled with the Case IH Multi-Control Armrest, these Case IH machines provide ease of operation that is hard to match in the tractor industry. The optional front axle suspension is now equipped with twin accumulators, which improve the ride, comfort and safety of these machines.
"Maxxum Series tractors are proven multipurpose workhorses, perfect for loader and livestock applications," Bogan says, "especially for those livestock producers who cut hay. They are also a good fit in a small-scale planting or specialty farming operation, such as vegetable farming."
Many of the same traits — maneuverability, safety, efficiency, reliability — that help make the Maxxum Series ideal for the farm or ranch also make it an excellent option for state and municipal government jobs, such as mowing and other maintenance along roadsides and within rights-of-way.
The new model lineup consists of the 4-cylinder 115, 125, 135 and 145 models in the Maxxum, Maxxum MultiController and CVT configurations. Also available is the 6-cylinder Maxxum 150 model available in the Maxxum and Maxxum MultiController versions.