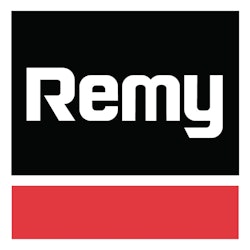 Remy International Inc., manufacturer of Delco Remy heavy-duty starters and alternators, as well as Remy light-duty starters and alternators, now offers a complete line of high-output alternators, ranging from 170 up to 430 amps.
"Fuel is typically the leading and most variable expense for fleets," says Randy Andis, Director of Aftermarket Operations. "These alternators provide the highest power density in their class, but the most compelling advantage for our fleet customers is fuel savings. We're delighted that our 40SI model has become a very popular spec for many prominent fleets across the United States."
"Generating onboard electricity in a vehicle takes horsepower," says Mike Bradfield, Senior Staff Engineer. "A more efficient alternator results in significant, measureable savings in fuel costs. It's that simple, and for fleet operators, that savings goes straight to their bottom line – year after year."
To design its high-output/high-efficiency series alternators such as the 40SI and 55SI, Remy engineers evaluated power loss and inefficiencies at every stage of power generation, down to the component level. They utilized a breakthrough brushless design, remote sense technologies and new design concepts, to improve output and fuel efficiency by as much as 28%.
These new alternators have been rigorously tested - on the road and on the bench - with repeatable, quantifiable results. Three different types of applications were examined: a line haul tractor, a city tractor, and a school bus. Precisely measured real-time data was collected to determine the input profiles.
"We believe even mature technologies can be improved," continues Bradfield.
"Electrical power on a vehicle is not free. If a truck operates for 2,000 hours a year and fuel costs $3.50/gallon, it costs over $875 just to generate 100 amps of electricity. The fuel cost difference between a 60% and 72% efficient alternator under this scenario is over $179/year. At 5,000 hours of operation, the savings is over $446/year in fuel costs.
"When gas prices go up, the savings becomes even more impactful. On the same vehicle, at $4/gallon, the savings is over $600/year in fuel costs. Multiply that by the number of trucks a fleet has in service, and you can see the importance of this technology."