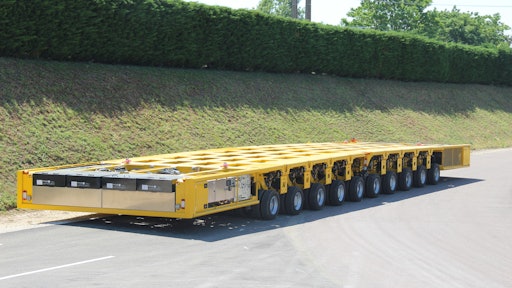 The French special vehicle manufacturer NICOLAS, a subsidiary of the TII Group, recently delivered two self-propelled MHD G2 transporters complete with hybrid drives to Alstom.
They will be used in the company's new ultra-modern plant which manufactures nacelles for the wind power industry.
The new Alstom manufacturing facility in St. Nazaire has a total of 19,000 square meters of production space and is able to produce up to 100 wind turbines annually. In order to work efficiently and cost-effectively, Alstom is relying on the vehicles from NICOLAS. These are equipped with an optical guidance system and move without a driver through the production area. Nacelles weighing several tonnes are transported in this way from one assembly station to the next. To ensure finding the right way, the vehicles read lines and codes which have been set into the floor. These lines and codes are automatically detected by means of a camera which is mounted under the vehicle. For it to work correctly, a monitoring system fitted with distance measurement sensors permanently regulates the height of the camera.
"With this vehicle, we have once again shown that we are pioneers in special vehicle construction. It combines a range of innovative detailed solutions and makes operations at Alstom not only more efficient but also a lot safer," says Sebastien Porteu, Managing Director at NICOLAS Industrie. "The firm integration of the vehicle into the production process provided Alstom with the possibility of getting the most out of the available production space during the design and set up of the manufacturing processes." Porteu adds, "From the outset, we were available in an advisory capacity and have consequently developed the ideal transportation solution."
The vehicles are driven by a hybrid system. Outdoors, a diesel engine provides the necessary energy whilst in enclosed areas the vehicle automatically switches over to electric drive thereby moving around emission-free and with extremely low noise levels.