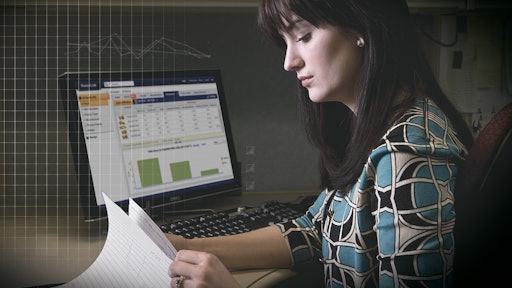 The emergence of the term Big Data came as a result of the exponential boom—and complete inundation—of data being collected from personal mobile devices, the internet, credit cards and social media, to name a few. From there, it was soon realized that the world was in the midst of a global data revolution, and only companies that understood and leveraged the value of Big Data were going to be the ones to succeed. Big Data put a label on a rapidly expanding industry, and helped to highlight the urgent need for comprehensive data analysis products to draw valuable information and insight from terabytes worth of data pouring in.
Determining when a company entered into the data analytics arena is hard for many OEMs to put a marker on, mainly because since there have been sensors on machines, there has been data collected. And with the onslaught of various data-driven technologies, be it GPS and telematics systems or equipment management software, many companies have been involved with data analysis for years, using the information to improve equipment design and customer services for part replacement and maintenance intervals.
"It's hard to pinpoint the exact moment we became involved in the Big Data dialogue internally," says Ken Gray, Director of Innovation in the Analytics & Innovation Division of Caterpillar Inc. "We've had numerous developments specifically related to data within the last 10 years or so, starting with telematics technology that has since evolved into predictive technologies focused on improving customer operations even further. In the years since, we've buckled down on ways we can take that data and turn it into actionable insights for our customers."
From Big Data to Smart Data
According to a study by the International Data Corp., the digital data mountain is expected to grow 40 to 50-fold between 2010 and 2020, to 40 zettabytes (and by the way, one zettabyte has 21 zeros). Industry predictions have suggested that the number of sensors in the world will increase from the current estimation of 50 billion to close to a trillion in just 10 years.
"This exponential growth in sensors is driving expansion in data analytics," says Gray. "We're working toward a quick, revolutionary change in the way we receive data from every sensor on every machine and engine, from every dealer work order to every single aspect of data and knowledge about our products," says Gray.
"We must create smart, connected machines and products that bind us tightly to our customers. We recognize that we need to do better, and do it quickly. We are addressing how we use the mountain of data coming in – all of it – more effectively, for our customers."
So, how can practical use be made of the predicted data volumes of the future? Companies like Siemens say the industry needs to shift from Big Data—referring to the technologies used for recording, storing and analyzing large amounts of data—to Smart Data, which adds relevance and value to the information extracted from the data.
"We have to understand the mass of data in order to correctly evaluate it," says Dr. Wolfgang Heuring, CEO of the Motion Control Business Unit at Siemens AG. Heuring postulates that it will be the people or companies who not only collect the data, but understand it that will be in the strongest positions for gaining efficiencies and offering customers true value in the form of time and cost savings, and more reliable equipment.
Smart Data in the news
OEMs have been making headlines all year regarding major Smart Data investments, starting in February 2015 with Caterpillar's announcement of its first Data Innovation Lab located in Research Park at the University of Illinois in Champaign, IL. The relationship was to leverage Illinois' strengths in computing and big data analysis. This lab—and future labs Caterpillar plans to develop around the world—will provide the opportunity for faster, better and more efficient innovation to deliver results to its customers. The labs seek to harness the power of worldwide analytics expertise and tap into the data-driven insights that propel success.
At the grand opening, Gwenne Henricks, Vice President and Chief Technology Officer at Caterpillar said, "This lab will foster real-world innovation at the dynamic intersection of technological and cultural change in the world, giving us the ability to turn customer and market data into valuable information for the growth of our business and our customers' businesses."
In March, Caterpillar announced it had entered into a technology and predictive analytics agreement with Uptake, a Chicago-based provider of dynamic analytics and insight platforms, to help its customers around the world better understand the health of their equipment and optimize machine availability. The two companies stated they planned to work to jointly develop an end-to-end platform for predictive diagnostics to help Cat customers monitor and optimize their fleets more effectively.
Ultimately, the agreement led to the eventual announcement of Caterpillar's Analytics & Innovation Division in April. Caterpillar co-located employees with the Uptake team to accelerate the creation of a platform that takes massive amounts of data, combines it with data science to understand patterns and quickly deploys information to save customers money, optimize performance and prevent unplanned downtime.
Days later, Komatsu Ltd. announced its partnership with General Electric (GE) to provide big data analysis services for its mining customers. This followed an earlier agreement in February of 2014 when Komatsu and GE Transportation announced a joint venture – Komatsu GE Mining Systems LLC – to develop a new generation of underground mining equipment.
The data analysis services came at the right time—when the mining industry was in a downward spiral (which still hasn't hit bottom according to many economists). Mining companies were, and still are looking for any way to reduce its operating and running costs while increasing productivity and overall machine performance.
Under the partnership, Komatsu sends operational data collected from on-board sensors to a GE data center to be processed using GE's big data analysis capabilities. The information gathered will help with simple cost saving measures, such as optimal driving route recommendations and equipment positioning for increased fuel savings and productivity, along with speed and braking requirements for the vehicles based on terrain and site conditions to minimize unnecessary wear and eventual maintenance and downtime.
While for now the predominant champions of the data analytics movement are the large OEM corporations with the capital to invest in technology partnerships with data experts, they will most assuredly not be the only ones to the table. Big data and data analytics are now a part of the off-highway equipment manufacturing industry and the customer culture as a service—and soon as an expectation.
It is not difficult to picture a future where the quality of information gleaned from big data becomes a deciding factor in the equipment selection process, and where customers value equipment not just for its performance, but for the information to perform better that Smart Data can provide. Data cannot just be collected and stored, it must be applied with a strong knowledge of the industry and equipment performance in order to bring pieces of information into a comprehensive map to progress.
Industry and technology are no longer overlapping, they are becoming one in the same.