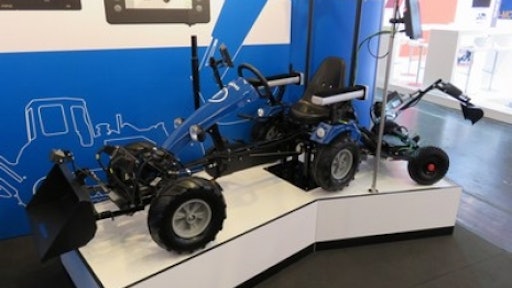 Anedo Ltd., from Eydelstedt near Osnabrück was able to demonstrate its new control concept open:system, using a Dino Car for what is presumed to be the world's smallest automated mobile working machine. With it, manufacturers can automate the smallest up to the most complex machines - including high-speed internet access. And all in a way that is cost-effective, with less effort required for development and programming than is usually expected.

The company's bauma 2016 exhibit of the open:system technology featured a fully-functioning "wheel loader/excavator combo" complete with components from the open:system product range. With this modular control system, mobile working machines can be easily and safely brought to market - this is the case with highly complex as well as the simplest applications. Thanks to its modular design, the hardware is very compact and can be set up in very small spaces.
Manufacturers can easily equip a machine with the required functions in a short space of time, without the need for time-consuming application programming. At the same time, customized modules can be configured directly in the control system's CODESYS, thanks to EtherCAT Network; CANopen, J1939 and ISOBUS interfaces can be distributed virtually anywhere on the machine.
The Dino Car is operated using a joystick control console integrated in the armrest, as well as a T30 and T80 machine terminal from the open: panel range. With regards to the compact T30, which is attached above the joystick armrest, a 5.6 in. display is situated under a robust glass panel, which doesn't cause any issues for the user, even in direct sunlight. Thanks to its integrated ambient light sensor, illumination and coloration can be automatically adapted to the environment. A control panel with buttons opens and closes automatically when the user operates the touchscreen or moves his/her hand away from the operating area. As regards interfaces, the T30 has USB, CAN, ISOBUS and EtherCAT.
The T80 Control terminal is attached right behind the Dino Car backrest. As a "high-end" option in Anedo's open: panel range, it offers a 12.1 in. display with SVGA resolution as well as a fully-integrated multiscreen concept. The terminal provides tactile feedback using Slide Stick technology, not only with the function buttons, but also with the joysticks which can both be individually configured and are integrated in the glass panel.
With the open: connect W50, that is also attached behind the seat back, the Dino Car has Anedo's new development as well, which was revealed at the bauma exhibition for the first time. The open: connect W50 is a high-speed internet connectivity solution, which can also be retrofitted into existing machines. It supports all current communication standards such as, 2G/3G/4G, WiFi and M2M, and offers many wired and wireless interfaces, as well as GPS.
Smartphones and iPads can also be directly connected via an app with open:system components, and in this way, they receive basic, protected access to all relevant machine data. open: connect W50 functions as a mobile/internet router, WiFi hotspot and central communication hub on the working machine. Alternatively, it can be installed quickly and easily on every machine as a black box.