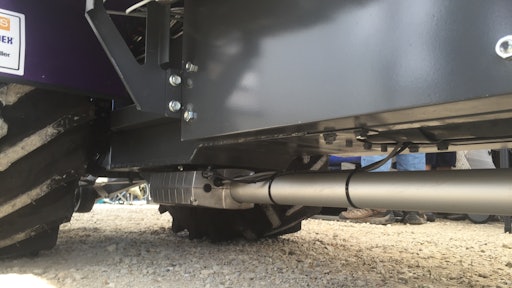 Thomson Industries, Inc., a leading manufacturer of mechanical motion control solutions, was a silver sponsor of this year's International Quarter Scale (IQS) tractor design competition of the American Society of Agricultural & Biological Engineers (ASABE). In this annual event, engineering students design and build garden-sized tractors and then compete in a variety of performance events. Thomson provided students with motion control technology such as actuators, as well as financial support for the competition.
"The ASABE tractor competition is unique in that it fosters leadership, management and marketing skills as well as engineering design innovation," says Sheena Byrnes, Sales Director, Global Key Accounts at Thomson. "This is a great opportunity to showcase the performance and versatility of electromechanical motion control solutions to enhance the design and performance of the tractors. We made our full catalog of motion control products available at no cost to the students' teams, so there was no limit on their creativity."
Each competing team was given a 31 hp Briggs & Stratton engine, a set of Titan tires and the knowledge that industry experts would judge them based on innovation, manufacturability, serviceability, maneuverability, safety, sound level and ergonomics. Each team submitted a written design report in advance and, at the competition, sold their design in a formal presentation to industry experts playing the role of a corporate product evaluation team. Lastly, they put their entry to the test in three tractor pulls and a durability course.
The following are among the Thomson products that students incorporated in their designs:
Thomson Elektrak Throttle actuators are used in throttle control, steering, ergonomic steering wheel, adjustments, mirror adjustments, etc.
The Thomson Max Jac linear actuator is built to perform in harsh environments and materials, such as fertilizers, mud, sand, high pressure water, slush, salt water, snow, heat or heavy vibrations and requires little or no maintenance and service.
The Electrak 10 actuators incorporate a screw drive system for applications requiring maximum load capacity.
The Electrak HD actuator, built with an integrated control system that includes J1939 bus communication, allows for enhanced controllability, condition monitoring, and advanced diagnostics.
"Motion control opens many avenues for design innovation, and we are pleased to have a company of Thomson's stature participating in the competition," says Kent Thoreson, IQS Vice Chair II. "I am sure that we will see innovations that are new to the competition and the industry."
This year's competition took place on June 2-5, 2016, at the Expo Gardens Fairgrounds, in Peoria, IL, and saw the University of Nebraska claim victory.