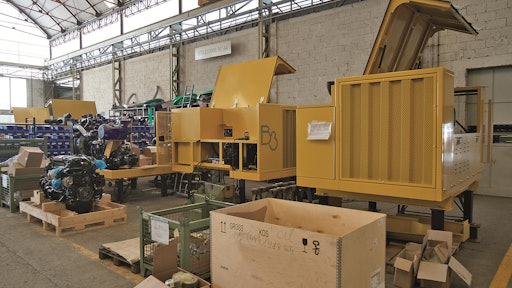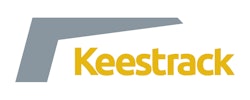 Processing plants have been built for more than 50 years at the Italian Keestrack facility in Ponzano Veneto, some 30 km in the north of Venice. Founded in 1964, the company Officine Meccaniche di Ponzano Veneto – in short OM – produced static technology, before it turned to mobile processing and the booming recycling sector with its first own tracked jaw crusher in 1989. Based on important technical innovations such as the hydraulic gap adjustment patented in 1995 and spinning off stationary technologies in 2004, the company fully focused on its tracked OMTRACK solutions with several jaw crusher models from 20-50 tonnes operating weight.
With the acquisition in 2010, Keestrack took over this expertise and expanded sustainably its specific offering in the crushing segment. After Sternberk (Czech Republic) and Anhui in China, Ponzano Veneto became the third production facility within the worldwide Keestrack group. Today Peter Hoogendoorn – son of Keestrack founder Kees Hoogendoorn – leads the subsidiary with around 60 employees. Besides production and R&D in a dedicated competence center, Keestrack-OM Spa. is also responsible for product specific aftersales services worldwide and the distributor support for the whole Keestrack program in Italy, Switzerland and Slovenia.
Dynamic development
After the integration in the Keestrack organization the whole product portfolio was focused on jaw crushers and fundamentally reviewed. This specifically concerned the use of highly efficient drive technologies and modern control systems. Whilst improving the accessibility of the fully equipped plants, transport weights and dimension were optimized. Within its B-Series Keestrack offers today four models – from the 30-tonne all-rounder B3 to the 60-tonne top model B6 producing around 350 tph.
All Keestrack jaw crushers are characterized through the intelligent crusher control system with hydraulic gap adjustment, overload protection and patented "Non-Stop-system" N.S.S. Combining feeding speed controls and several level and pressure sensors within the crusher hydraulics, the system continually monitors the crushing process and automatically opens/closes the gap in case of difficult or non-crushable material. The multi-level function effectuates the maximum gap opening only when necessary, thus avoiding quality and production losses. As further advantages the system offers gap setting during operation and the automatic monitoring and adjustment of preset C.S.S values along occurring wear every 50 working hours.
"This combination guarantees the high operational safety and availability of our mobile plants, whether in highly flexible recycling operations or in heavy-duty quarry production," says Teseo di Nardo, Sales Manager at the company for 15 years and today as 'Product Champion' responsible for the technical marketing of Keestrack jaw crushers. "Additionally our technology ensures a high consistency in production rates and product quality – the latter being also supported through specifically high crusher speeds between 280 and 320 rpm."
The continuous development of plant modules and concepts is ensured by the in-house design department with six engineers. In close co-operation with production they work on specific improvements or customer solutions and create alternative components for existing series or completely new machine concepts. Examples are the upcoming 'electrification' of the jaw crusher range and the new Keestrack cone crusher series, recently introduced with the model H4. As for the majority of its screeners and impactors, Keestrack will introduce from 2017 diesel-electric hybrid drives with 'plug-in' option for its mobile jaw crushers as an alternative to the existing diesel-hydraulic drives.
This technology is already a key characteristic of the new tracked cone crusher H4 which was fully developed at the Italian Keestrack facility in co-operation with a world renowned crusher manufacturer. A new frame design allows the optional equipment with active pre-screening and a triple-deck production screen module with oversize return conveyor giving a total transport weight of only 46.0 tonnes and a compact transport width of 3.00 meters. An intelligent plant control – to be combined optionally with the GPS-supported remote machine monitoring system 'Keestrack-er' – here also ensures the efficient production of several quality end products in just one pass with only one highly flexible mobile plant.
Flexibly into the future
"Our highly qualified employees with years of experience and the direct communication between design and production enables us to optimize continuously the efficiency and flexibility of our processes during recent years," says Production Manager Tiziano Zago, himself working nearly 40 years for the company. Today, the pre-assembly of specific modules (crushers, drives) and the parallel completion of the different models is organized in 11 assembly stations on a total space of nearly 5000 m². "Depending on the model and ordered options our average lead time in one-shift-operation is about three weeks per machine."
For the provision of steelwork and components, Keestrack is relying on long-standing regional suppliers and the close cooperation with the Czech sister company in Sternberk, where the manufacturer invested massively in highly qualified steel construction and finishing processes during recent years. Depending on specific models, the proportion of 'internally' supplied parts and modules reaches today up to 40%.
"With the upcoming hybrid generations of our jaw crushers and the new cone crusher series we expect a further increase of our production capacities," defines Director Peter Hoogendoorn. At present, annual production is set to reach around 60 machines – maximum capacity which three shifts and correspondingly organized supply schemes might reach around 200 machines per year.