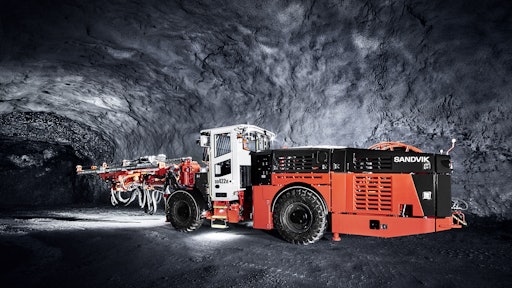 The all-new battery-trammed Sandvik DD422iE mining jumbo launched at MINExpo INTERNATIONAL 2016 delivers productivity, accuracy and reliability, reducing operating costs while also improving environment, health and safety.
100% electric tramming
By using electric energy from an onboard battery during tramming, Sandvik DD422iE produces zero emissions while maneuvering between headings. This improves health and safety for miners working underground. Less diesel usage in the mine can ease ventilation requirements while also reducing associated diesel logistics and maintenance expenses. Sandvik DD422iE helps to cut operating costs across the board.
The jumbo's intelligent power management system helps customers to meet ever-increasing productivity requirements, despite often limited underground electric power capacities. Coupled with its smart battery charging system, Sandvik DD422iE will help customers maximize utilization of their mine's electrical infrastructure.
Easy, flexible and safe recharging
Using the mine's existing electric infrastructure, revolutionary Sandvik driveline technology enables the battery to recharge during the drilling cycle. The battery will even recharge while Sandvik DD422iE is tramming downhill, using energy generated by the braking system. Even if there's a power outage, customers can count on the jumbo being as charged as possible.
Equipped with a multi-voltage compliant system that gives customers freedom to move the drill from one country to another, the jumbo operates easily in different networks ranging from 380-1,000V, and both 50 and 60Hz. The molten salt (sodium-nickel chloride) battery technology used in Sandvik DD422iE has a reduced risk of fire and is regarded as a safer system for underground mining use. The long-lasting pack will power the drill efficiently throughout its lifetime.
More uptime with 55% less hosing
Hydraulic hoses get chafed on rock faces and can wear out quickly. The new Sandvik DD422iE is available with a less-hose boom as an option that uses 55% less hosing than its predecessor. The reduction in hosing can mean a substantial reduction in downtime, increasing equipment availability and operational efficiency. The less-hose boom option reduces the length of hosing from 240-110 m, lessening the exposure to potential damage. With a reduced failure rate, more uptime is gained and fewer hours are spent on maintenance.
The boom offers a single, flexible component concept, where the same spare part fits any boom movement. Coupled with excellent spare parts availability, higher capacity with fewer service hours is achieved. The new less-hose boom is developed for the launch of Sandvik DD422iE, the first battery-driven mining jumbo. The less-hose boom is also available as a retrofit package for existing Sandvik DD422i units, enabling customers to take advantage of all the benefits outlined above without investing in a whole new rig.
3D scanning - new ways to automate mining
This simple automatic scanning process available as an option on Sandvik DD422iE uses lasers to guide the drill to its exact position, saving valuable setup time on each drilling cycle. It measures angles and distances around the rig, comparing them with previous scans in its memory to locate a drilling location with perfect precision. Just press a button, either from the cabin or from a remote controller, and the automated rig navigation will start immediately.
Performing a continuous overbreak and underbreak analysis, the scanning unit helps to optimize the drilling and blasting cycle and produces an accurate profile. This ensures that the tunnel or drift is excavated as close to planned layout and size as possible. 3D scanning analyzes blasts and continuously relays information. Using smart iteration cycles, it analyzes the geomechanical plane of the rock, increasing accuracy, reducing cycle times and ultimately enabling more drilling at less cost.
The scanning technology works with iSURE, the integrated Sandvik solution to combine tunnel line, theoretical profile design, drill plan design and data collection analysis.