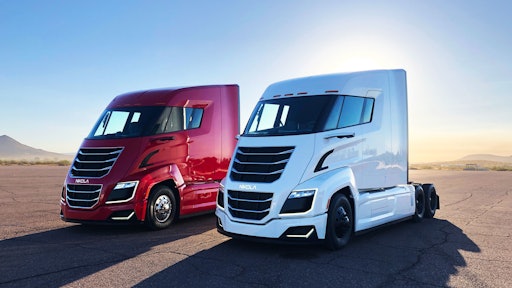 Nikola Corp.
TE Connectivity is partnering with Nikola Corp. on electronic components for Nikola's hydrogen-electric trucks. The partnership enables development of technologies specifically for this new type of vehicle, which has different requirements from traditional diesel-powered machines.
"With TE's help, Nikola is transforming the electric powertrain to expand the possibilities of electrified transport and improve the industry's ability to move goods sustainably," says Joe Bolewitz, Vice President and Chief Technical Officer for Industrial and Commercial Transportation at TE.
Representatives from the two companies will discuss the partnership webinar on Oct. 1 at 11:30 a.m. EST. The webinar is part of TE's series known as TE Tech Talks which highlight engineering partnerships in which the company has been involved. Dane Davis, Nikola's Chief Technical Officer, as well as Tony Heaton, Head of Battery Systems, and Varoujan Sarkissian, Head of Electrical and Control Systems will speak during the webinar. Bolewitz will also present, as well as Dinesh Shah, Senior Product Engineer at TE.
"Nikola Motors is excited to be joining TE Connectivity's Tech Talks webinar to discuss how TE continues to help Nikola find solutions for a zero-emission future," says Davis.
Those interested in attending the webinar, which will also be available for on-demand listening, can register online.
Companies in this article