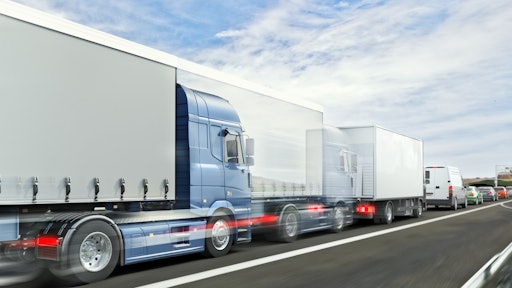 Robert Bosch LLC
Advancing technology – including electric vehicles and innovations in driver assistance – is vital for the future of a commercial trucking industry that is at once racing to keep pace with surging demand and an intensifying need for more drivers.
That was the message from Jason Roycht, Vice President, North America Regional Business Leader, Commercial Vehicle and Off-Road Robert Bosch LLC. "Everything needs to be done more efficiently," he said during a presentation at the North American Commercial Vehicle Show (NACV) in Atlanta.
Freight will increase by 25% over the next decade, Roycht said, citing projections from the American Trucking Association (ATA). And the revenue generated by the transportation of that freight in the U.S. is forecast to grow more than 50% by 2030, reaching $1.6 trillion.
But the ATA also projects the industry will need to hire 1.1 million new drivers over the next decade – or 110,000 new drivers every year. Those numbers, Roycht said, represent a major challenge, especially given that the industry started 2019 with an estimated U.S. driver shortage of 60,000.
Eventually, autonomous vehicles likely will prove part of the solution, he said, but it will take years and gradual progression to get there. Bosch is focused in the near term on technology that bolsters driver efficiency, safety and overall experience behind the wheel – advances that could help the industry attract more drivers and make them more effective for their companies.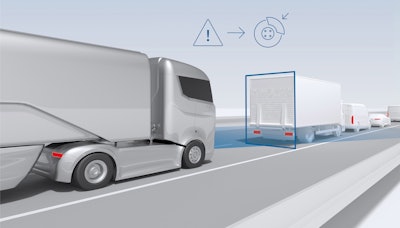 Technology offerings to aid automation
Roycht said the Bosch portfolio of advanced driver assistance systems includes front and corner radar for light commercial vehicles as well as multi-purpose cameras for both light- and heavy-duty commercial vehicles. These include safety features such as automatic emergency braking, turn assistant and blind-spot recognition.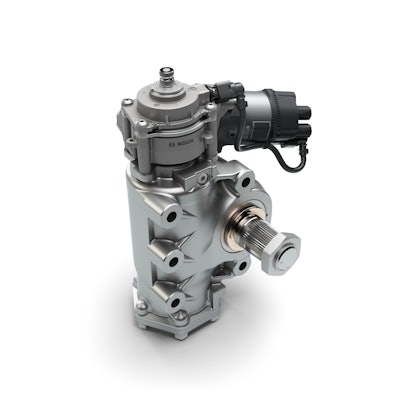 The Bosch Servotwin, meanwhile, is an electrohydraulic system that provides steering support to the driver, enhancing driving comfort and improving safety. It enables driver assistance functions such as lane-keeping assistance and side wind compensation. The system is a key building block for the rollout of more automated features in the future, said Roycht.
He also noted that Bosch is actively involved in the study of how automated technology can support the commercial vehicle industry. As part of a $7.5 million grant by the U.S. Department of Transportation to DriveOhio and the Transportation Research Center Inc., Bosch will provide technology to help study highway truck automation and coordinated platooning.
At NACV, the company's display featured the Nikola Two from Nikola Corp. Bosch has been a partner to Nikola throughout the development process, and the truck features several Bosch innovations, such as a jointly developed fuel cell system and "perfectly keyless."
Read more: Nikola Forms Industry Partnerships to Advance Truck Designs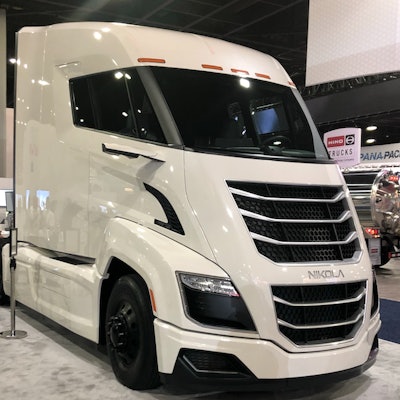 Fuel cells generate electricity via a chemical reaction using hydrogen as a fuel and platinum as a catalyst. They enable electric vehicles to drive notably farther between charges than battery-powered vehicles.
Bosch has previously predicted that roughly a fifth of all electric vehicles worldwide will be powered by fuel cells by 2030.
"We want to take the entire breadth of experience we have around our technology and bring that now to fuel cells," Roycht said.
The keyless feature, Roycht said, works this way: As the driver approaches the vehicle, a digital key will know the driver is approaching and unlock the vehicle. Digital keys can be transferred from one driver to the next securely.
The system, he added, has the potential to be integrated with entire fleet management systems.
"So not only are we talking about a benefit for the driver, but [also a benefit for] an entire fleet management system and a driver management system," he said. "We're very excited about the potential that this has."
Big picture, Roycht concluded, "the road to full automation is going to be more at an evolutionary pace. And what we talked about here is putting in all of the building blocks."
Companies in this article