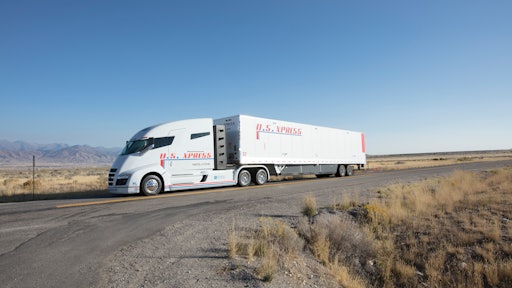 Nikola Corp
Nikola Corp. has announced several partnerships recently to accelerate development of its hydrogen fuel cell powered Class 8 trucks. The company says partnering with suppliers helps eliminate risk as much as possible because they can bring their expertise to the project.
"Our motto is if you're going to fail, fail fast, and learn from it," said Varoujan Sarkissian, Head of Electrical and Controls Systems at Nikola Corp., during a recent TE Tech Talk hosted by TE Connectivity. And the best way to accomplish this is by partnering with other companies which have already gone through a similar development process and advanced their products to a level of maturity.
TE Connectivity (TE) has been working with Nikola for many years now, since the early days of the fuel cell vehicles' development, said Joseph Bolewitz, Chief Technology Officer, Industrial & Commercial Transportation at TE Connectivity. That partnership started by providing basic knowledge of harsh environment connector products, as well as low voltage connector systems.
"We've got a lot of knowledge in different areas for connectivity solutions," said Bolewitz. "[Discussions with Nikola] quickly went from standard solutions for our 12V systems and our harsh environment sealed solutions into our high voltage connection systems."
TE has worked with several OEMs in the trucking industry to develop solutions. This enables it to share expertise from previous projects, as well as products to address Nikola's needs and minimize risk during the development process.
Dane Davis, Chief Technology Officer at Nikola Corp., said TE has gone beyond simply offering products that are available. It has also provided quick delivery and assistance to ensure the OEM gets its vehicles completed in the necessary timeframe. These are all key aspects Nikola looks for in its partnerships, he said.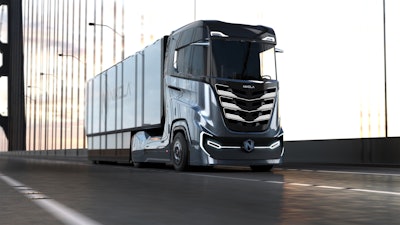 Partners who are willing to help
Nikola is not a company burdened by legacy products which makes it move slow or have to adopt to what's always been done. Because of this, it can design and innovate the vehicle as it chooses. "One key is for us to control the entire architecture of the vehicle, we're not dependent upon a supplier to dictate exactly how we need our vehicle to operate," explained Davis. The design team is able to control and optimize the entire vehicle for the mission, which is to produce zero emissions while beating a diesel vehicle in every aspect.
Motor inverter development is a big part of this, he said. There is a lot of power moving through these components which requires strong connector solutions. Partnering with TE is important to ensure the right solutions are being utilized to meet these high-power demands.
Davis said that in general, fuel cells use traditional types of connectors. There may be packaging size constraints and hydrogen safety requirements which need to be taken into consideration. Working together with TE to choose the right connectors for this application ensures the correct power and data rates, safety as well as environmental considerations are taken into account.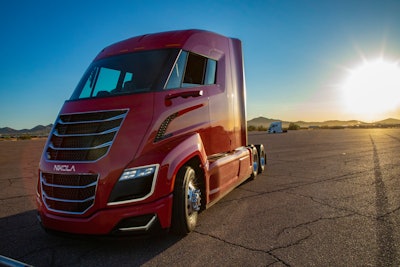 "When we look for partners, we look for partners that are willing to come to the table with proactive support, like 'how can we help you?'," said Davis. "And with that proactive support that TE and other partners provide, it's key to our success."
In addition to TE solutions, there is a Nikola-owned connectivity unit on the truck. "It has the gateway functionalities that communicate to all the different modules," said Davis. "[It meets] the right communication, connection solutions and speeds to support not just the safety of the vehicle and the function of vehicle, but also could be able to make it ready for level 4 future autonomy."
"We're not just building the vehicle for today, we're also building it for tomorrow," he added.
New system designs
Bosch is partnering with Nikola on several technology developments for the next generation of on-highway trucks. Among them is the Bosch Vehicle Control Unit (VCU). The VCU provides higher computing power for advanced functions while reducing the number of standalone units that might otherwise be in a vehicle.
The technology provider is also working with MEKRA Lang to create a Digital Vision System (DVS) for the Nikola trucks. Instead of traditional mirrors, cameras and in-cab displays are used to monitor vehicle surroundings and provide visibility to drivers.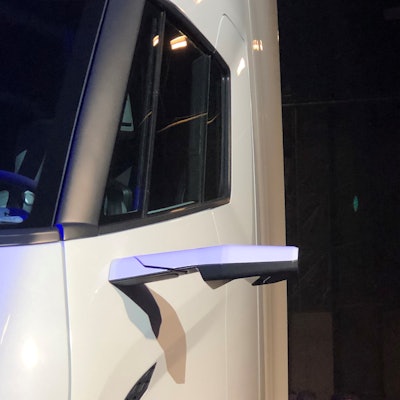 Camera monitor systems (CMS) such as this are said to help improve safety as they can provide better sight lines around a vehicle. Monitors in the cab are placed within drivers' line of vision, further improving safety and visibility. Removing mirrors from the exterior of the vehicle improves aerodynamics to increase fuel efficiency, as well.
Use of such systems is in line with Nikola's goal of creating innovative vehicles which improve safety and the overall driving experience.
The National Highway Traffic Safety Administration (NHTSA) recently announced it is considering allowing mirrors to be replaced by CMS. Doing so would make it possible for these systems to be more ubiquitous within the trucking and other vehicle industries.
Read more: Can Cameras Replace Mirrors on Trucks? The Trump Administration Thinks So
Investments to further progress
Nikola has received several investments recently to aid its continued growth and development efforts. Bosch has announced an investment of around $100 million, adding to the technology partnership it is already undertaking with the truck manufacturer.
Hanwha has made a recent investment, as well. As a developer of renewable energy and solar panel manufacturing it is partnering with Nikola to obtain clean energy for its hydrogen fueling network.
Nikola is focused on not only developing clean vehicles, but also producing the fuel for those vehicles in a clean manner. As such, Hanwha is providing solar panels to generate clean electricity for the production of renewable hydrogen.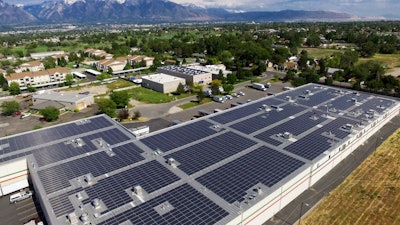 Fellow vehicle manufacturer CNH Industrial announced during its Capital Markets Day in early September it would be partnering with Nikola. Through its IVECO and FPT brands, CNH will provide its expertise in engineering and manufacturing. The aim is to help speed the production of the Nikola vehicles.
Nikola, meanwhile, will provide its expertise with fuel cells and electric components to aid CNH industrial's alternative energy developmen
Through its various partnerships, Nikola aims to bring new and innovative trucks to the market that will help meet the needs of an evolving industry.
Companies in this article