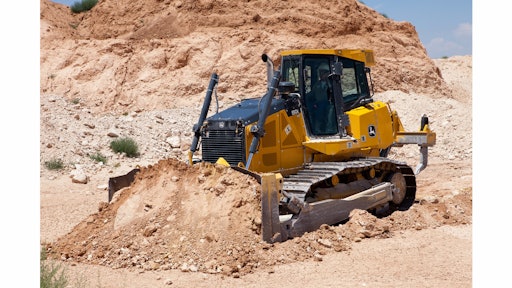 Once a piece of equipment reaches the Tier 4 Final emissions standards, the inevitable next step is to improve its productivity and efficiency for optimal return on investment (ROI). Precision systems that optimize machine performance and system integration are essential to achieve the highest efficiency gains, which is why so many OEMs are incorporating features such as electrohydraulic (EH) control systems.
With John Deere's 750K and 850K K-Series crawler dozers (read more, 12024771), the EH system was updated with a new proprietary control logic. "When the optional EH system is ordered, customer driven features such as blade shake for power-angle-tilt (PAT) configurations, improved blade response and rear auxiliary configurable settings will help the customer become more productive," says Mark Oliver, Crawler Dozers Product Marketing Manager, John Deere Construction & Forestry. "EH controls are now available for outside dozer (OSD) configurations which also enable the new optional Power Pitch feature."
The EH system provides better response and controllability, as well as higher productivity, increased uptime and lower daily operating costs in earthmoving, waste and grading applications. "This includes 40% improved blade raise response time and improved metering capability," says Oliver. The EH system is also available with an optional Hi-Flow hydraulic pump to provide the dealer flexibility when stocking a machine, so one machine can accommodate both a grade control system installation and/or a winch that in many cases requires a hi-flow pump for optimum performance.
The more sensors and electronics added to a machine, the more system monitoring that can be done. Such is the case for the K-Series with a new LCD color display monitor to provide enhanced onboard diagnostics with real-time values for every temperature, pressure and speed sensor on the machine. The JD Link telematics system along with the EH system can transmit the essential data to determine if the dozer or operator are performing optimally. The open architecture design lets the customer choose which grade-control system they want to employ on the vehicle.
A new feature available on the OSD-configured machines with the EH system is the optional Power Pitch to allow an operator to control the pitch of the blade from inside the cab. "This provides more flexibility for the dozer to operate in multiple applications and types of material without having to exit the cab and manually change the blade pitch," explains Oliver. "It also has programmable return-to-pitch settings allowing the operator to pre-select blade pitch positions and return to those positions with a push of a button."
A good dozer operator can have similar productivity between pilot controlled and EH controlled hydraulics, says Oliver, but EH also provides the flexibility to add features as required and simplify the installation of those features. For example, the 3D grade control system feature has a simpler installation for the customer if an EH system is onboard, as no separate parallel valve is required.
The 750K and 850K dozers are the first to feature EcoMode which optimizes the machine's fuel economy while maintaining ground speed by automatically adjusting engine speed and transmission settings based on load. "Even though fuel prices have come down in recent times, depending upon application, this feature will provide the ability to save upwards of 20% fuel with no loss in productivity. Auto Shutdown and Auto-Idle are also standard on the 750K and 850K to help minimize unwanted and excessive idle time," says Oliver.
According to Oliver, the EH control system will continue to be enhanced as more accurate cylinder sensing technologies become available at a cost that has a reasonable ROI timeframe for the customer.
*Recently, John Deere announced its 1050K crawler dozer, the largest and most powerful dozer ever built by John Deere. Read more about the most recent addition to the K-Series lineup at www.oemoffhighway.com/12037574