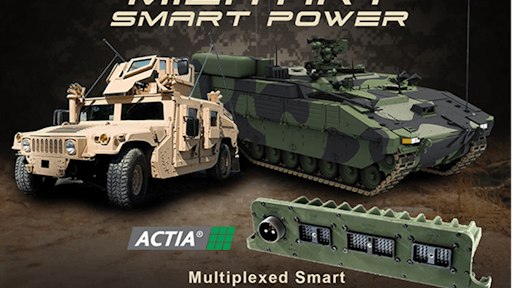 ACTIA Corp.

Military platforms are growing more and more sophisticated every day. The advancement in embedded software, controllers, and other power-management devices are more critical than ever and the technology behind them is also undergoing an equally dramatic transformation.
Having gone through switching from a conventional electrical architecture to a multiplexed architecture, military leaders find the need to make these devices smaller, lighter, cheaper, more capable, and more flexible. ACTIA's answer to this challenge is NOT a product but rather a smart power platform.
Replaces traditional relays and fuses installed in the most exposed parts of the vehicle with switches using semiconductors
Reduces the complexity and weight of wiring, improves vehicle safety and reliability and achieves fast operating times and low running costs

On-board diagnostics allow ongoing management of the vehicle's performance
Real-time monitoring and diagnostics for increased agility and versatility
Switches control electrical loads intelligently, localize switching functions into zones, reduce unwanted electrical noise, and introduce diagnostic functions directly into the vehicle
Compliance: 28V Electrical MIL-STD 1275B, 28V EMC/EMI

MIL-STD 461E, Environmental MIL-STD 810F, Waterproof TACOM 12480561
Network-centric bi-directional vehicle communication for fast and efficient response
Proactive monitoring and system redundancy for increased responsiveness, sustainability, and survivability
Use alone or in "peer-to-peer" systems with up to eight modules for greater adaptability
ACTIA's PMM smart power replaces traditional relays and fuses from exposed environments on the vehicle with highly reliable solid-state switches. (The 500,000th switch actuation is as good as the 1st). These software-controlled/configurable switches intelligently manage electrical loads, locate switch functions physically into zones, reduce electrical noise, and integrate diagnostics directly into the vehicle.
Add multiplexing to the equation and you get vehicles that combine multiplex communication with smart power management to reduce wire harness complexity and weight, improve vehicle safety and survivability, and subsequently achieve higher levels of mission readiness with lower support costs. That is an ACTIA PMM and that is military "smart" power.
Request More Information
Fill out the form below to request more information about
ACTIA Corp. Multiplexed Smart Power Management Module