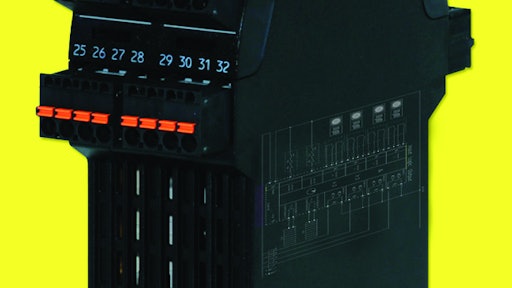 The "eloFlex" system from elobau has been designed for flexibility of parameter selection for logic control of sensor inputs and relay outputs.
Type of sensor can be freely chosen for each of the four inputs on the control unit
User can choose between normally-open/normally-open sensors and emergency-stop types, as well as the normally-open/normally-closed input type
Operation as two-hand safety control can be selected for two-sensor inputs
Monitoring of 24v PNP outputs is possible
The control unit has four outputs where one or more of the four input sensors can be assigned via a freely selectable logic gate (AND, OR, NAND, NOR, XOR and XNOR). A delay time of between 0 and 99.9 sec. can be set in 100 msec. steps for each safety output.  
There is an output for error messages available that can be linked to an SPLC (as an example)
Separate inputs are available for monitoring external gates
Elobau provides the programming and validation of the required configuration and then tests the functionality of the safety evaluation unit using a special test program. This saves valuable configuration and test programming time/cost for the end user. In addition, each unit is very clearly identified by a unique part number that identifies the specific programming contained.
A choice of SIL 2 and SIL 3 (Safety Integrity Levels in accordance with EN 62061) for all types
UL/ETL approval is available
Request More Information
Fill out the form below to request more information about
eloFlex