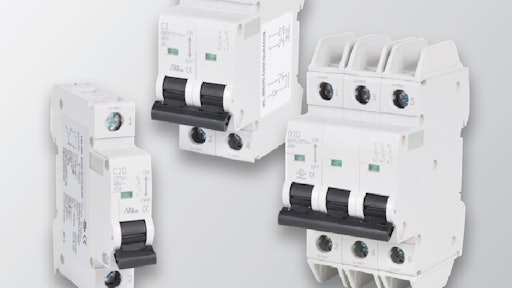 AATC Diversified Electronics

ATC Diversified Electronics, part of The Marsh Bellofram Group of Companies and a manufacturer of precision timing and control devices, announced its line of motor control products for OEMs. The line includes contactors, disconnect switches, miniature circuit breakers, motor protection circuit breakers and overload relays.
These products are in stock, ready to ship, and come with a 10-year warranty. The line of is UL listed, CE marked and suitable for diverse applications. Each unit features small size, easy installation, and cross-compatibility.
ATC's non-reversing contactors share common accessories, reducing inventory and allowing devices to be customized for each application. Small size and IP20 guarded terminals with dual terminal markings enhance the features and performance of application equipment.
Non-fused disconnect switches deliver superior performance in the most rugged applications and are certified for motors up to 40 hp at 480 V (55 kW at 400 V). Panel/base and door mounting options allow switches to be installed most enclosures.
A line of durable miniature circuit breakers is designed and manufactured to meet the needs of machine builders. The overload and short circuit protection of ATC's motor protection circuit breakers are used for group motor installations, saving on space, labor and cost. For simple applications, they can also be used by themselves as manual motor controllers.
ATC's overload relays provide thermal Trip Class 10 overload protection for single- and three-phase motors and phase loss protection for three-phase motors. Other features like IP20 guarded terminals with dual terminal markings, integral stop button, and direct mounting help enhance the features and performance of existing equipment.
Request More Information
Fill out the form below to request more information about
ATC Diversified Electronics Announces Motor Controls Line