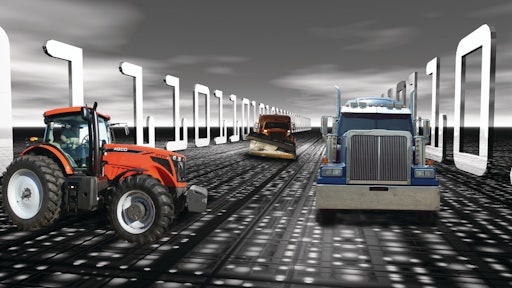 Initially, it seemed as though telematics systems were associated solely with on-highway truck fleets so fleet managers could keep track of the location and progress of their employees and shipments. While that may be where telematics started, the technology has come a long way and has adapted to off-highway equipment applications in industries like agriculture, construction, mining and military.
Beyond simply tracking a machines location, telematics technology is hooked into the machine's diagnostic systems. Now, a super-sized mining dump truck can avoid collisions due to blind spots, an agricultural sprayer can know exactly where it just sprayed pesticides so as not to over-saturate a crop, and a heavy-duty wheel loader can tell its operator what maintenance work it needs before it becomes a problem.
Jeff Warner, product manager for PreCise MRM (a collaboration between FORCE America and Preco Electronics, recently acquired by FORCE) agrees that "telematics solutions tend to bias toward on-road. First, the off-highway market is perceived to be smaller than on-road with the number of over-the-road trucks and local fleet vehicles comparatively much larger. Second, the off-highway market is more demanding on hardware as the environment is more severe and the requirements are more difficult to meet."
Regardless of the challenges, it seemed as though every month this year had an announcement of a new telematics system technology, company partnership or offering.
January 28, 2009
TruckWeight releases FleetLink
The beginning of the year opened with TruckWeight Inc., Halifax, Nova Scotia, Canada, introducing FleetLink, a system which gives fleet managers the ability to electronically capture and communicate axle-weight data generated by the company's Smart Scale wireless scale for commercial vehicles.
The sensors of the Smart Scale monitor the subtle changes in the air-ride or mechanical spring suspension, then sends the data elsewhere — whether it is to a computer, cell phone or onboard communications device.
Peter Panagapko, president of TruckWeight, explained that normally it was up to the driver of the truck to manually interpret, log and report the data that FleetLink has now taken over. "Dispatchers and fleet managers can monitor payload capacity while the truck is in the field, eliminating the latency and errors associated with paper-based reporting," he says.
January 29, 2009
Topcon releases Tierra
The next day, Topcon Positioning Systems Inc. (TPS), Livermore, CA, released Topcon Tierra, a web-based remote asset management telematics solution that maximizes efficiency, safety, and profits. The system can be used for surveying and machine control in construction, mining and agriculture.
"Topcon Tierra takes information available from any piece of machinery — regardless of age, make or model, analog or digital — and sets up two-way communications, transmitting data about the tracking or operation of the vehicle, plus behavioral aspects of the machines," says Mark Bittner, senior vice president and general manager for Topcon's Telematics Business Unit.
Comparisons between vehicle and operator performance can be drawn based on collected and organized data, along with basic reports such as path run, engine-on time and productivity.
Equipment diagnostics, machine metrics and performance statistics are readily available to both the equipment operator and project manager. The Tierra system ensures that each machine is running efficiently and allows for preventative maintenance to keep equipment running longer, helping the bottom line.
March 16, 2009
AGCO picks Tierra exclusively
Topcon soon thereafter announced that AGCO Corp. Duluth, GA, had selected its Topcon Tierra telematics system as its sole global telematics provider.
The Tierra system compliments AGCO's desire to deliver forward thinking technology to the farmers of the world by giving its technology brand, AGCONNECT's information a web portal for easy distribution.
The on-board telematics system can track everything from planting to sales on an agricultural machine. Tierra can tell the farmer where each crop was planted, which areas have already been sprayed, and production and output data tracking from the harvest.
April 20, 2009
Manitowoc releases CraneSTAR
At Intermat 2009 in Paris, France, Manitowoc Crane, Manitowoc, WI, introduced its CraneSTAR telematics system for fleet management and data tracking for the crane industry. John Bittner, director of global marketing, Manitowoc Crane Care, explains that "by monitoring working conditions and locations, customers can plan maintenance and lifting schedules to get maximum efficiency from their operations."
Each crane that is equipped with CraneSTAR houses a Manitowoc-engineered telematics control unit that monitors crane functions and provides operational data taken from Manitowoc's proprietary CAN bus network, RS232.
The CraneSTAR system also provides information from the load moment indicator, which is then transmitted via GSM or satellite communication to the web through a database. This gives the crane operator access to the information from any web-connected device. It uses a global SIM card to offer full functionality on cellular networks across the globe.
Manitowoc teamed up with Orbcomm, a leading global satellite communications company that focuses on machine-to-machine communications. CraneSTAR will use Orbcomm's network of satellites and ground infrastructure to provide data communication on cranes in the field.
July 13, 2009
AgRobotics partners with GVM
AgRobotics, Little Rock, AR, and GVM Inc., Biglerville, PA, formed a strategic partnership for a GPS/GIS telematics offering. The AgJunction solution is a web-based system for the management of field data, moving and fixed assets, and field operation and work orders. It allows agricultural retailers to schedule, montior, control and track the AgRobotics soil sampling services using the AutoProbe machine.
The AutoProbe collects soil samples while following a predetermined path, guided by auto-steering technology.
July 15, 2009
FORCE acquires PreCise MRM
A collaboration between FORCE America, Burnsville, MN, and Preco Electronics, Boise, ID, produced the PreCise Mobile Resource Management (MRM). FORCE then announced it had acquired the solution, adding to its DATA Commander product line.
PreCise MRM is a combination of rugged hardware and web-based software designed to improve the visibility and control over mobile resources. The range of features and benefits give customers choices as to how much information they want to manage.
"In the simplest form, PreCise provides a basic hardware solution that offers customers the ability to track the location, heading and speed of their equipment along with basic maintenance data such as odometer and engine hour meter readings," says Warner.
"This serves the needs of many light-to medium-duty applications where customers just want to understand where their fleet is and when it is due for maintenance. This also applies to off-road equipment where heavy equipment fleet managers need to assure the right equipment is on the right jobsite at the right time," he says.
"Beyond the basic needs, PreCise offers the flexibility to go much deeper. OEM customers have used the system to track compressor, crane and PTO usage for maintenance and tax purposes. They have used it to understand blade and broom wear, measuring the miles or hours an accessory is utilized. Off-road customers have attached sensors to engine temperature switches to send alerts if a piece of equipment exceeds an upper threshold providing a fail-safe to alert equipment managers when equipment is being mis-used or warning lights are being disregarded," continues Warner.
"For on-road applications, PreCise provides comprehensive mileage reporting allowing customers to know how many miles their fleet traveled state by state for IFTA reporting purposes."
PreCise's hardware was developed specifically for heavy-duty equipment applications. "We shock tested, vibration tested and environmentally tested all of our hardware to severe specifications," says Warner. "When we demonstrate our off-highway product, we do it in a bucket of water. It will run totally submerged in water for months at a time. We've even taken the step to freeze the bucket of water solid and the product still runs.
"This is what is needed in off-road use. Telematics products are often installed under a dashboard or in a trunk for on-road applications. Off-road, they might be installed anywhere including battery boxes, floor pans and even outside. We designed the product with this in mind. Also many off-road applications are 24-36 volt systems. Most on-road applications are designed for 12 volt systems," he says.
The PreCise system works well for industries that value a blend of on- and off-highway benefits. "As you look across many industries ­— construction, mining, utility and municipal — these fleets are a mixture of on-and off-highway use. These industries don't want to adopt two separate solutions for telematics; they'd rather have them all with one dashboard to view online," claims Warner.
Telematics has also been helpful in legal situations. Construction companies that haul gravel are frequently blamed for cracked and broken car windshields. Telematics can place a company's entire fleet at the time of the incident to ensure false claims aren't being placed.
"Many companies view this as both a means of limiting their liability and a deterrent for high-risk behavior," explains Warner. In the municipal industry, the data collected about the quality of the road conditions during snow and ice removal has been used in tort claims where the city or state is named as a defendant in a legal claim where an accident occurred. Being able to show where a salt truck was, and the area and exact time it placed salt proves invaluable for many customers.
August 20, 2009
MiX Telematics approved
Scania approved MiX Telematics as a provider of its FM Communicator product, a fleet management system for operational and efficiency benefits.
As MiX Telematics' premium on-board computer, the FM Communicator offers vehicle tracking, data recording and communications. Accompanying the computer system is a choice of reporting software; FM Pro for PC-based analysis, or FM-Web for internet-based access.
The optional RIBAS display, a dashboard-mounted array of five LEDs which illuminate whenever the driver exceeds a pre-programmed vehicle parameter, provides the driver with instant feedback on driving performance and efficiency.
Though telematics is still a luxury, Jeff Warner, among others, feels that it won't be long before telematics is on every vehicle. "Right now, it is estimated that 10-15% of equipment has a telematics solution on-board. However, almost every OEM has considered, and many have begun to deploy a solution. I strongly believe most OEM's will increase their focus on incorporating telematics into a standard part of their offering in the coming decade."
Companies in this article