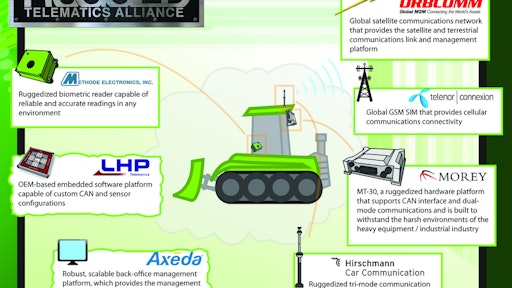 The Rugged Telematics Alliance (RTA) has formed to provide a streamlined solution for heavy vehicle and equipment manufacturers to reduce their time-to-market for customized telematics platform integrations, as well as cutting their development time significantly. The partnership and its turnkey telematics solution debuted at CONEXPO-CON/AGG 2011.
"The goal of bringing this group together was to shorten the time frame to market," confirms Jason Carabetta, VP of Business Development for ORBCOMM, a leading provider of global satellite and cellular M2M data communications solutions for asset tracking, management, and remote control. Its global network and management tools enable delivery of small quantities of information to and from any place in the world on a near real-time basis. "Each of the seven companies in the alliance is an expert in one key component of the overall solution."
The companies, their expertise and the portion of the system they are contributing are:
Hardware
1. MOREY manufactures the ruggedized hardware platform that supports the CAN (controller area network) and is built to withstand the harsh environments of the heavy equipment and industrial industries.
2. Methode's ruggedized biometric sensor provides reliable an accurate readings, in wet, dry and dirty conditions. This allows project managers the ability to know exactly who is operating their equipment at all times and that all operators are authorized.
3. Hirschman's industrial-grade antenna supports satellite, cellular and GPR communications
Embedded Software Platform
4. LHP Telematics produces an OEM-based embedded software platform capable of custom CAN and sensor configurations. This ensures proper data capture and the delivery of desired data to a user's back office systems.
Back Office Applications
5. AXEDA offers a robust, scalable back-office management platform, which provides configuration tools to customize to the user's business and ensure that data can be rendered in the desired format and in the context of existing business systems.
Communications
6. Telenor delivers cellular communications capability, and
7. ORBCOMM brings satellite communications capability. These two providers ensure the equipment is never out of touch, regardless of how remote the location.
The opportunities from sending, receiving and storing wireless information for equipment users are becoming greater (see [list telematics articles and run location]). As interest and demand grows for telematics systems on heavy-duty equipment, efficiency in development and implementation will become increasingly more important to deliver a fast, customized solution to the equipment manufacturer.
"By pre-integrating our various expertises into a starter package platform, we're able to shorten the development time and save the OEM a lot of money," says Carabetta. "At the same time, it helps us get to market a lot faster by not having to work with an OEM for two to three years just to bring their customized solution to the marketplace."
To address this, the RTA has created its Rugged Telematics Quick Start Kit, set to debut at CONEXPO. The kit is an affordable, integrated, end-to-end solution that ties together the four pillars of a telematics implementation (hardware, software, back office applications, and communications) and saves companies 18-24 months in back office and embedded software development, as well as tens of thousands of dollars to validate and verify a ruggedized hardware platform.
The Rugged Telematics Quick Start Kit is equipped with all of the necessary hardware (TCU, antennas, biometric identification, and wire harness) needed to implement the telematics-based solution. Once the pre-configured ruggedized hardware unit is installed on a piece of heavy equipment, it will allow users to track the location of the equipment, monitor common CAN messages, and report the status of critical machine components using a powerful embedded software application. This critical information will be sent to the back-office platform for analysis and action, such as a timely scheduling of preventative maintenance. Each user has the ability to customize the type of data and reports they will receive depending on their needs.
In the telematics industry, equipment manufacturers are looking for custom off-the-shelf solutions. RTA's platform will get an OEM "85% of the way there," says Tony Woodall, Vice President of Marketing, Morey Corp. "We give them the a globally certified hardware platform, a proven communication system, basic CAN imbedded applications and a framed user interface." The manufacturer can then take the system the other 15% with its own customization by adding CAN bus applications specific to what it wants to offer its customers.
The CAN bus data is grouped into three sections: utilization data, temperature and pressure data, and switches and indicator data. The grouping allows users to see the value in the information being supplied through the system in an organized format for ease of use.
Utilizing a pre-established telematics system can also save the OEM a lot of money in non-recurring engineering costs. "If an OEM has to produce their own piece of hardware, there is a huge cost in developing the hardware with multiple pieces of communication and getting it certified. There's also the cost of writing the code from scratch, creating a back office infrastructure—and that's not including all of the time finding and hiring the specialized staff to do the work, or the training time necessary to utilize a current employee," says Carabetta.
A global company facing international certification and getting the hardware registered in different countries is an expense that can alone exceed a budget for telematics system development. There are a lot of hurdles and learning curves with each stage of telematics development for an OEM attempting it in-house. The time and money that can be potentially saved by utilizing a customizable off-the-shelf solution like RTA's Rugged Telematics Quick Start Kit are not only benefits to the equipment manufacturer, but also translate to the advanced, fast time-to-market solutions they are able to offer their customers.
Companies in this article