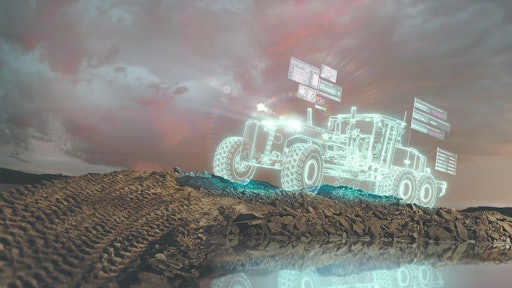 With the introduction of telematics into heavy-duty vehicles and machinery, a vast amount of information has become available to OEMs, dealers and end users. Data collected via telematics systems provides vital information about how a machine is operating and alerts to potential maintenance issues that could cause downtime. All of the information collected by these systems is also helping lead the way towards better prediction of when a system or component will fail, also known as prognostics.
Though not a new concept by any means, the use of prognostics is still evolving. Many manufacturers have elements of predictive analysis as part of their telematics systems already by providing alerts to dealers and operators when the system detects an issue. Jena Holtberg-Benge, Director of John Deere WorkSight, explains the prognostics portion of WorkSight, called Machine Health Prognostics, provides alerts by pulling together information from the telematics system into a rules engine—a way of filtering trouble codes and machine data against established rules of how a component or system should work—which is built into the background of the system. "Behind the scenes we've created the rules and it's filtering that data and understanding where the trends exist and how to resolve those issues," she says. "It also incorporates fluid sample results and conditional machine inspection data."
If based on the data collected from the machine a system or component is not performing according to those established rules, WorkSight sends an alert to the customer's dealer who will take the next course of action, whether that be generating a remote diagnostics session or getting a new part for the machine. Doing so enables the dealer to be proactive about fixing an issue with the machine to mitigate any unscheduled downtime.
In addition, these systems will often provide dealers or operators with the course of action to be taken in order to fix the problem for which they've received an alert. Mack Trucks' GuardDog Connect telematics system, for instance, will alert a fleet operator to the severity of a detected issue and provide recommended repair options so that person can proactively decide how best to address the problem. "The system identifies the root cause of the fault code and provides a clear path of repair," says David Pardue, Mack Trucks Vice President of Aftermarket Business Development. "This preplanning has been shown to increase the efficiency and accuracy of the repair, reducing diagnostic and repair times by up to 70% and 21% respectively."
He adds that these capabilities are a foundation for a more predictive approach to maintenance and that Mack is working to achieve this by adding more connected vehicle technology to the maintenance process. GPS and telematics have, and will continue to play a key role in the progression towards these predictive capabilities. According to Pardue, GPS provides environmental data such as location, altitude and speed which combines with other vehicle data to provide context about recorded issues and makes it possible to correlate similar events. "It also helps us understand the conditions under which the issue occurred," he says.
Giving customers what they want
Deriving actionable outcomes from vehicle data is one of the biggest opportunities associated with the development of prognostics. However, with the large amounts being generated, distilling the data down into meaningful bits of information so a driver or fleet operator can quickly see and understand its value can be a challenge, says Mike Cerilli, Vice President and General Manager of the Connected Vehicle Business at Navistar Intl. Corp. "There are so many opportunities to change business models and how we operate and think of traditional means of doing business as a result of this data."
Holtberg-Benge agrees that when it comes to prognostics, the challenges lie more so with knowing how best to utilize the data rather than the technical side of things. "Telematics was [a big] game changer because just being able to connect to the machine gives you so much [information]," she says. "But now we need to get smarter about what we're seeing."
One of the ways OEMs are doing this is by working with customers to understand their needs. Holtberg-Benge says John Deere leverages its customer advocacy groups to get direct feedback about the type of information customers want. "We're the experts at the machine part, but we need to understand from our customers what it is they need and how best to serve them," she says. "That internal [customer] knowledge, as well as our ability to understand the machine is really allowing us to create the prognostics that are important to the customer."
Pardue says it's important to deliver simple, actionable information to customers, as well. "Rather than simply sending large amounts of data, we're providing the information our customers need to make good decisions which not only increases their efficiency, but adds value to their business operations."
Through its work with focus groups and user acceptance testing, Cerilli says Navistar has found the technologies customers are looking for include those which aid driver behavior and overall fleet efficiency in addition to prognostics capabilities. "Fuel is a major cost in operations and fleets are looking to vehicle data to more proactively manage their vehicle maintenance and driver performance," he explains.
Driver wearables which monitor driver health are also an emerging area of interest, Cerilli says, because health is often an important indicator of an operator's productivity. He says Navistar is looking into partnering with companies to leverage this technology and introduce concepts for customers that will help improve their overall fleet operations.
In the future, Holtberg-Benge says the technology could reach a point in which a fleet manager would be able to remotely adjust settings on a machine to avoid certain situations that would adversely affect safety or operational efficiency. "I see a lot of future benefits and opportunities as we get smarter [and] our customers' adoption grows."
Where it's all headed
Prognostics capabilities will continue to evolve as machines become more sensor driven and smarter in terms of the Internet of Things (IoT), says Holtberg-Benge. Instead of relying solely on set hours or miles of service, data pulled from sensors can be used to see how a component is actually performing and the conditions it's being used in to predict when it might fail. This will allow operators and fleets to be more proactive about scheduling downtime to change a part before it fails versus waiting for it to fail and thus dealing with the consequences of unscheduled downtime.
Cerilli says a change to the sensor strategy will be necessary to achieve the desired prognostics capabilities; not so much on the amount or type of sensors used but in regards to the data extracted from them. Manufacturers will need to continue focusing on the data which they and their customers have determined are critically integral to their operations. Doing so will then enable manufacturers to create the right algorithms for predicting component life. "I think where OEMs will win is how fast they can perform the right level of analysis to create features and values for the end customer," says Cerilli. "I think it's very possible in the next 12 months that you'd see more predictive forecasting in the lifecycle of [a] component and when it will fail."
Holtberg-Benge says that with the smarter use of sensors, the ability for semi-automation and fleet management capabilities will increase "because you're getting smarter information about how the machine's performing and the conditions it's in versus just pure data associated with the machine."
As the use of sensors, GPS and telematics continue to enable additional automation and delivery of data, she says the connected jobsite (IoT) will begin playing a bigger role over the next five to 10 years, particularly in the construction industry which has been a little slower to adopt it compared to other industries. Bringing together sensor technology with telematics, grade control and mobile apps will create more opportunities for it, as well, by providing more value for the customer and improving fleet margins. "That whole ecosystem will become simpler because we'll have the capability to connect all of those things, and create meaning from it for the fleet manager or project manager," she says. In addition, the very simple predictive alerts currently available will be able to progress to the next level to provide even more prognostics capabilities.
Cerilli equates the progression and potential of prognostics to that of the internet, noting how 15 years ago no one dreamed it would be used in the ways it is today. "It's one of these environments…that innovation will come from unexpected areas and the intended use will continue to grow as we not only learn more but our customers demand more," he says. "You can't possibly forecast the potential, you just know it's really the right activities and area to focus in because you know there's so much potential both for OEMs and customers."
Companies in this article