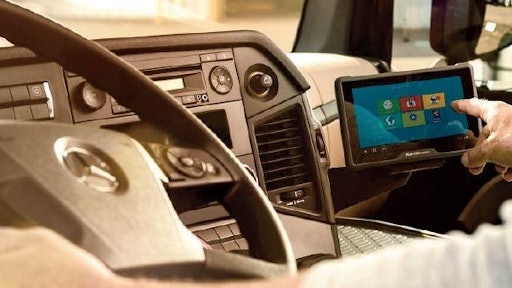 Growth opportunities are strengthening in the commercial vehicle (CV) telematics market in Europe with the imminent arrival of value-added services such as video-based safety solutions, mobile base on-demand freight exchange platforms, and field service management solutions. While penetration of fleet management services (FMS) in large and medium fleets is relatively high, addressing challenges such as awareness, adequate training, and better business cases are key to expansion within small fleets.
"The lack of a clear business case with justified return on investment slows the development of the European commercial vehicle telematics market, original equipment manufacturers' (OEM) increasing and incessant focus on the telematics eco-system through telematics service provider (TSP) partnerships and standardization of telematics factory-fit will catalyse future adoption rates," says Frost & Sullivan Intelligent Mobility Research Analyst Gokulnath Raghavan.
Commercial Vehicle Telematics Market in Europe is part of Frost & Sullivan's Mobility: Automotive & Transportation Growth Partnership Service program. According to the research, OEMs' truck digitization will offer new dimensions for connected trucks, ultimately opening up real-time access to tolling, parking, infotainment, weather, logistics traffic, and other futuristic services by 2020.
The total CV telematics market in Europe is expected to grow at a compound annual growth rate of 14.2% from 2015-2022. The United Kingdom, Germany, France, and Benelux contributed to nearly 69.8% of the total CV telematics installed base in 2015. Countries in Southeast Europe, such as Bulgaria, Romania, Slovakia, Slovenia, Hungry and Croatia, offer high potential for telematics penetration beyond 2017.
Leading players have adopted a variety of strategies to gain market share and competitive advantage. For instance:
TomTom Telematics has strengthened its European presence through acquisition, open platform, partnerships, technology advancements, and expansion of product portfolio.
Masternaut has adopted better integration and system extensions through open architecture with modular and scalable design capabilities.
Daimler FleetBoard aims to digitize the complete truck integration with internet, Wi-Fi and automation.
"Telematics players should adopt flexible business cases, develop strategic approach-based training, and implement no-contract models to negate current challenges in a highly competitive market," notes Raghavan.
Companies in this article