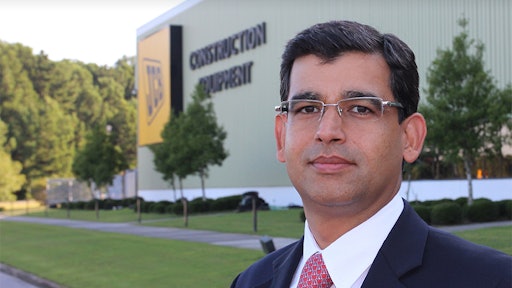 Data and digital technologies are the key elements of the Industrial Revolution 4.0 (IR4.0), also known as Industry 4.0. It can take the form of a manufacturer implementing technologies to improve efficiency in their production facilities or an OEM offering products which allow customers to collect and analyze data from the machines they operate every day.
The buzzword "Big Data" is a large part of the IR4.0. Big Data enables manufacturers and their customers to collect a wealth of information about their machines—how they're operating, potential service issues, etc. While some say the more data the better, others note the vast amount of data that is available to be collected and analyzed can be overwhelming, for both manufacturers and their customers. Determining what is the most important information to collect, and how to use it, will continue to be an evolutionary process as the IR4.0 progresses.
As with any new technology or way of doing things, early adopters of the IR4.0-associated technologies will see the most benefit. Implementing these technologies is not an overnight job, but takes time to develop and determine how best to utilize; and so the sooner a company implements or develops the technologies for their customers, the better positioned it and its customers will be to see the benefits possible.
What does "Industrial Revolution 4.0" mean to your company?
Matt Rushing, Vice President, Global ATS Product Line, AGCO Corp.: Agriculture 4.0 is the industry answering the question of how information technology and data science can evolve farming practices for greater and greater efficiency, sustainability and productivity. AGCO is very focused on being a leader of Agriculture 4.0, which will mean smart and connected machinery systems and always looking for new ways to improve the farm operation. We continuously pursue R&D projects in these areas and bring the smartest machines to market with each production cycle.
Several of AGCO's R&D projects in recent years demonstrate some ways in which autonomy and robotics can help farmers address productivity and efficiency challenges and opportunities, specifically our Fendt GuideConnect, Valtra ANTS and, more recently, AGCO's Fendt MARS project. The MARS concept is focused on eliminating not only the cost and inefficiencies of an operator, but also the cost of the tractor and the planter tool bar as well, which can eliminate cost, increase labor efficiency, reduce soil compaction and allow for much more accurate placement of inputs. Within the next few years, AGCO will be introducing a generous number of new technologies and services (that also includes autonomous solutions) that as a package, will provide broad cost reductions and yield improvements for the farmer that go well beyond simply removing the operator.
Caterpillar Inc. representative: The story of our digital vision is one of silicon and steel; it's about leveraging digital and data, alongside our world-class machines and engines, to improve the productivity of our customers worldwide.  The digital vision will be a foundational element of each strategic business within Caterpillar as we amp up our technology offerings while continuing to make great products and provide the best after-market support.  We are not changing our core business, but we are expanding what we're know for.  
Arjun Mirdha, President & CEO of JCB North America
This phase of the industrial revolution centers around digital technology. When compared to earlier industrial revolutions it is markedly different on speed alone, with everything happening at an accelerated pace. The challenge for all manufacturers is determining how and what technologies to incorporate into their business systems, processes and products to gain a competitive advantage. 
Nathan Sheaff, founder and CEO of Sciemetric Instruments
Our team works with manufacturers to help them increase yield, improve quality and optimize their processes. We do this by adding advanced technology, sensing and analytics to the plant. That means we've been doing pieces of what's now called "IR4.0" long before we even knew what to call it, by measuring, recording, analyzing and digitizing the data generated by all the processes on a line.
In some industries, such as off-highway, this was often a tough sell, because production volumes weren't high enough to force the need for greater automation, which in turn, drives a willingness to adopt new technology. For the longest time, factories in many industries were underfunded with the philosophy of "let's make it as cheaply as possible," but this has changed. Manufacturers have come to appreciate the value of squeezing all they can out of their technology and their data to make better parts because this can save them a fortune. Plant managers are finally getting the latitude to innovate, to invest. This validates what we've been saying for years and helps us refine the message we take to the market.
Luke Zerby, New Holland North America PLM Marketing Manager 
New Holland has always strived to be a leader in the ag equipment industry and as such, we focus on the evolution of ag equipment and on increasing in capabilities that we offer to customers. The "Industrial Revolution 4.0" is part of the overall evolution in manufacturing and equipment. We are very excited about the capability that we now have to offer our customers. 
What role do any of the following branches of IR4.0 play within your company and/or its product designs?
Big Data (Smart Data) – acquisition, management, extrapolation and presentation

GPS, Telematics and Connectivity

Automated Systems and Vehicles

Are there other branches or areas of focus?
Eric Hansotia, Senior Vice President, Global Harvesting, Crop Care, Advanced Technology Solutions and Dealer Technical Support, AGCO Corp.: Big data in agriculture is best understood as the opportunity to unlock potential, both in the machine and in the field. It's not enough to simply create and capture the data, harnessing the power of the data is the name of the game. GPS, telemetry, automation and precise application technologies are the tools that work in concert to unlock this potential in the field. Smart machines equipped with these technologies collect the data and make it accessible to growers and ag service providers. Data visualization tools enable analysis and deliver actionable insights, which can then be utilized to more accurately control the factors impacting crop germination, growth and yield.
We must keep in mind that while Big Data is a massive quantity of information growers can gather and use to make better decisions, you also need the right machines to actually engage the ground, with the aid of the other technologies, to really see the benefits of the data.
A key guiding principle for AGCO, driving how we approach Big Data and these technologies, is our Fuse strategy, which is an open approach to precision agriculture. And by open, we mean facilitating connections between AGCO equipment and our customers' preferred agricultural service providers, regardless of OEM. Other OEMS in the industry have taken a less inclusive approach, requiring growers who use their machines to then also use the OEM's proprietary farm management software. By contrast, AGCO offers connections to a constantly growing list of farm management software and tools. AGCO's ultimate goal is to help our customers improve productivity by affording them the flexibility to manage their operations the way they see fit. This means the grower isn't locked into a single solution – they can use the tools that best suit their needs.
Caterpillar Inc. representative: Caterpillar has been focused on leadership in technology for decades, but now is the time to accelerate the transformation of sophisticated applications and analytics into solutions.  We are leveraging leading edge applications of advanced analytics and disruptive technology to accelerate Caterpillar's transformation to merge the physical with the digital.
Mirdha: Big Data (Smart Data) – Data allows us to quite simply be smarter and more efficient in how we build the JCB brand. The more data we have on our current customers and how they are using our equipment, understanding the buying wants, needs and habits of prospective customers, the more strategic we can be in our approach. Today all of our marketing is triggered by data whether its product, service, parts or finance related.
GPS, Telematics and Connectivity - We can now see how long customers are running machines, when and if preventive maintenance is being performed and receive error codes and alerts when there's an impending problem so that we can be proactive in helping our customers better maintain their equipment. All this data allows us to better support our customers whether on the phone or in person onsite. It helps us resolve issues much quicker than we could have years ago, ensuring the customer's machine delivers maximum uptime.
Sheaff: Big Data (Smart Data) – I've been in so many factories where data is siloed, where you can't correlate or organize it to understand causal effect. Data by itself is useless – it's a means to an end. In this context, that end is to make better parts or eliminate a warranty recall. If your data is trapped in silos, or unorganized and lost in that deep, dark data lake, it's not doing you any good. In reality, we've been working in the big data space for 20 years or more with real-time, multi-terabyte databases. When we talk about big data, it's about how to organize and structure it so you can squeeze value out of it fast. We're acquiring the data from many machines, sensors and processes on the floor, and managing it by putting it into an organized data model. Google showed us how you can unlock value from data quickly if you organize it so that it's accessible and easy to correlate and visualize.
Automated Systems and Vehicles - We don't look at this in terms of fleets and vehicles out on the worksite, but in terms of tooling and processes and machines in the factory. What we try to do is gather all the pertinent data from all the automated processes so you have a digital flight recorder that allows you to retrace your steps and analyze for continuous improvement. 
Are there other branches or areas of focus? - It's long been common in manufacturing to look at statistical averages, to look at hundreds or thousands of parts in a pool, rather than at single parts. But this approach doesn't help you track down that one in a thousand that could lead to a warranty claim or a mass recall. What we do is provide manufacturers with a digital fingerprint for every part made – the means to track the attributes of a part right down to the individual serial number. It takes this kind of big data analysis and scientific process to understand and catch failures early, find root causes and prevent costlier problems down the road.
Zerby: Big Data (Smart Data) – From the product design standpoint, we are focusing on how we can help our customers take advantage of the large volumes of data collected in the field. Our producers now have more data to help guide them in making management decisions then they have ever had in the past, but, there is also the possibility of too much data. What New Holland is focusing on is how we can help our customers manage and extrapolate that data. This can happen through the precision farming system, in the equipment locally, or the data can be shared with the customer's desktop computer or sent through our PLM Connect Telematics to be shared with a third party that the customer is working with. All data transfer happens over secure systems. New Holland is very clear that while we want to help our customer better manage and use their data, they retain complete ownership of the data.
GPS, Telematics and Connectivity - GPS, and Telematics, have become a deciding factor in a large portion of our product offering. In many products, Integrated Guidance that uses GPS, is a standard feature. We are also now offering Telematics as a factory fit option in several product lines. The customers need to be connected and all of the benefits that they can achieve because of this, is why we are focusing on continuing to improve our connectivity capability to ensure we are providing our customers with the best tools to help them achieve success.
Automated Systems and Vehicles - New Holland unveiled the NHDRIVE Concept Autonomous Tractor at the Farm Progress Show in Boone, IA, this year. This was a very exciting event for New Holland. The NHDRIVE highlights not only what can be done in the future with a fully autonomous vehicle, but illustrates many features we have today in our equipment—IntelliSteer, Headland Management, ISOBUS implements with prescription and variable rate application. The step from our current vehicle to a fully autonomous vehicle is not such a large step.
We have also focused on increasing the automation in many other pieces of equipment to help remove human error while improving efficiencies. These automatic features, like section control on a planter, can pay for themselves in one or two seasons, and continue to be a savings to improve the customer's bottom line.
Are there other branches or areas of focus? - Many of the features that we are looking in being able to deliver to our customers in the future are based on these that we have talked about. The thing to remember is that it is a continual evolution so new areas will grow out of our current features.
Is there a particular route or focus the company is taking amidst the IR4.0 set of opportunities?
Hansotia: AGCO's path has always been toward making farmers more efficient—first with always improving machinery, next with industry-leading technologies, and now with services.  We intend to stay on that path in the context of IR4.0.  As a manufacturer of world-class, long-standing equipment brands we will always be focused on improving machine efficiency today's farmers need to feed the world. Over the last 5 years, we've also elevated our focus on delivering industry-leading technology tools, and now services, that will transform our customers' practices into lean, efficient and sustainable operations. AGCO's Fuse Connected Services are designed to help growers identify efficiencies and optimization opportunities while supporting their connections with other trusted service providers like crop consultants and agronomists. We believe this new level of grower support will unlock potential across their operations through streamlined logistics, data management, and waste reduction.
A key opportunity and differentiator for AGCO in this new era has been our commitment to customer data privacy. Understandably, there is a lot of sensitivity around farm data – where it goes, who can see it, and how to manage it. AGCO is unique in the industry in that we provide two different data pipes – one for machine data such as engine RPM and fuel consumption, and the other for more sensitive agronomic data. We've found that our customers highly value being able to better control what happens to their farm data in this way.
Caterpillar Inc. representative: Caterpillar's focus is on helping our customers be more successful. This focus has led us to leverage telematics to build smarter machines and be the leader in connected fleets for the industries we serve. 
Initially we will focus on four areas:
Asset Management
Productivity
Safety
Sustainability
Mirdha: There's no one particular focus for JCB. We are open-minded to any evolving technology that helps us to be a better partner to our customers. New technologies are being implemented across all facets of our organization from research & development, to marketing & sales, to distribution, allowing us to deliver product faster than before with improved quality and value. 
Zerby: Efficient Data management for our customers is an area that we are focusing on, giving our customers the best tools for collection, management, and implementation in their operations.
What is the opportunity potential, and what benefits are you already seeing?
Hansotia: The opportunity and demand is for farmers to double productivity over the next 20 years.  Technologies, like guidance and rate and section control, get us going in that direction and Fuse Connected Services will ensure we deliver on our Fuse promise. As connectivity, computing and data science improve, we will see consistent improvement in what our core technologies and services deliver. While every operation is different with varying crops, size of operation, equipment and climate conditions, Fuse Connected Services is showing efficiency benefits in the double digits in areas ranging from improved fuel consumption, uptime optimizations and fleet maintenance efficiencies. Our pilot programs in North and South America are proving what smart, connected machines can do.
Caterpillar Inc. representative: There are many teams at Caterpillar hard at work on digital customer solutions.  We are seeing benefits through our customers' success stories. 
Mirdha: Quite succinctly; it allows us to be more relevant and more responsive with service and that's what customers and prospective customers want. 
Sheaff: It's a great pity when a latent defect that should have been caught in the plant sneaks through – like a $600,000 truck that's shipped to Indonesia brought down by an oil leak caused by a missing bit of silicon or a faulty hose clamp. But better tools for measurement, data analysis and data visualization are already helping manufacturers dramatically improve yield and reduce warranty claims. In the off-highway industry alone, billions of dollars can be saved by avoiding defects, to increase production volumes and improve deliveries. Almost all customers can fix a problem if they know what to fix, but they need help to pinpoint the root cause. This requires better access to the data, with the right dashboard and real-time reporting so they can take action now, rather than be stuck waiting till tomorrow, by which time they may have already passed a thousand more faulty parts.
Zerby: We understand the margins that the farm and ag producers work with continue to get tighter as seed, oil, fertilizer and land cost continue to increase while the prices that they receive for their crops have not kept pace. By using increased technology and minimizing their inputs while trying to maximize their outputs, many producers have been able to survive in market conditions that would have forced them out of business. New technology will allow us to keep up with the demands of the growing population.
How do you foresee the IR4.0 affecting the industry as a whole? Are there any new or improved opportunities it will enable?
Hansotia: One exciting opportunity we see on the horizon as more farms adopt more data- and insight-centric practices, and as growers reap the benefits of these new tools and agronomic methods, is that data quality itself will start to improve. The industry's move toward data format standardization also serves to improve data quality. More data is good, but better data is great; it will increase the value of farm equipment and tools, and deliver an even better ROI for the farmer, while also serving the broader purpose of increasing efficiency and productivity.
Caterpillar Inc. representative: This is an evolution for the industry. Caterpillar envisions a world where we continue to cultivate our understanding of customer challenges and opportunities so well that we can anticipate and deliver what customers need before they even know they need it. 
Mirdha: Technological advancement will continue to lead to long-term gains in efficiency and productivity. Transportation and communication costs will likely continue to drop. Logistics and global supply chains will continue to become more manageable. Opportunity is always out there for those looking for it. As an organization, we must continue to challenge traditional methods and assumptions to better understand today's business climate and customers, keeping a sharp focus on innovation. The very principal on which JCB was founded and core focus of our business that has allowed us to grow into the world's third largest manufacturer of heavy equipment. 
Sheaff: The people who embrace IR4.0 and all that entails are going to be big winners. It's a fundamental change in the landscape that can't be ignored. Companies that embrace it, challenge their employees and architect this technology into their processes early will be the winners by a long shot because it will take years. Even though it seems easy, it's not as simple as just plugging in a server and collecting some data from a bunch of sensors. There's a lot of things that have to change in how some plants operate. The early adopters will gain a great advantage as they optimize their processes and the laggards are going to have a hard time catching up. They won't be able to compete because the other guys will already be faster, better and cheaper.  
Zerby: IR4.0 as a whole has allowed us to learn more about the work we are doing on a micro level. It allows us to take knowledge and wisdom gathered over centuries of agricultural development, combine it with state-of-the-art equipment resulting in an Ag industry that is able to work more in unison with nature and be able to produce the quantities needed to feed the population.